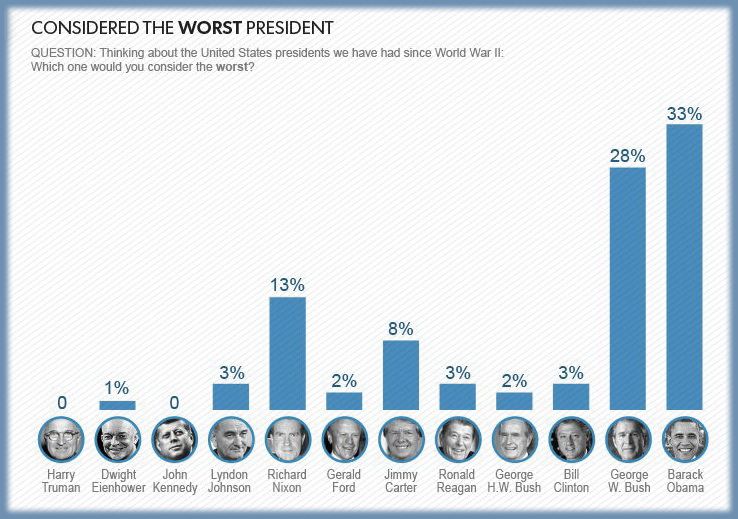 Muslims buck the tide, Via Politico, h/t Drudge:
President Barack Obama's approval rating is higher among Muslims than any other religious group, a new poll says.
According to a Gallup poll released Friday that tracked responses for the first six months of 2014, 72 percent of Muslims said they approve of the president, compared with just 20 percent who disapprove.
Mormons were the least approving religious group, with 18 percent of Mormons approving and 78 percent disapproving of the president. Mormons in the past have ranked as the most conservative major religious group in the U.S.
The survey underscores a religious divide when it comes to presidential approval — Obama is more popular among non-Christians and less popular among Christians.
Those who classify as "Other non-Christian" gave the president a 59 percent approval rating, while Jewish Americans gave Obama a 55 percent approval rating and atheists or those who subscribe to no religion have a 54 percent approval rating.
Catholics, on the other hand, have only a 44 percent approval rating of Obama, compared with 51 percent disapproval. Protestants and other Christians are more critical, with 37 percent approving and 58 percent disapproving….
In fact, a poll the left (ABC, CBS, NBC, MSNBC, CNN, and the like) was VERY vocal about was President Bush [43] getting top grades in this poll. Now, I don't hear a peep from NEWS (yeah right) organizations.
(Breitbart) The winner of America's best president since World War II is Ronald Reagan, who beat second and third place combined. A full 35% of voters chose Reagan. Bill Clinton and John Kennedy won 18% and 15%, respectively. Obama only received 8% in the best presidents poll.
Col. Allen West says this in his rightly title post, "Racist poll shows Obama is worst president since WWII"
Did you all hear the latest? A new undeniably racist poll from Quinnipiac University shows people think Barack Hussein Obama, the first black president — actually the first half black president — is the worst president since World War II.

Well, you can be certain the NAACP, National Urban League, Congressional Black Caucus, MSNBC, and other liberal progressive media outlets will decry this as proof that America is still a racist nation. We simply don't want to accept the "hope and change" of their self-proclaimed progressive socialist messiah.
(Washington Times) …Quinnipiac found 45 percent of voters say the country would have been better off if Mr. Romney had been elected, while just 38 percent say Mr. Obama remains a better choice. Even Democrats aren't so sure — just 74 percent of them told the pollsters Mr. Obama was clearly the better pick in the last election.
Voters also rated the man who swept into office in 2009 with a promise of "hope and change" as worse than even his predecessor, Republican President George W. Bush, who left office with terrible approval ratings.
"Over the span of 69 years of American history and 12 presidencies, President Barack Obama finds himself with President George W. Bush at the bottom of the popularity barrel," said Tim Malloy, assistant director of the Quinnipiac University Poll….
Here are some examples from the biased media for comparison:
On January 22, 2006, the late Tim Russert asked then-Senator Obama, "Will George Bush be considered one of the worst presidents in history?"

On May 21, 2006, ABC's George Stephanopoulos profiled then-Senator John Edwards. He wondered, "You've also said the President is the worst President of our lifetime…Worse than Richard Nixon?"

On Wednesday, MSNBC downplayed the bad news for Obama. Chuck Todd dismissed, "These great and worst lists, they're terrible…because they always reflect the moment in time." Yet, in 2006, the same network hyped a "devistating" poll finding the same result for George W. Bush.