NewsBusters busts another celeb:
…Heck with Billy Bush.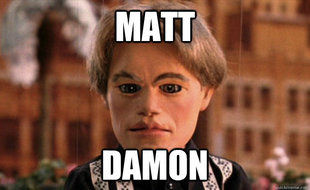 The Miami Herald reported in 2002 that Jeb Bush initially attended the public Grady Elementary School in Houston before mother Barbara enrolled him in the private Kincaid School closer to where they lived.
Brother George W. attended public schools in Midland, Texas – Sam Houston Elementary and San Jacinto Junior High – before being enrolled at Kincaid when the family moved to Houston.
As such, would you like some salt for that shoe, Mr. Damon?
Update: Tweep @bzaz points out that George W's kids Jenna and Barbara both attended public schools – Preston Hollow Elementary in Dallas and Austin High School in Austin – and Jenna a few years after graduating college worked as a teacher's aide at Elsie Whitlow Stokes Community Freedom Public Charter School in Washington D.C.