Predicting climate temperatures isn't science – it's science fiction. Emeritus Professor of Physics at Princeton University Will Happer explains.
The following is a snippet from a large post I did for a USPS worker that wanted me to respond to the article from Time Magazine he handed over to me. My LONGER post is entitled:
---
"Offering Critical Thinking on Global Warming"
---
Truth be told, they have NO IDEA. Why? Because they rely on computer models, not the actual climate.
Computer Models?
Yes, most of the headlines we read are driven by computer models or cherry-picking from one data set and not taking ACTUAL temperatures into account. For instance:
See more on this @ Dr. Roy Spenser's site. (BIO):
Roy W. Spencer received his Ph.D. in meteorology at the University of Wisconsin-Madison in 1981. Before becoming a Principal Research Scientist at the University of Alabama in Huntsville in 2001, he was a Senior Scientist for Climate Studies at NASA's Marshall Space Flight Center, where he and Dr. John Christy received NASA's Exceptional Scientific Achievement Medal for their global temperature monitoring work with satellites. Dr. Spencer's work with NASA continues as the U.S. Science Team leader for the Advanced Microwave Scanning Radiometer flying on NASA's Aqua satellite. He has provided congressional testimony several times on the subject of global warming.
Dr. Spencer's research has been entirely supported by U.S. government agencies: NASA, NOAA, and DOE. He has never been asked by any oil company to perform any kind of service. Not even Exxon-Mobil.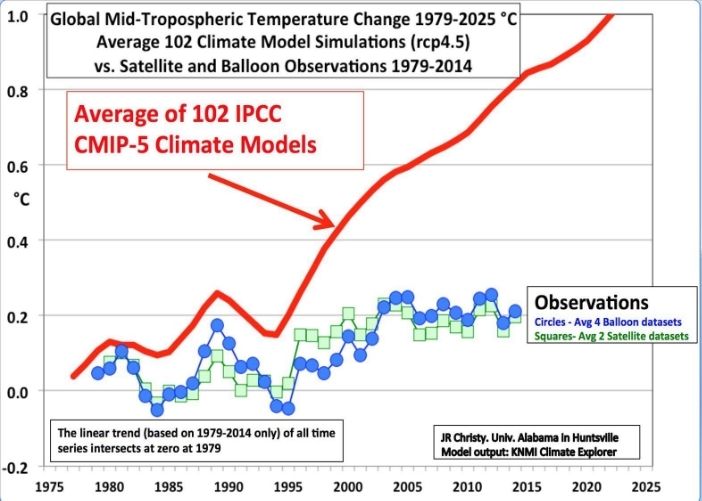 … more on this later. One thing you will notice in reading the LA Times article, every pro anthropogenic [man-caused] global warming person named has a professor, or scientist in front of their name or description. Those who disagree with "man-caused" global warming are merely described as skeptics. ALTHOUGH, you at least get this:
Climate scientists, meanwhile, have had a different response. Although most view the pause as a temporary interruption in a long-term warming trend, some disagree and say it has revealed serious flaws in the deliberative processes of the IPCC.
One of the most prominent of these critics is Judith Curry, a climatologist who heads the School of Earth and Atmospheric Sciences at the Georgia Institute of Technology. She was involved in the third IPCC assessment, which was published in 2001. But now she accuses the organization of intellectual arrogance and bias…
In case you are out of the loop, no warming has occurred in 16-years from when this article appeared in the Mail Online:
There will always be those who cannot admit the obvious, for obvious reasons (CFACT):
I doubt it.
Here is a Patrick Moore quote that shows how the left has politicised the issues we are dealing with above and below: