UPDATE, two explicitly anti-Semitic women voted in by Democrats. GATESTONE has more:
JIHAD WATCH also chimes in with the Left's love for diversity at the expense of hatred:
More HERE as well
Continuing with the Older Post…
EDITOR'S COMMENTS
Democrats lurch not just Leftward, but incestuously as well. Ilhan Omar won the Democratic primary for Minnesota's 5th Congressional District late Tuesday evening, beating her [Democrat] opponent, Margaret Anderson Kelliher, who outspent her (DAILY CALLER). Remember, she is the woman busted by POWERLINE and JIHAD WATCH for marrying her brother. She is anti-Israel, as well as being most likely against homosexuals and Jews… although she won't speak about it.
Keith Ellison won his bid for Minnesota Attorney General. This is a man I have posted about often, as well as others regarding Keith's racist ties (GOP, TABLET MAG, WASHINGTON FREE BEACON, WEEKLY STANDARD, NATIONAL REVIEW, and others like JIHAD WATCH). His anti-Semitism is legend (really, the anti-Semitic/anti-Israel Democrat voters in that district), as well as the newest charge of treating women like Muhammad. Alan Dershowitz even said he would leave the Democrat Party if Ellison was elected DNC Chair. I guess the number two spot doesn't count?
NOT to mention a man ("Christine" Hallquist) masquerading as a woman who won HIS primary as well. That doesn't bother me nearly as much as the self-described PROGRESSIVE platform he ran on. He beats around the bush (pun intended) when asked about his obvious socialism.
Add the socialist cherry on top and you have quite a mix!
Etc., etc.
(ACE OF SPADES has a good wrap up of the latest election nonsense.)
---
Another Post Combined
---
Eight House Democrats have met with notorious racist and anti-Semite Louis Farrakhan during their time in Congress

Four of those House Democrats now refuse to denounce Farrakhan (and two others have misled the public about their prior relationships with him)

Farrakahn's close ties to the Democratic Party have re-emerged as a political issue after he was revealed to have been closer with several House Democrats than they let on. (DAILY CALLER)
There also seems to be ties with the up-n-comer Ayanna Pressley to the Nation of Islam.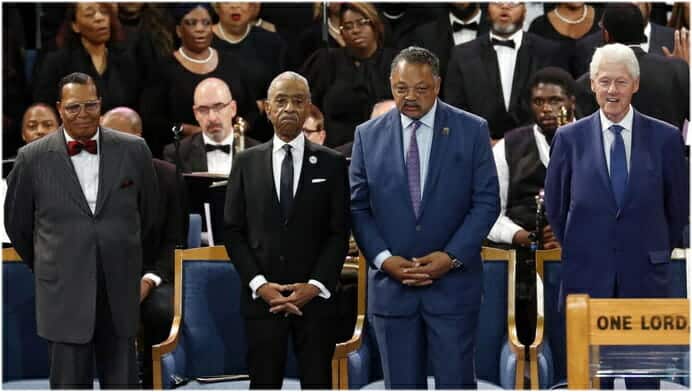 THE MOST RECENT EXAMPLES come from Aretha Franklin's funeral. THE DAILY CALLER fills us in on this apparent "doubling down" on "black Hitler":
(Updated Info from My HAWAII VACATION CONVERSATION WITH A DEMOCRAT)
Give it a second to load… this is rendering from Facebook…
About Time. We know from a long-time aid to the racist UFO black nationalist anti-Semitic cop killing cult leader that Obama and Farrakhan were close. And we have photos of Michelle Obama with this racist UFO black nationalist cop killing cult leader's wife.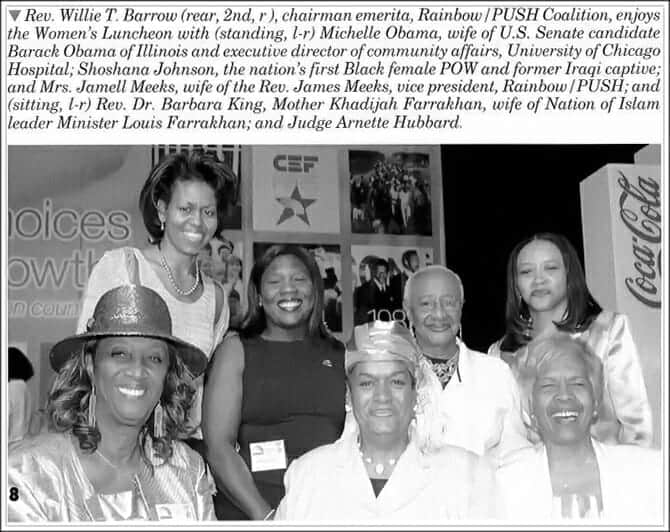 And we know this racist UFO black nationalist cop killing cult leader was brought into Obama's church for an award one Sunday, and we also know that this racist UFO black nationalist cop killing cult leader's personage was placed on Obama's church's magazine cover not once, but three times. We also know that some of this racist UFO black nationalist cop killing cult leader's sermons/speeches were sold in Obama's church's book store during his tenure, as well as these outright racist books:
A Black Theology of Liberation;

Black Theology & Black Power
(I purchased these and other books myself from Trinity United Church of Christ's book store online, which was called – Akiba Bookstore)
Here is a small sample to make the point about these books:
…BUT…
…we haven't had a clear picture of Barry Soetoro with this racist UFO black nationalist cop killing cult leader… until now: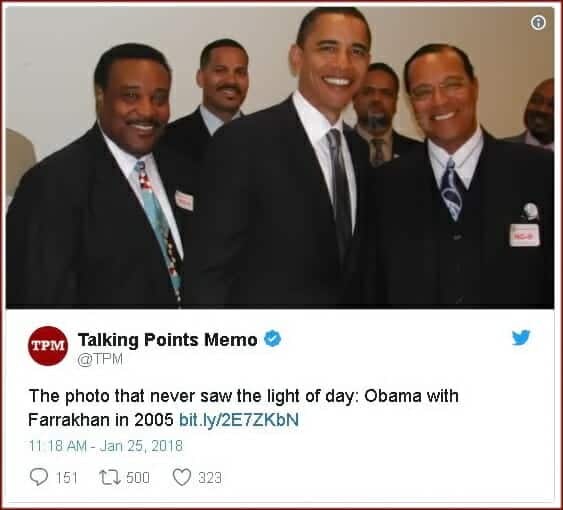 (Photo credited to Askia Muhammad via TPM)
NATIONAL REVIEW has a lot on this just released photo, but here is the main issue:
BREITBART also joins in to explain the cover-up:
Our country would have been better off if it had been released, and the press were doing it's job rather than worshiping Obama as a Messianic figure.
ANALOGY
Gotta keep black racism on the DL in order to get into the Presidency. Mmmm, this is as good a time as ever to update my analogy replacing Bush here to reflect Trump vs. Obama:
Here is the "not"-analogy of Obama:
ALAN DERSHOWITZ is correct when he says "that any Democrat who meets with the 'bigot' Louis Farrakhan should resign from office, and said there should be no tolerance for any association with the Nation of Islam leader." Continuing he notes,
See much more here:
Here is my video a few months before the 2008 election: