My attention was first brought to this via TWITCHY, where they document other errors on top of this one. But I wanted to expand the area a bit the quote was in to show just how racially biased this author is. As a favored lefty professor of mine says… "to be on the side of the angels."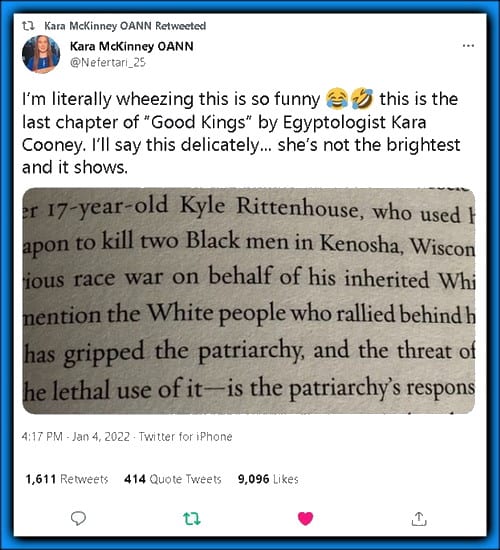 LEGAL INSSURECTION'S post is an interesting read as well, where he notes:
Cooney's book is virulently anti-white in passages. If I were a parent with a child at UCLA or one who was considering that school as an option, would I really want said child to go to a school where racist screeds are an acceptable form of scholarship?
Here is the fuller quote for those that want the before-and-after sentences:
Here is the other glaring rewriting of history by a historian:
Here is that section — and BTW, no source (FOX NEWS, Kara McKinney, etc), had the page numbers to this section:
TWITCHY continues with its refutation:
Kara McKinney's point about National Geographic having better editor's should not be lost on the reader. Here is NAT GEOS PAGE on this historical event:
Nonetheless, at one point on the route, a white man had no seat because all the seats in the designated "white" section were taken. So the driver told the riders in the four seats of the first row of the "colored" section to stand, in effect adding another row to the "white" section. The three others obeyed. Parks did not.
…AND…
CHARLIE KIRK reiterates the windfall surely to come to Kyle:
At least she got the "Semi-Automatic" part of the AR-15 correct. Lol.
Larry Elder rips media for playing the race card in Rittenhouse trial