(Originally Posted June 2016)
The Dilemma [Challenge] Stated Clearly:
One of the best short article's comes from…
FREE THINKING MINISTRIES
C.A.R.M.
For those looking for a quick answer to the issue, here is a short video and explanation from the theistic worldview via CARM (and CARM'S YOUTUBE):
Here is more from CARM'S WEBSITE:
(Apologetic Press's Graphic – link in pic)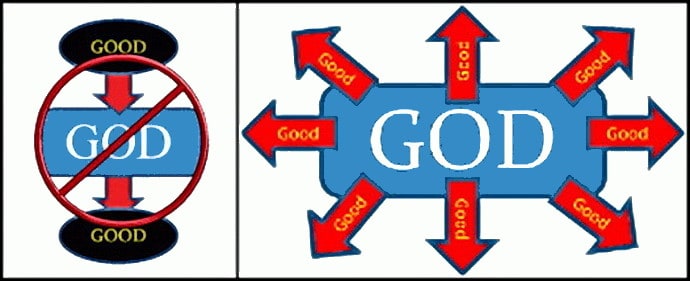 WILLIAM LANE CRAIG
Another short dealing with this comes from ONE-MINUTE APOLOGIST'S YouTube interview with William Lane Craig:
(Here is Dr. Craig in a class setting teaching the issue [longer].)
FRANK TUREK
Here, Frank Turek and Hank Hanegraaff discuss the issue in under 4-minutes:
Hank is holding Frank's Book at a certain page[s]… I will reproduce the sections prior to, as well as the section from his book on the Euthyphro Argument in the APPENDIX.
STAND TO REASON
There are "two horns" to the dilemma presented, but much like Plato does, we will split the horns with a third option and show that the two choices are false because there is a third viable option (the site where I grabbed this originally is gone, therefore, so is the link. STAND TO REASON has a good post that stands in as a supplemental link):
PETER KREEFT
This is VERY simple to grasp, but here are more dealings with it, Peter Kreeft's short DEALING WITH THIS supposed dilemma (his entire 20-topics is free online):
MISC.
While Plato was dealing with polytheism and a form of monism, this argument as dealt with herein is response to the challenges presented to theism. However, his use of a third option is what we present here as well… making this dilemma mute. What was Plato's solution?
"You split the horns" of the dilemma by formulating a third alternative, namely, God is the good. The good is the moral nature of God Himself. That is to say, God is necessarily holy, loving, kind, just, and so on.

These attributes of God comprise the good

. God's moral character expresses itself toward us in the form of certain commandments, which became for us our moral duties.

Hence, God's commandments are not arbitrary but necessarily flow from His own nature

. (BE THINKING quoting Dr. Craig)
They ["the Good"] are the necessary expression ["commands"] of the way God "is" — RPT.
One of the most important notes to mention is that once there is a third alternative, there is no longer a dilemma.
TRUE FREE THINKER
Ken Ammi of True Free Thinker deals with the many aspects of this supposed dilemma. He does an excellent job of doing this. However, zero in on the section from the 2:40 mark to the 3:45 mark (the same idea is brought up in the 6:55 through 9:55 mark of the Craig response — Craig"s audio follows Mario's). Ken Ammi does a bang-up job below (Ammi's article being read by someone else):

(Above audio description from YouTube) Mario's original audio is here. Apologetic315 and TrueFreeThinker team up to put to rest the many aspects of what is perceived to be a dilemma by many first year philosophy students in the Euthyphro dialogue between two Grecian thinkers: "Essay: The Euthyphro Dichotomy by Ken Ammi"
MORE CRAIG
Here is William Lane Craig responding to some challenges in regards to the Euthyphro argument.

Here is more at CAA's "CATECHISM":
---
APPENDIX
---
Atheists and Morality: What I Am NOT Saying
The next few paragraphs my editor wanted me to take out. He said it repeats too much from above. He's right to a certain extent. But it can't be left out because many atheists I meet think I'm making an argument that I'm not making. (It's probably my fault.) So let me spell it out as explicitly as I can.
I am not saying that you have to believe in God to be a good person or that atheists like David Silverman are immoral people.
David seems like a very nice man. And some atheists live more moral lives than many Christians.
I am also not saying that atheists don't know morality or that you need the Bible to know basic right and wrong. Everyone knows basic right and wrong whether they believe in God or have the Bible or not. In fact, that's exactly what the Bible teaches (see Romans 2:14-15).9
What I am saying is that atheists can't justify morality. They can act morally and judge some actions as being moral and others immoral (as David Silverman does). But they can provide no objective basis for those judgments. Whether it's the Holocaust, raping and murdering children, eating children, aborting children, or who adopts children, atheists have no objective standard by which to judge any of it.
Let me go out on a limb and suggest that if your worldview requires you to believe that raping children, murdering children, eating children, and slaughtering six million innocent people is just a matter of opinion, then you have the wrong worldview.
No Book Without an Author—No Morality Without God
Unlike David Silverman, Sam Harris is a new atheist who believes in objective morality. In his book, The Moral Landscape, Harris maintains that objective morality is related to "the well-being of conscious creatures," and that science can help us determine what brings "well-being" to conscious creatures.
What's objectionable about that thesis? Well-being is usually associated with moral choices (although not always). And science may help us discover what actually helps bring about well-being. The problem with Harris's approach is that he is addressing the wrong question.
 The question is not what method should we use to discover what is moral, but what actually makes something moral? Why does a moral law exist at all, and why does it have authority over us?
The Moral Landscape gives us no answer. It's a nearly three-hundred-page-long example of the most common mistake made by those who think objective morality can exist without God. Harris seems to think that because we can know objective morality (epistemology), that explains why objective morality exists in the first place (ontology).
You may come to know about objective morality in many different ways: from parents, teachers, society, your conscience, etc. (Harris talks about brain states.) And you can know it while denying God exists. But that's like saying you can know what a book says while denying there's an author. Of course you can do that, but there would be no book to know unless there was an author! In other words, atheists can know objective morality while denying God exists, but there would be no objective morality unless God exists.
Science might be able to tell you if an action may hurt someone—like if giving a man cyanide will kill him—but science can't tell you whether or not you ought to hurt someone. Who said it's wrong to harm people? Sam Harris? Does he have authority over the rest of humanity? Is his nature the standard of Good?
To get his system to work, Sam Harris must smuggle in what he claims is an objective moral standard: "well-being." As William Lane Craig pointed out in his debate with Harris, that's not a fail-safe criterion of what's right. But even if it was, what objective, unchanging, moral authority establishes it as right? It can't be Sam Harris or any other finite, changing person. Only an unchanging authoritative being, who can prescribe and enforce objective morality here and beyond the grave, is an adequate standard. Only God can ground Justice and ensure that Justice is ultimately done.
Can't Evolution Explain Morality?
We've already seen that an atheistic worldview can't account for objective morality, as even Richard Dawkins once admitted. He wrote, "It's pretty hard to get objective morality without religion." Yet some atheists persist in claiming that evolution somehow gives us objective morality to help us survive—that if we didn't "cooperate" with one another, we wouldn't survive. But this argument doesn't survive for several reasons.
First, trying to explain morality by biology is a massive category mistake. A category mistake is when you treat something in one category as if it belongs in another category. Questions like those posed earlier do that: "'What is the chemical composition of justice?" or "What does courage taste like?" Justice and courage do not have chemicals or flavor, so the questions commit category mistakes.
The same is true when atheists try to explain moral laws by biological processes. Morality and biology are in different categories. You can't explain an immaterial moral law by a material biological process. Justice is not made of molecules. Furthermore, moral laws are prescriptive and come from authoritative personal agents. Biological processes are descriptive and have no authority to tell you what to do. How could a mutating genetic code have the moral authority to tell you how you ought to behave?
Second, biological processes can't make survival a moral right. There is no real "good" or purpose to evolution. Without God, survival is a subjective preference of the creature wanting to survive, but not an objective moral good or right. Biology describes what does survive, not what ought to survive. Why should humans survive as opposed to anything else? And which humans, we or the Nazis?
If one could make the case that survival is somehow a right, then should a person rape to propagate his DNA? Should a person murder if it helps him survive? Should a society murder the weak and undesirables to improve the gene pool and help the desirables survive? Hitler used evolutionary theory to justify just that.
You can't answer those moral questions without smuggling a moral law into the evolutionary worldview. As Sam Harris rightly puts it, "Evolution could never have foreseen the wisdom or necessity of creating stable democracies, mitigating climate change, saving other species from extinction, containing the spread of nuclear weapons, or of doing much else that is now crucial to our happiness in this century." Indeed, evolution describes a survival-of-the-fittest outcome. It doesn't prescribe a moral outcome. That's why Richard Dawkins and Sam Harris, to their credit, are anti-Darwinian when it comes to morality. They just don't realize that they are stealing a moral law from God when they condemn a survival-of-the-fittest ethic.
Third, physical survival isn't the highest moral virtue. Sacrificing yourself to save someone else, as our military heroes often do, is the highest form of morality and love—far higher than mere survival. That's exactly what Jesus claimed and then did for us.14
Fourth, since evolution is a process of change, then morals must change. Rape and murder may one day be considered "good." So if evolution is your guide, it's impossible for morals to be objective and unchanging.
Fifth, the assertion that evolution gave us morality as a kind of "social contract" to enable civilization isn't an adequate ground for objective morality. 'What if someone violates the "contract?" Is he immoral for doing so? To judge him wrong, you would again need to appeal to an objective moral law beyond any "social contract," like we did in order to condemn the Nazi "social contract."
Finally, the claim that we wouldn't survive without cooperation is a pragmatic issue, not a moral issue. And it isn't even true. Many people survive and even prosper precisely because they don't cooperate with other people! Criminals often prosper quite nicely. So do dictators. Atheist Joseph Stalin murdered millions more people than he cooperated with. He never got justice in this life. He died comfortably in bed at the age of seventy-four, shaking his fist at God one last time.
Atheists call murderers like Stalin, Mao, and Poi Pot, who were atheists themselves, "madmen"—as if reason alone should have led them to act morally. But those dictators were very reasonably following their atheistic belief that without God, everything is permissible. Reason is a tool by which we discover what the moral law is, but it can't account for why the moral law exists in the first place. For the moral law to exist, God must exist. If God does not exist, then why shouldn't Stalin and Mao have murdered to get what they wanted, especially since they knew they could get away with it? That certainly was not "unreasonable."
From Euthyphro to Elvis
"Not so fast," say atheists. "Even if evolution doesn't work as the standard of morality, you can't ground objective morality in God either. You're forgetting about the Euthyphro dilemma."
Euthyphro is a character in one of Plato's writings who poses a couple of questions that either make God subject to objective morality or an arbitrary source of morality. The supposed dilemma goes like this: Does God do something because it is good (which would imply there is a standard of Good beyond God), or is it Good because God does it (which would imply that God arbitrarily makes up morality)?
But this is not an actual dilemma at all. An actual dilemma has only two opposing alternatives: A or non-A. We don't have that here. In this situation we have A and B. Well, maybe there is a third alternative: a C. There is.
When it comes to morality, God doesn't look up to another standard beyond Himself. If He has to look up to another standard, then He wouldn't be God—the standard beyond Him would be God. Nor is God arbitrary. There is nothing arbitrary about an unchanging standard of Good.
The third alternative is that God's nature is the standard. God Himself is the unchanging standard of Good. The buck has to stop somewhere, and it stops at God's unchanging moral nature. In other words, the standard of rightness we know as the Moral Law flows from the nature of God Himself—infinite justice and infinite love.
How can God's nature account for ultimate value? Before answering that, we need to reiterate that an atheistic worldview can't account for the objective value of human beings. On an atheistic worldview, we're nothing but overgrown germs that arrived here accidentally by mindless processes and thus have no ultimate purpose or significance. Life is meaningless. We are each objectively worth zero. And adding a bunch of us up into a society doesn't create value. If you add up a bunch of zeroes, the total worth is still zero.
But on a Christian worldview, God is the ground and source of ultimate value, and He endows us with His image. Therefore, our lives have objective value, meaning, and purpose. If there is a real purpose to life—a "final cause" as Aristotle put it—then there must be a right way to live it. After all, to get to a specific destination, you can't just go in any direction. Morality helps inform us of that direction. That means God doesn't arbitrarily make up moral commands. He's not an exasperated parent who justifies everything with, "Just do it because I said so!" God's commands are consistent with His moral nature and point us to the final cause or objective goal of our lives (more on that goal later).
So the source of our lives as human beings is God, not primordial slime. And source is important. You can see the importance of source by considering the most expensive items ever sold at auction:
The most expensive lock of hair: Elvis Presley's, $115,000.
The most expensive piece of clothing: Marilyn Monroe's "Happy Birthday Mr. President" dress, $1,267,500.
The most expensive piece of sports memorabilia: Mark McGwire's 70th-home-run ball from 1998, $3,000,000.
People ascribed enormous value to those items not because the raw materials are that valuable—you can get hair, dresses, and baseballs for a lot less—but because of the source of each item. People or events that are deemed special are connected with those items.
The values of those items are extrinsic in that they are ascribed by whatever the buyers want to pay. But if Christianity is true, your value is intrinsic because you are connected to God. Your value is based on the worth infused into you by the source and standard of all value, God Himself.
Marinate in that for a minute: The infinite God has endowed you with immeasurable worth. The majestic heavens aren't made in His image, but you are! That's why you have moral rights. As Thomas Jefferson put it, "All men are created equal [and] are endowed by their Creator with certain unalienable Rights, that among these are Life, Liberty and the pursuit of Happiness." Because of God, you are inherently valuable, and always will be, no matter what you've done or what anyone else thinks about you. Your value is far from zero. You are literally sacred.
Frank Turek, Stealing from God (Colorado Springs, CO: NavPress, 2014), 98-106.