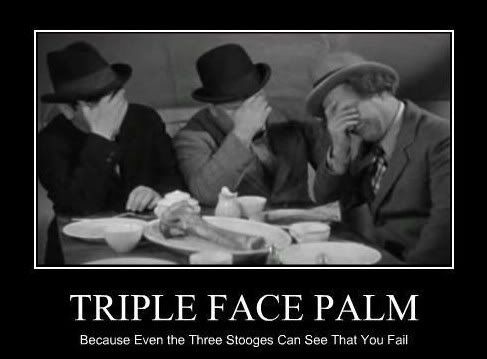 I found this fascinating! Gay Patriot found a guy who parrots the left in a way Dennis Prager says, warps judgment — may I add, profoundly. So, I decided to dissect this post a bit to show how non-issues are conflated to the Left's mind while important aspects of fighting a war on terror while not allowing a trampling of things like the 4th and 12th Amendments on our own body-politic (en masse).
So lets read and access the post by Justice St Rain
Lets unpack Global Warming a bit. Almost every point, literally every point, that anthropogenic warming extremists have put forward over the past decade[+] has fallen apart due to evidence.
1. A biologist who claimed that polar bears were drowning because of melting ice has been suspended and is being investigated for scientific misconduct following his "veracity" in emotionalizing a debunked topic.  Get ready for Polarbeargate.
2. Today, new NASA data blows a gaping hole in global warming alarmism: "NASA satellite data from the years 2000 through 2011 show the Earth's atmosphere is allowing far more heat to be released into space than alarmist computer models have predicted, reports a new study in the peer-reviewed science journal Remote Sensing." [See the paper — it was pulled]
3. CERN physicists conducted a cosmic ray climate experiment that is said to directly contradict the climate change debate in the political arena.  Apparently, so much so that the scientists have been gagged from discussing their findings reportedly proving that cosmic (space-based) energy has a far greater effect on the climate than previously believed.
4.  A recent study published in the Proceedings of the National Academy of Science found evidence that coal burning plants may actually be cooling the planet. The findings have been accepted to the point of suggesting using sulfur to combat global warming; "Sulfur's ability to cool things down has led some to suggest using it in a geo-engineering feat to cool the planet."  If anything, this study proves that the science behind the anthropogenic global warming theory is unproven.
(Activist Post, I update a couple of the dead links)
Three posts I highly recommend exemplifying major failures in the predictive powers in the pro-man-caused (AGW) side are here:
✁ CO2 Nears 400 ppm – Relax! It's Not Global Warming 'End Times' — But Only A 'Big Yawn' — Climate Depot Special Report;
✁ New Report: 'Extreme Weather Report 2012′: 'Latest peer-reviewed studies, data & analyses undermine claims that current weather is 'unprecedented' or a 'new normal';
✁ John Kerry vs. `The Warming[?] World`
From fraud in newspapers, to misunderstandings by reporters (put in their place by scientists), to CO2 not being the driver of warming — but rather a more cosmic driver (as well as a CFC correlation, maybe?), to hockey sticks evaporating and fraught with fraud, to thee most important prediction in the IPCC model failing — entirely, to activists going to the Antarctic to make a point but getting frost bite and cancelling the trip, to even "experts" saying that snow will be only a memory with children in this decade, to less tornadoes and hurricanes rather than more, and that "warming" [not man-caused] would decrease them, to even the Economist Magazine changing their position on the matter, as well as other AGW acolytes like Germany's Max Planck Institute for Meteorology saying that the "prognoses confirm model forecasts…" warming postponed "hundreds of years," or James Lovelock — creator of the GAIA theory — now rejecting man-cased global warming ~ the "consensus" is in free-fall, in other words, to people like Bill Nye being destroyed with facts, Hillary Clinton, as well as Al Gore. All leading to the idea that the Left is more religious in their political endeavors than the most fiery preacher, even having their own eschatology! (I say more, because while a Christian may have beliefs about how the world will end, they are not legislating taxes [confiscating labor] based on it.)
Every point that is parroted in that small statement by St. Rain's is a bust, and shows how the left uses causes to minimize freedom. They latch onto these things to increase legislative control and thus put in place more progressive control… which leads us into the "rich" and the poor mentioned. With the stupid statement about the 1%, I would be concerned if the bottom 50% payed the lions hare of taxes AND controlled less than the 1%.
So if we were to "even the playing field," I presume through forced redistribution, all those pet-programs that have put more people, than the entire population of Spain, on some sort of welfare that St. Rain surely supports, would disappear. No more safety net in other words. In fact, the food stamp program is not gutted? It is at an all-time-high? Is St. Rain saying that we cannot cut programs like this at all? We are at our most minimum RIGHT NOW? The rich would bring back this money if our tax system were fair, and not criminal. The Laffer Curve for instance, explained so well by UCLA Economics professor, Tim Groseclose, shows when the government starts to lose money through its tax policy. Which makes me want to show just how bad St. Rain's thinking is and how he digests and parrots falsehoods in order to embolden his feelings on issues. When he says, "Secretaries paying more in taxes than billionaires", you know he has sold his soul to the devil.

St Rain's confusion about capital gains tax and income tax is astounding to me. Buffett's secretary likely makes about $200,000 a year, and pays a high tax bracket on her INCOME. Buffett and Romeny already payed this high tax bracket on their earnings, invested that taxed money, increased it, and now pay 15% (minus any donations — which Romney did A LOT! getting his tax bracket down to about 13% — damn greedy conservative!). Some of the problem I see here is that St. Rain views wealth as a "zero-sum game," that is, he thinks that when one person gets richer, another person gets poorer. But when a "Bill Gates" becomes uber rich, he provides jobs, charities, trusts, etc, that lift multiple thousands of lives out of a lower income bracket into a higher. Justice St. Rain's also — I believe — falsely characterizes "income inequality myth":
He also misunderstands the idea that the Republican party is the party of the rich and greedy. I doubt Rain's even understands how greed can be good and create the most wealth for everyone.
I don't have all-day, but another blatantly false statistic Rain's puts forward when he says, "More black men in prison than in college." Larry Elder deals with this as one of five mantras/myths on racism and blacks:
While there is a lot to unpack in Justice's short paragraph, I will end with this look into worldviews, which I doubt is a topic of in-depth study by Justice. When he says, "The general lack of compassion in the world," I liken this to a decrease in the Christian faith in the West. For instance, when dealing with issues of, say, rape, differing worldviews view this in completely different ways:
✂ theism: evil, wrong at all times and places in the universe — absolutely;
✂ atheism: taboo, it was used in our species in the past for the survival of the fittest, and is thus a vestige of evolutionary progress… and so may once again become a tool for survival — it is in every corner of nature;
✂ pantheism: illusion, all morals and ethical actions and positions are actually an illusion (Hinduism – maya; Buddhism – sunyata). In order to reach some state of Nirvana one must retract from this world in their thinking on moral matters, such as love and hate, good and bad.
So Christian theism produces people like Mother Theresa who goes into a foreign land and sacrifices her whole life to care for people who are rejected by their society. A well funded (rich) church makes this possible. To end I will expand on my thinking from an excerpt from my book:
---
---
[1] Dean Halverson, The Illustrated Guide to World Religions, 56-57, 98.
[2] Ron Carlson & Ed Decker, Fast Facts on False Teachings (Eugene, OR: Harvest House, 1994), 28-29.
[3] Ravi Zacharias, The Lotus and the Cross: Jesus Talks with Buddha (Sisters, OR: Multnomah, 2001), 23-24.
[4] Elliot Miller, A Crash Course on the New Age Movement, 209-210.