Okay, to follow are two stories that are "in-additions" to these to show just how manipulated and wrong the press has bee and has already had to backtrack on… but it doesn't matter because people only remember the headlines, not the retractions or challenges. Again, the two new additions will follow the links:
The RSV story has a lot to do with hospitalizations and ICU beds. I will MAROOON the related stories:
Okay, from the CDC having to retract Florida numbers to CNN using numbers from a leftie paper that were 4,100% wrong to this RDV thing being glommed on to by the media as Covid admissions… the facts TRUMP the rhetoric of the Left.
This first story deals with the RSV topic via RIGHT SCOOP! (Apologies to RS for gabbing most of the post) — I AM ADDING THE BULLET POINTS:
Breaking away from RIGHT SCOOP, I will continue the graphics with links to their Twitter — which you can then link to the articles from: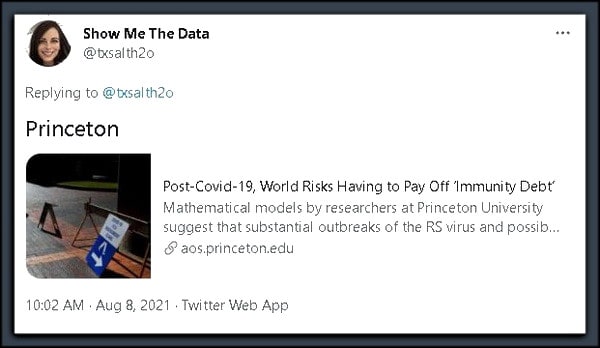 Mathematical models by researchers at Princeton University suggest that substantial outbreaks of the RS virus and possibly seasonal flu may occur in future years (link is external), with peak outbreaks likely occurring in the 2021-2022 winter season in the U.S. (PRINCETON)
That linked to a WALL STREET JOURNAL Article, which follows:
That is the hospitalization of kids issue. Next is an update the fully vaccinated in Israel. However — FIRST — just a quick convo I had with a friend via MESSANGER:
---
QUICK CONVO
---
RT: Of course this is a "Pandemic of the Unvaccinated." Numbers are impossible to refute. Feel sorry for the little kids that are getting beat up by this thing, even though those numbers are small. You always find that "one doctor." Usually the oddballs.
ME: I refute em all day long on my site. CDC had to retract Florida numbers. CNN used numbers from a leftie paper, and retracted because the # was in the 700s, and not 5,800. RSV is blowing up in kids, media is saying Covid. Don't be silly
RT: I'll agree with you and we can both be wrong. ICU beds tell EVERYTHING. Louisiana in big trouble. Florida and Texas big cities already in trouble.
ME: ICU beds not due to covid. Sorry. Also, not anywhere near a pandemic, at all. The flu season of 2017-2018 much worse. Also ……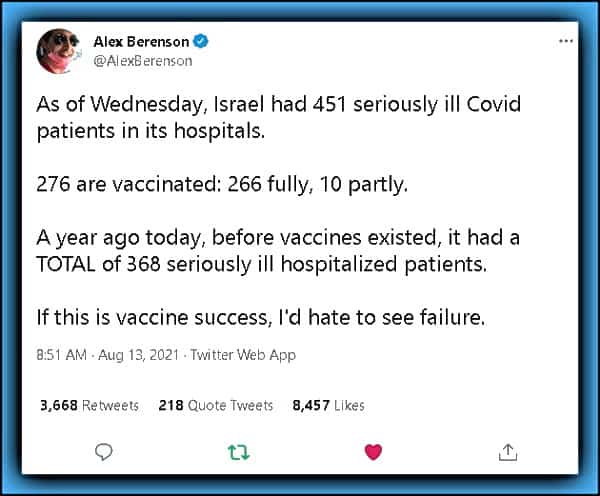 STILL ME: Not only that, but if you catalogued that flu season (2017-2018) with the new definitions per the CDC (April of 2020) that flu season would have tripled to quadrupled in deaths attributed to it.
(AFTER THOUGHT): What my friend is doing is combining all the stats in his head from the start of this in September of 2019. Instead, he should be looking at this as two separate seasons and working with those numbers to compare with: 2019-2020 and 2020-2021.
---
END
---
Okay, moving on. Again, this is only half of a post via ALEX BERENSON, who, like the WSJ is behind a partial pay wall. But his posts have been key — for quite some time now. Enjoy the deep thought/work of Alex:
Anyways, I am sure more will be available for review in the days to come.