(CNSNews.com) – MSNBC's Melissa Harris-Perry compared abortion to cancer treatment and hand amputation during a segment of her self-titled show Saturday on Alabama's abortion law that requires minors to get written parental consent before an abortion or petition the court if they don't.
And NewsBusters has this:
"I think we have deluded ourselves into believing that people don't know that abortion is killing. So any pretense that abortion is not killing is a signal of our ambivalence…"
Faye Wattleton, former president of Planned Parenthood (1997)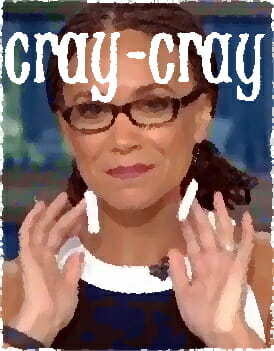 Don't be fooled by the deceptive labels and euphemisms. When it comes to "reproductive rights," feminists have a very specific agenda—one that involves a lot more abortions, but not necessarily more choice.
Ashley Herzog, Feminism vs. Women (Xulon Press, 2008), 86.
…As Dave Andrusko (National Right to Life News) stated:

"At first blush, you might simply say, What?!" But remember this is the same woman who argued that superstar singer Beyonce could [should?] have promoted abortion at the 2014 MTV Video Music Awards program where she spoke at length…"

(I'll add a few more examples that will make people scratch their heads and say "What!?"   There was the time where she downplayed the role that radical Islam played shortly after the Boston Bombings.  The time she linked GITMO detainees to American slaves. The time she mocked (and then shamefully apologized) Mitt Romney on his newest grandson – who happened to be black.  Or the time when she said that parents shouldn't raise kids, communities should raise kids: "Part of it is, we have to break through our kind of private idea that kids belong to their parents, or kids belong to their families, and recognize that kids belong to whole communities.") 

McPhilips took Harris-Perry's irrational comment in stride, and sensibly responded:  

"Well, you wouldn't have to, because I presume you're well over 17, but someone 17 or younger, especially 16, 15, 14, having an abortion or having a baby could have great consequences. And at their age and stage, they can't enter into any contract legally in any state anyway, and the rules of civil procedure in Alabama and in most states allow for the appointment of a guardian ad litem to protect the property interests of an unborn child. And we reason if the property interests of an unborn child can be protected, why not the life interests, because without the life, you can't have property. …

"But I will say this: I want to raise the consciousness of people out there that there's much at stake, great life itself. The only problem with pro-choice is it's absolutely no choice for the one life that's really at stake."

Melissa Harris-Perry once asked "When does life begin? I submit the answer depends an awful lot on the feeling of the parents. A powerful feeling – but not science"; and spoke of an unborn child as a "thing" that "might turn into a human."