(JUMP TO the latest tornado stats)
(See my post on Sea Level Rise)
From the video description:
I wanted to UPDATE this post (the above video and description) a couple ways, with the most recent storm examined in light of history, as well as an older post making similar points.
Hurricane Florence hit as a Category 1… even though we were told this was going to be a Cat 4 or 5 disaster! REAL CLIMATE SCIENCE mentions the "missed by that much" by saying,
"'Hurricane' Florence is passing over Wrightsville Beach, North Carolina right now, with peak wind speed in the eyewall of 60 MPH and a storm surge of just over three feet."
Let's play a game… North Carolina REALLY WAS hit by a category 4 hurricane in 1954: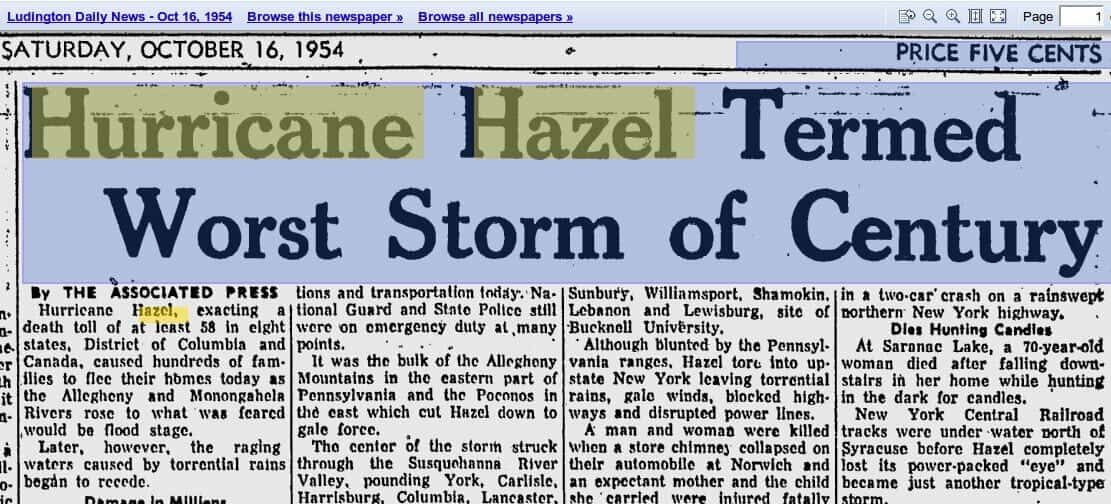 (Click to Enlarge – Via STEVEN GODDARD)
So what is the deal? We are told hurricanes and tornadoes increasing are a result of climate change. As the earth gets warmer, the weather get's worse. Right? that is the line… EXCEPT, the weather is getting better? Does that mean then, following the logic of climate alarmists, warming is good? 
POWERLINE joined the historical fun yesterday with the following:
Tucker Carlson has DR. SPENCER on to discuss the politics involved in hurricanes (the experiment by Bill Nye "the science guy" being shown false can be found here at WATTS UP WITH THAT):
With THAT UPDATE, here is a portion of an older post on the subject:
---
…weather, especially tornadoes and hurricanes have lessened over the years. In other words, if Michael Grunwald (the author of the Time article) says weird weather is a indicator, an evidence for, that warming weather is something we should be fearful of and act on, what is normalizing weather and no warming suppose to indicate… OTHER THAN the whole premise of the article in a major magazine is undermined.
This candid admissions from the New York Post:
But keep in mind, our total Co2 (carbon) emissions is no laughing matter:
Besides the Global Warming crowd blaming everything on it (even the violence in the "arab spring"!), its failed predictions about no ice in the north-pole, no more snow in europe, islands drowning, polar bear numbers, and the like… Al Gore's claims about Hurricanes is [again], laughable, to wit: when you even lose Jeraldo Rivera, your leftist stance may be very laughable:
UPDATE AGAIN! (10-4-2018)
To be clear, this is a 60-year low… and we have increased carbon output in the past 15-years almost as much as the previous 60-years.
Via WUWT (the below and above):