After having a run in with these guys a few years back in the SCV and noting that Texas voted in a Democrat from the group, I looked into them a bit. I ended up posting 3-times on them in the past (and as a warning, many of the links in those posts may be dead).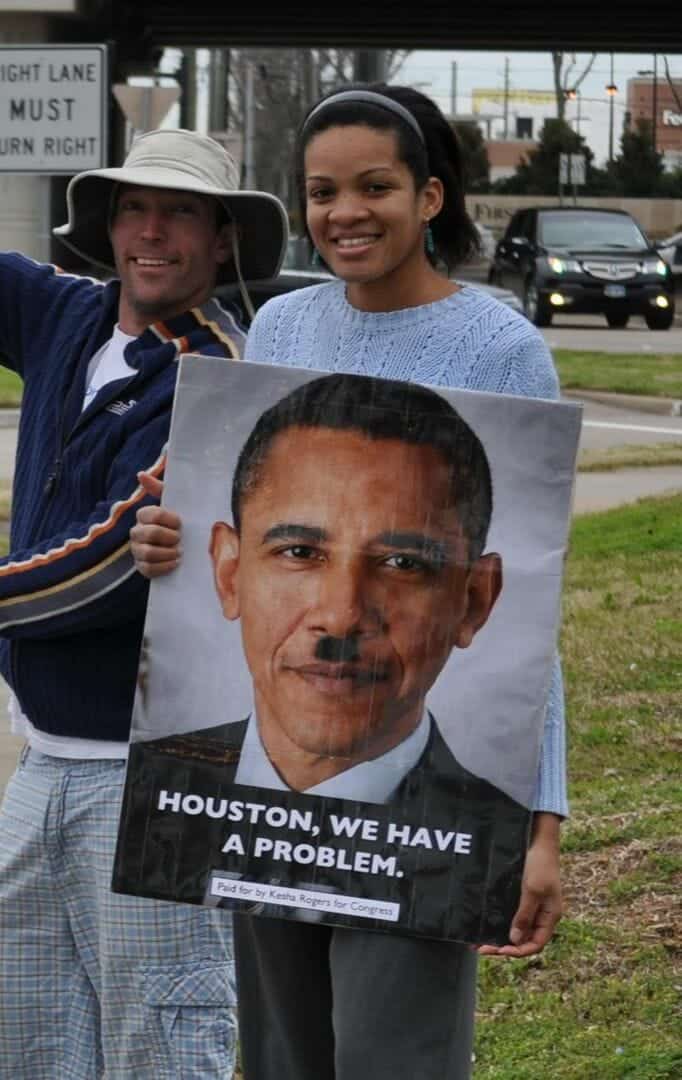 What I found out is that they do stuff to grab attention. In the past however, their tactics allowed the mainstream media to portend that the TEA Party peeps were right-wing racist by highlighting in their stories posters of Obama with a Hitler stache at the TEA Party events. But as my two June posts show clearly is that an elected Democrat was holding the same signs, as she was part of this organization. And the founder himself (Lyndon LaRouche) ran for office 7-times… as a Democrat.
Well, this Leftist Political Cult (more cult than Leftist) is at it again in grabbing headlines. What irked me is that many of the conservative sites I went to assumed this lady was an AOC fan. As soon as I watched the video I knew it was a prank of some kind… I just thought it was some comedian or radio morning show prank. The newly silk screened shirt gave it away. But I wasn't tracking with it being a LaRouchite ploy.
Here is the video (look how caught off guard AOC looks — if anything, the look on her face meeting people from a crazier cult than she is from is priceless:
Here are examples of just how wrong people got the the "baby eating" troll by this LaRouchite chapter. GLENN BECK said this was an "environmentalist activist," Emma Vigeland of THE YOUNG TURKS said this was a "Trump Troll." Even Alexandria Ocasio-Cortez claimed that the woman who suggested "eating babies" was a solution to climate change "was a Trump supporter." Others claimed she was mentally ill.
As an aside, all the sites that say AOC should have clearly denounced cannibalism [eating babies] otherwise she by default supports it are wrong. She doesn't have to denounce it because it is automatically assumed this position is sick and the nuance of publicly rejecting it is silly. JUST LIKE those asking Trump to continually reject "white nationalism" are just as silly as rejecting eating babies.
Here is the tracking down of this woman on Twitter and her affiliation with The Lyndon LaRouche cult:
So who was this woman? Not a climate activist. Not even, perhaps, someone with a mental illness. She is a representative of the bizarre political cult once led by Lyndon LaRouche. Previous targets for this kind of stunt include @Janefonda Olof Palme & Michael Dukakis. Now @AOC. pic.twitter.com/0JVsfn6vCn

— Matthew Sweet (@DrMatthewSweet) October 4, 2019
THE DAILY CALLER had a good post on the group/incident. In it Shelby Talcott (the article's author) rightly notes the following (EMPHASIZED):
The article continues on with all the finger pointing going on in our "immediate" social media world. (I just told my own two sons to wait a couple of days to see where the chips fall.) The article then continues on with the more important issue of the groups history and aims:
The instigator is right about the Swedish professor though. The professor spoke about cannibalism being a sustainable food source (the report in the Swedish language can be seen HERE) — and if you haven't heard of this guy yet, here is CLIMATE DEPOT'S post on professor Söderlund's ideas, pre-ceeded by Ezra Levent's show with Marc Morano:
:
---
FLASHBACK WEIRDNESS
---
Mind you, this isn't the first time a "wild eyed" proposal was made by crazies! The Guillotine was proposed by a Democrat Georgia House of Representatives, Doug Teper (D-61), as a better way to impose the death penalty on others. Rep Teper did receive an award: Honors and Awards Young Democrats of DeKalb DEDICATION TO THE ENVIRONMENT. 
Another blogpost post zeroes in on the possible animus for such proposals (and mind you, I am speaking of this partly to put into the record here at RPT these old proposals by Democrats to put them into the search history of my site to recall them in discussion):
Utopianism at it's most dreamiest.