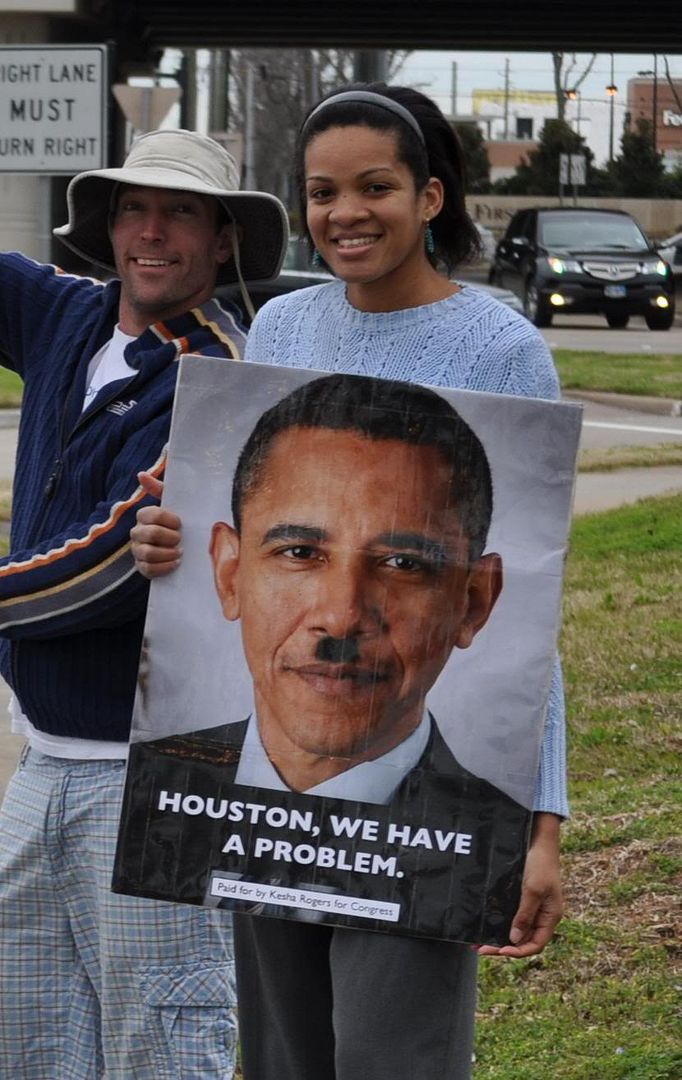 "Houston, We Have A Problem" is so apropos
Life is truly stranger than fiction. A previous post on this topic touches well on the cultic aspect of this political movement. I had lots of pics there, but this Big Government Picture is worth a thousand words.
Not only does this picture show Kesha Rogers holding the Obama/Hitler sign, but it even says it is paid for by her campaign on the bottom (click to enlarge):
This story (the LaRouche movement and recent political activity) is an old one… one that I commented on quite a while ago. These person's even visited my old job once (Whole Foods):
Here is the BigGov post:
…the state-run media won't run this photo.
They won't publish this photo because it doesn't fit their narrative. Remember last year when the Democratic-Media Complex reported that the tea party protesters were waving Obama-Hitler signs? What the media purposely omitted from their stories was the fact that the protesters waving these astroturfed Obama-Hitler signs were radical left-wing extremists. They were radical activists from the LaRouche organization. But, this didn't fit the state-run media's narrative that tea party activists were radicals and racists so they omitted this from their reports.
Earlier this year, the corrupt media and prominent democrats continued to smear tea party activists by reporting that the conservative protesters on Capitol Hill harassed Black Caucus members, called them the n-word, and spit at these Dems as they paraded though the tea party crowd on their way to ram nationalized health care through Congress. This was a lie. It never happened as video later revealed. However, the corrupt national media never retracted their story nor did they apologize despite the overwhelming amount of evidence that proved their racist accusations were complete fiction.
That's why the media won't show this photo of Democrat Kesha Rogers. It doesn't fit their narrative.
Kesha won her primary last week. This Texas Democrat wants to impeach Obama and "take our troops out of the war zone and put them into space." This makes about as much sense as the Obama-Pelosi "spend your way to wealth" plan, only not as dangerous. Don't look for the media to give this Texas loon much attention in the months ahead.
(BigGov)