UPDATED:
BTW, if you didn't know about this historic moment… that is because — as NEWSBUSTERS notes — the MSM gave it little attention:
The big three networks gave just 15 seconds Friday to the largest pro-life annual march in the nation's capital, this year. While it's not out of the ordinary for the media to ignore this mammoth event that flies in the face of their liberal narrative on abortion, it is notable that they would hold a near blackout of the event even when President Trump became the first sitting President to attend in the 47 year history of the march….
MEDIAITE said Trump lied at the March For Life in D.C. when he said this [note, I include my response as well in the following pic] (via INFORMATION LIBERATION):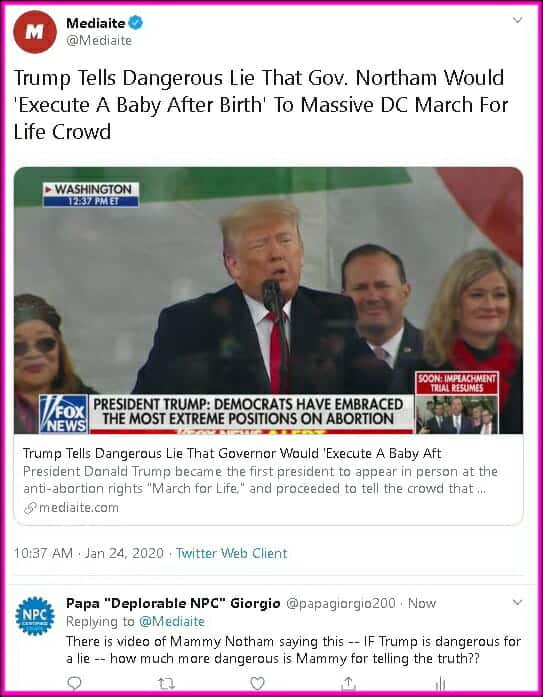 The DAILY CALLER simply responds with the video:
Ummm… the video exists
pic.twitter.com/7mR81WuxQe https://t.co/LIjBq5YSlv

— Daily Caller (@DailyCaller) January 24, 2020
Just remember what Faye Wattleton said, former president of U.S. Planned Parenthood:
"I think we have deluded ourselves into believing that people don't know that abortion is killing. So any pretense that abortion is not killing is a signal of our ambivalence, a signal that we cannot say yes, it kills a fetus."
Here is the previous post (originally posted January of 2019)
I posted this on my RPT Facebook Page: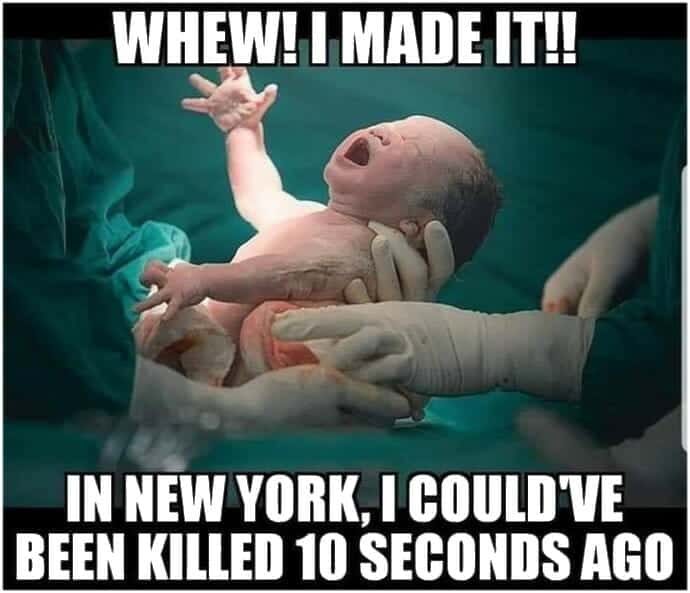 Shortly thereafter, a reader posted this short response an a link:
By the by. That article is probably the most many read about the abortion debate. I doubt they would have read "Grand Illusions: The Legacy of Planned Parenthood," or, "Killer Angel: A Short Biography of Planned Parenthood's Founder, Margaret Sanger." Or "Pro-Life Answers to Pro-Choice Arguments," or, "The Case for Life: Equipping Christians to Engage the Culture." Neither do they watch or listen to women who survived abortions, like, Gianna Jessen, or Rebecca Keissling. Or listen to presentations LIKE THESE:
Why complicate things with history and facts and debate. But I digress. Here is my response:
Another friend posted at the same time:
So now Virginia is doing the same as New York… Virginia could soon be joining New York in repealing restrictions on abortion, including terminations up until the moment of birth, under the provisions of a bill backed by Governor Ralph Northam and a substantial number of Democratic lawmakers. The Repeal Act, introduced as HB2491 by Delegate Kathy Tran (D-Springfield), would repeal restrictions on third trimester abortions, allow abortion doctors to self-certify the necessity of late term procedures, eliminate informed consent requirements, repeal abortion clinic health and safety standards, permit late term abortions to be performed in outpatient clinics, remove ultrasound requirements, and eliminate Virginia's 24 hour waiting period.
NATIONAL REVIEW has the transcript for those wishing to read the exchange: