NPR has a left leaning bias, we all know that and I have proven it in the past. So reviews of a book they laud connecting the fanciful imaginations of the progressive in regards to history and Bush is a dream come true. In two reviews of the book/topic with the author of the book, God's Jury, you can see a creeping bias, much like the pre-war Germany propaganda, has on the cover a "hooked nosed" Pope designating (implicitly or explicitly) the secular leftist hatred for anything Christian.
Cullen Murphey's Cover: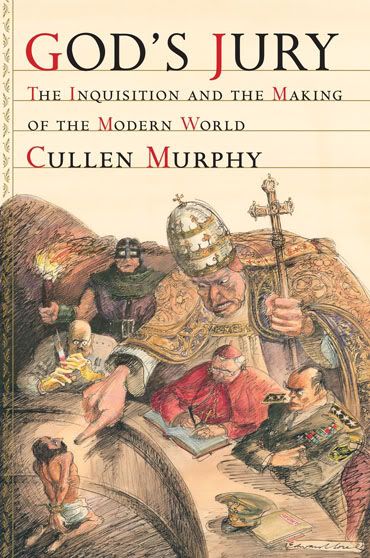 WWII Propaganda:
Modern Islamo-Nazi Depiction:
Some NPR stories on the book/author:
1) The Inquisition: Alive And Well After 800 Years
2) The Inquisition: A Model For Modern Interrogators
NewsBusters has this in what they call a Liberal Two-Fer:
This book is at odds with the most renown scholar and author of the book, The Spanish Inquisition, Henry Kamen. Take note of the difference in tone and most probably scholarship — as this interview shows… his [Cullen Murphey] connections are so general that any religion or government can be connected to this event. These generalities are not to connect a historical event to a modern one but in progressive fashion the goal of stoking emotions rather than basing something in fact/history is the prime mover.
From an Amazon book reviewer and author of Author of "Mission," an African novel set in Kenya:
One of my favorite quotes comes from a debate between Dinesh D'Souza and the late atheist Christopher Hitchens:
  ✦ Atheists regimes killed more people in a week than the inquisition could kill in three-centuries
And another reviewer:
A great video by a fellow arm-chair apologists is a good introduction to the topic: