John and Ken discuss how Governor Jerry Brown may have just bankrupted California.
Some main points about the bill:
Energy prices, food prices, car costs, etc., will all go up. As California becomes more expensive as a state to do business in, MORE businesses will leave and jobs will be lost. It will leave only the giants in business being able to pay for the extra costs, thus, whittling out competition. California will have a few large corporations left in it as well as a few large unions… all subsidizing the Democrat Party to force competition out of their markets.
The L.A. Times notes this as well:
This is really a back-door way to implement the previously failed SB 350 and more in order to tax people for California's unfunded liabilities. JOHN & KEN previously discussed SB 350 noting the harmful effects it would have.
In an excellent article over at the WASHINGTON TIMES, we read this:
Of course I have been talking about this for years (CARL'S JR. as one example), and posting audio on this issue for years as well…
When California makes it too expensive for alternative energy companies to survive in this state… you know the chickens are coming home to roost!
---
APPENDIX
---
The question my wife asked, very astutely, is what are these numbers we are talking about. Here they are:
Here is page one of a more bullet pointed and graphed path (click it for the PDF) to these reductions that are impossible and is only a way for the state to gain more monetary resources to pay for their B.S.
A mere 2% of the carbon emissions credits that the California Air Resources Board (CARB) put up for auction in May were sold. The quarterly auction raised only $10 million of the $500 million that CARB projected. That's awful news for Democrats in Sacramento who planned to spend the windfall on high-speed rail, housing and electric-car subsidies. (WSJ)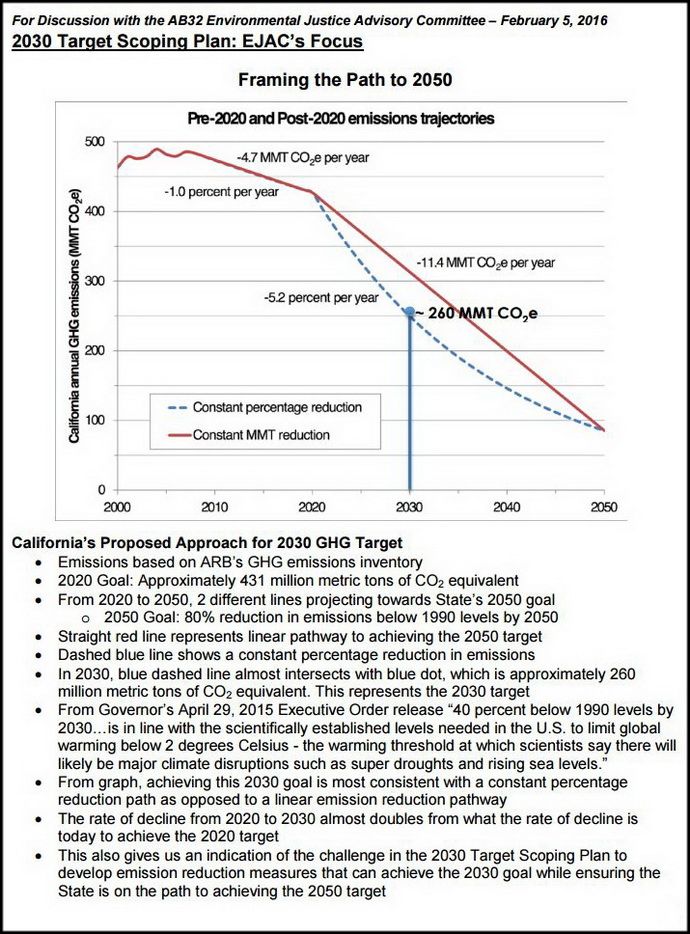 According to the Vermont Senator's website, the Democratic Party draft platform reads:
Too important to wait for Congress? Which is why stuff like the above have to be passed via executive order — like Jerry Brown did. Whether on the state or federal levels, Democrats love growing government and regulating every aspect of the citizens life… by fiat. King George is back. It is merely "King George" forcing policies the public would never approve of:
THERE MAY BE A FAIL-SAFE HOWEVER!
In an excellent post at CLIMATE UNPLUGGED, it is noted that this signing into law by fiat would still need to pass a "California appellate court will soon rule as to whether it violates Proposition 13"
I hope the court sees the unconstitutionality [California's constitution] of this and kills it all!