DAILY CALLER zeroes in on the first claim:

More on the second claim regarding the Steele Dossier being Russian propaganda — even though it was touted for over 2-years in the pages of the NYT:
And regarding the New York Times correction to a story about Trump's tax plan:
---
A FEW MORE
---
The New York Times had to issue an embarrassing correction to its story about another decades-old accusation of sexual misconduct against US Supreme Court Justice Brett Kavanaugh — because it failed to tell readers that the alleged victim doesn't even remember the incident.
As The Post reported in its front-page story Monday, the Times piece omitted that crucial fact.
The Times article had been adapted from a book on Kavanaugh by two of its reporters, Robin Pogrebin and Kate Kelly. The newspaper claimed that Max Stier, a former classmate of the justice years ago at Yale University, had allegedly seen Kavanaugh pull his pants down at a party, and his friends then pushed his penis into the hands of a female student….
(NY POST | See also the NEW YORK INTELLIGENCER)
5 Biggest Screw-Ups by The New York Times So Far This Year
Corrects Claim That 17 Intel Agencies 'Agree' on Russia

Mistakes Parody Twitter Account for North Korea's Official One

Flubs Story on Food Stamps and Soda—Twice

Editor Forced to Correct Statement on Attorney General

Corrects Editorial Attacking Sarah Palin With Debunked Conspiracy Theory 
The New York Times was forced to issue four corrections to a failed hit piece against Foundation for Defense of Democracies founder Mark Dubowitz.
Last week, the Times published a piece aimed at portraying Dubowitz as corrupt, unethical, and incompetent because he opposed former President Barack Obama's nuclear deal with Iran and applauded President Donald Trump for withdrawing the U.S. from the horrendous pact.
The embarrassing article falsely claimed that a GOP donor with financial ties to the United Arab Emirates gave FDD $2.7 million to fund an anti-Qatar conference; that Dubowitz "paid himself" twice as much as others who head think tanks; that Dubowitz created his own salary to far exceed his peers in the industry; and that the FDD is connected to Israel's Likud Party.
Every single one of those claims is completely false, and the Times was forced to issue a lengthy correction admitting that its error-ridden piece had to be updated.
As noted by the correction, here's the truth: Dubowitz's compensation is determined by a board of directors, meaning he doesn't arbitrarily create his own salary; his annual salary is almost identical with other think tank leaders; the FDD is not directly tied to the Likud Party in any way; and GOP donor Elliott Broidy gave $360,000 for the  FDD conference, not $2.7 million….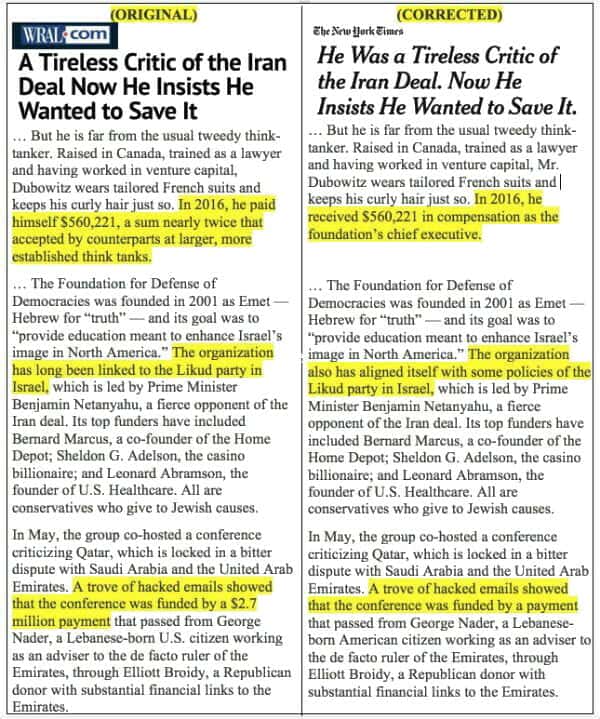 These weren't minor errors where someone's name was misspelled or the date of an event was wrong. This was intended to be a disgusting, salacious, hit piece against Dubowitz because he gave credit to Trump for pulling out of the Iran deal.
The piece is uniquely embarrassing because of the volume of the embarrassing errors and how easy it should have been for editors to catch the erroneous claims.
In fact, the errors are so egregious it appears like the Times deliberately inflated figures and peddled falsehoods to ramp up the heat on Debowitz….
ETC., ETC., ETC….