I wanted to post some responses what has been becoming a popular argument. For instance I came across this graphic on a friends Facebook: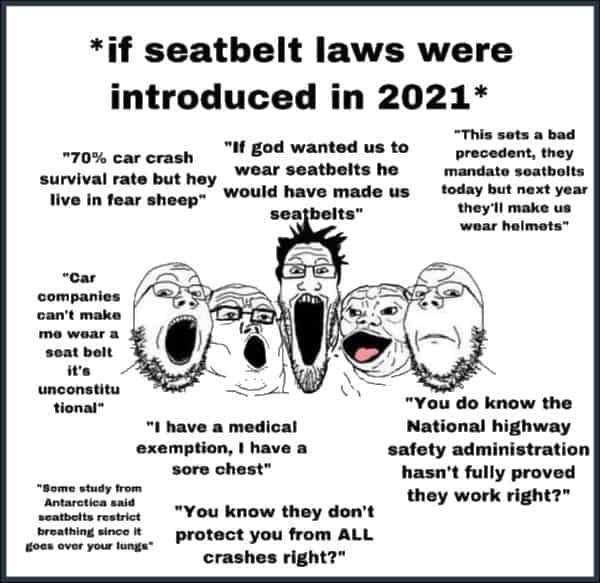 It came up with a family member's conversations as well. So I wanted to make accessible some responses.
MASKS AND SEATBELTS:
The first example in this section comes from ECONLOG'S Bryan Caplan (Professor of Economics at George Mason University):
The masks are dehumanizing, seatbelts are not. The argument against women being forced to wear burkas in many counties in the Middle-East is that they dehumanizes them.
One of the main points is that almost every study shows a very slight improvement at best. Here, for instance is a CDC study showing how ineffective they are — much more-so than seatbelts.
Here is the CDC STUDY: "Nonpharmaceutical Measures for Pandemic Influenza in Nonhealthcare Settings—Personal Protective and Environmental Measures"
Here is CITY JOURNAL'S last two paragraph's of an excellent article: DO MASKS WORK?
MORE EXAMPLES:
Here are two short videos via BILL MAHER making sense:
Some posts by American Institute for Economic Research (AIER):
MASKS and VACCINES:
This from NATIONAL REVIEW:
NAMELY LIBERTY notes two major flaws in the argument:
Unlike vaccine injury, there is no genetic risk to seat belt injury; unlike vaccines, the risk of seatbelt injure is random, and is therefore truly share among all people.  People injured by one vaccine likely have a higher probability of serious adverse health outcomes from additional vaccines.

Unlike vaccines, seat belts routinely are subject to recall due to injury lawsuits, providing essential product quality feedback to seat belt and automobile manufacturers.  By contrast, vaccine manufacturers are immune to liability lawsuits.  Instead, families of individuals killed or injured by vaccines have to sue the US government – specifically the Department of Health of Human Services, via the Vaccine injury Compensation Program.  Liability for vaccine injury was removed for vaccine manufacturers and for medical doctors and nurses in 1986 with the National Vaccine Injury Act.  No vaccine injury damages visited upon vaccine manufacturers compel them to improve their product.  Instead, vaccine manufacturers and the HHS are incentived to deny that vaccine injuries and death occur.
As noted elsewhere, there is good evidence that there have been 150,000 deaths from the vaccines so far (million dollar research grant up for grabs to disprove), in the only studies done a week after the first or second dose, there is evidence that 30-40% of the people autopsied died from the vaccines.
In an excellent refutation, POOR ROGER'S ALMANNAC (love the name) puts to rest this analogy: