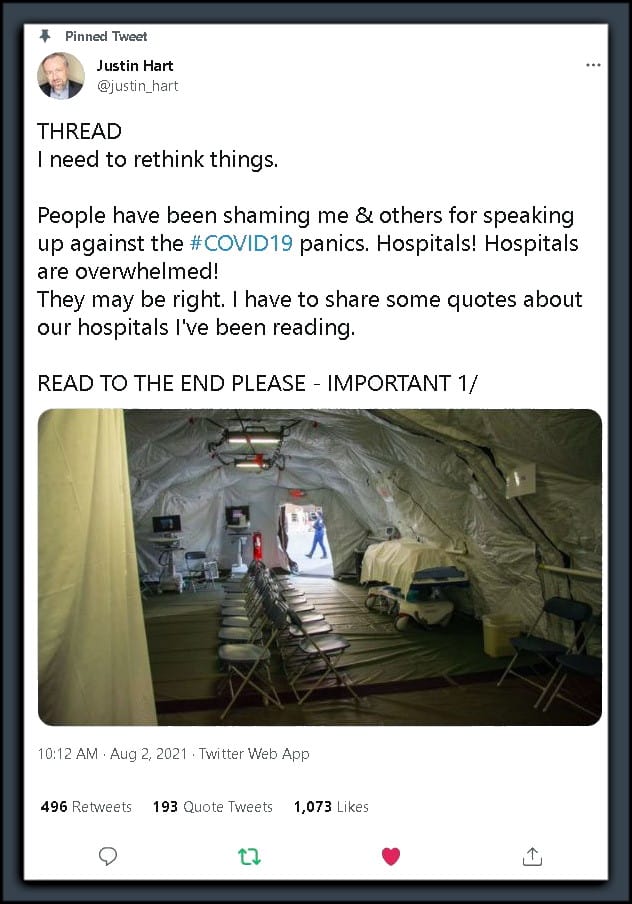 Here is the TWITER THREAD: (it is "UNROLLED" HERE)
These are actual quotes from pieces I've just read. I don't know why I've been ignoring this. Let me say that I'm serious about my respect for frontline workers. I'm confident THEY are NOT the ones calling for us to lose our jobs so they can do theirs. Politicians did that. 2/

"Tallia says his hospital is 'managing, but just barely,' at keeping up with the increased number of sick patients in the last three weeks. The hospital's urgent-care centers have also been inundated, and its outpatient clinics have no appointments available." 3/

"Dr. Bernard Camins, associate professor of infectious diseases at the University of Alabama at Birmingham, says that UAB Hospital cancelled elective surgeries scheduled for Thursday and Friday of last week to make more beds available" 4/

"We had to treat patients in places where we normally wouldn't, like in recovery rooms," says Camins. "The emergency room was very crowded, both with sick patients who needed to be admitted" 5/

"In CA

…

several hospitals have set up large 'surge tents' outside their emergency departments to accommodate and treat

…

patients. Even then, the LA Times reported this week, emergency departments had standing-room only, and some patients had to be treated in hallways." 6/

"In Fenton, Missouri, SSM Health St. Clare Hospital has opened its emergency overflow wing, as well as all outpatient centers and surgical holding centers, to make more beds available to patients who need them. Nurses are being "pulled from all floors to care for them," 7/

"it's making their pre-existing conditions worse," she says. "More and more patients are needing mechanical ventilation due to respiratory failure" 8/

"From Laguna Beach to Long Beach, emergency rooms were struggling to cope with the overwhelming cases

…

and had gone into 'diversion mode,' during which ambulances are sent to other hospitals." 9/

"Hospitals across the state are sending away ambulances, flying in nurses from out of state and not letting children visit their loved ones for fear they'll spread

…

Others are canceling surgeries and erecting tents in their parking lots to triage the hordes of

…

patients." 10/

"There's a little bit of a feeling of being in the trenches. We're really battling these infections to try to get them under control," McKinnell said. "We're still not sure if this is going to continue

…

" 11/

"At Parkland Memorial Hospital in Dallas, waiting rooms turned into exam areas as a medical tent was built in order to deal with the surge of patients. A Houston doctor said local hospital beds were at capacity" 12/

"Dr. Anthony Marinelli says they've seen a major spike in

…

cases. It's so overwhelmed the community hospital that they've gone on bypass at times — that means they tell ambulances to bypass this ER and find another." 13/

"Dr. Atallah, the chief of emergency medicine at Grady, says the hospital called on a mobile emergency department based nearly 250 miles away to help tackle the increasing patient demand. "At 500-plus patients a day you physically just need the space to put a patient in. " 14/

"We've never had so many patients," said Adrian Cotton, chief of medical operations at Loma Linda University Health in San Bernardino County." 15/

"

…

at least one hospital has set up an outdoor triage tent to handle the overflow of people" "In Long Beach, hospitals have started visitor restrictions. In the South Bay, a conference center has been transformed into an ambulatory clinic." 16/

We have signage set up all over the hospital to inform patients that, if they have any family members with even signs of symptoms, not to visit" "Loma Linda emergency physicians are seeing about 60 more patients a day than usual, Cotton said." 17/

"About 150 patients have so far been treated in the tent, which is staffed according to the number of people inside. It's expected to be up [for months]." 18/

"As the main emergency room gets full, patients are moved to the tent. For example, a patient who comes in with a broken arm is likely to be treated inside the tent, he said. Visitor restrictions have also been implemented." "The county saw a 300-percent increase" 19/

"Overflow tents also have emerged in San Diego County hospitals. Though they haven't pitched tents, most hospitals across Southern California have set up overflow areas inside their facilities." 20/

Our workers are incredible and I know they've been trained to deal with this. But maybe the lockdown folks are correct. Maybe we opened up too quickly. Maybe we should stay in shutdown mode. I mean nothing like this has ever happened to our hospitals before?!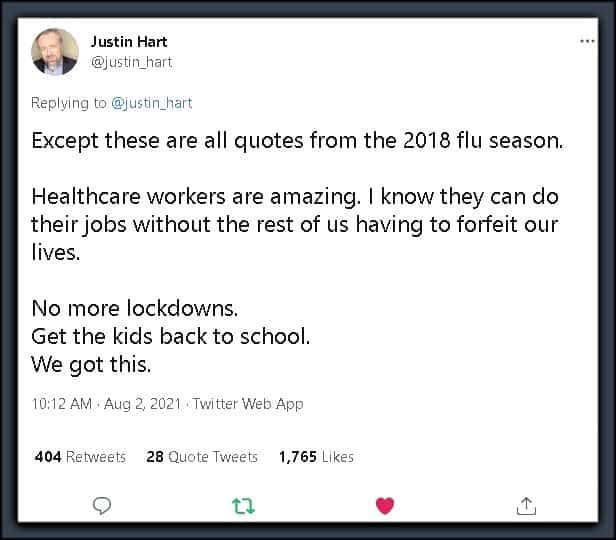 Watch Crowder DESTROY the Myth of "ICU Bed Shortage" | Louder With Crowder – Crowder cuts through the globalist media's fear mongering and exposes what's really going on in hospitals.
THINKINNG ABOUT IT WRONG!
I recently discussed this flu outbreak on my site's Facebook page:
---
FLASHBACK: Flatten the Curve
(Originally posted May 27, 2020)
---
JUMP TO:
Media Confirms Opening Premise That Flattening the Curve Was To Protect Hospitals/Healthcare ★ A Debate on My Facebook About The Curve ★ Historical Stresses on the Healthcare/Hospital System  [192,446 Hospitalizations for Covid-19 as of May 27 2020 | 2017-2018 Flu Season: 810,000 Hosdptalizations (low: 620,000 | high:1,400,000) – CDC] ★ Ventilator Shortage Myths ★ Damages of Continued Flatten Curve Power Grabs: Hospitals Going Bankrupt
OPENING PREMISE:
Not To Overwhelm Hospitals
This first part of a multi-part post is merely to discuss what the Flattening the curve was for ~ AND THAT WAS ~ not over-burden our healthcare system.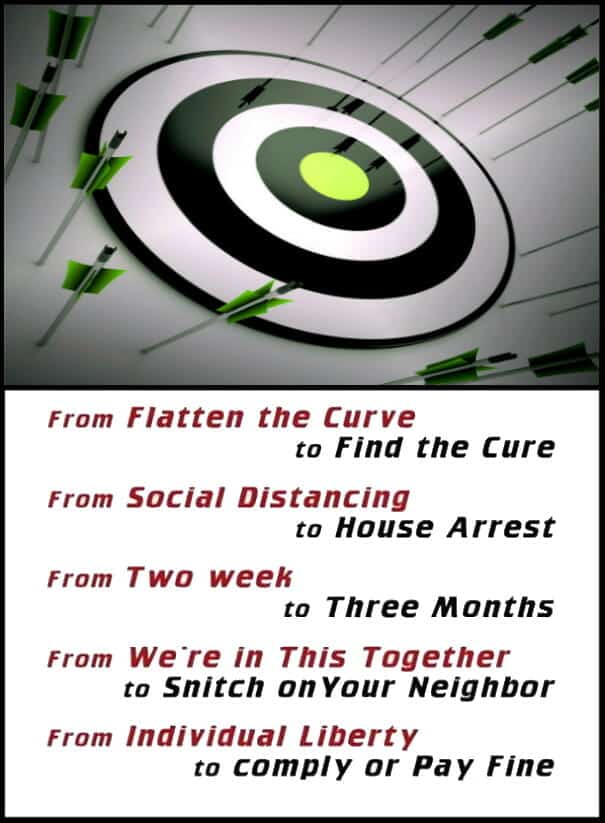 The Los Angeles Times explains:
No Other Reason
---
MORE CONFIRMATION
---
LOS ANGELES TIMES: Why We Should Still Try To Contain The Coronavirus
The coronavirus outbreak that has sickened at least 125,000 people on six continents and caused nearly 4,600 deaths is now an official global pandemic. But that doesn't mean we should give up on trying to contain it, health experts say. The goal is no longer to prevent the virus from spreading freely from person to person, as it was in the outbreak's early days. Instead, the objective is to spread out the inevitable infections so that the healthcare system isn't overwhelmed with patients. Public health officials have a name for this: Flattening the curve. (Healy and Khan, 3/11)
ABC NEWS: Why Flattening The Curve For Coronavirus Matters (March 11, 2020)
NBC NEWS: What Is 'Flatten The Curve'? The Chart That Shows How Critical It Is For Everyone To Fight Coronavirus Spread. (March 11, 2020)
Confirming the above, you will see that the trend line was to spread out the disease, not to defeat it. And this endeavor would take two weeks at the least, six at the most:
And, here is a conversation via my Facebook that elucidates how people have this idea of saving lives mixed up with not pressuring or overwhelming our healthcare system
EXCERPT FROM FACEBOOK CONVO
(ME)
Steve W — you do know Steve that the same amount of death from and infection due to Covid-19 exists under the trend line of doing nothing and the most strict quarentine rules…. right? In other words, we are not saving lives. And, in fact, we have made it worse for our economy next fall/winter because it is coming back as it makes its rounds around the world.
(STEVE W)
Sean Giordano I have heard that said but not seen it from a credible source. So I think that is false.
(ME)
(STEVE W)
Sean Giordano "the same amount of death from and infection due to Covid-19 exists under the trend line of doing nothing"
(ME)
Here I wish to switch gears a bit and start to discuss another "info graphic" post from MY SITES FACEBOOK I shared with my readers. And since the entire idea behind "flattening the curve" was to keep the health and hospital system working well by not getting inundated all at once, this should have lasted two or three weeks. Not as long as it has — our economy is important too! Damnit!
CAPACITY OF THE HEALTHCARE SYSTEM
The following was compiled after a conversation I had on Facebook. It touches on some of the issues above. Enjoy
 I note the bell curve because many are under the false impression we are doing this to "save lives." This was never the case.
The quarantine was to lessen the apex of the bell curve as to not put pressure on the hospital/health system. The same amount of people in the elongated "quarantine bell curve" (the trend-line) would die and get sick. In other words, the same statistics exist below the line (POWERLINE). Here is a site cataloging the hospitalizations for the rona that POWERLINE used – US CORONAVIRUS HOSPITALIZATIONS  …they used both the CDC site and this one, but the CDC site has lower hospitalizations, so they opted for the most updated numbers. WHICH AS OF APRIL 21ST STAND AT 84,292 HOSPITALIZATIONS FROM JANUARY TILL NOW. This is important, because, the flu season of 2017-2018 we saw 810,000 hospitalization, and our health system didn't collapse. Nor did the Swine Flu of 2009-to-2010, which saw 60-million American infected and 300,000 hospitalizations.
No exaggerated respirator shortages then.
SOME VENTILATOR MYTHS
(What was different I wonder? Maybe the Orange Man Bad Syndrome?)
This then may explain why all the field hospital's the ARMY CORE OF ENGINEERS built are being dismantled without a single bed being used.
The panic and fear among the people who cannot be bothered to read the actual statistics about this pandemic is what should concern most preppers. In fact, this virus has been so overhyped that the Army's field hospital in Seattle, an "epicenter" of the pandemic has closed after three days without seeing one single COVID-19 patient. According to a report by Military.com, the hastily built field hospital set up by the Army in Seattle's pro football stadium is shutting down without ever seeing a patient.

[….] The decision to close the Seattle field hospital comes amid early signs that the number of new cases could be hitting a plateau in New York, the epicenter of the coronavirus epidemic in the U.S., and other states. At a news conference Friday, New York Governor Andrew Cuomo said, "Overall, New York is flattening the curve." — ZERO HEDGE (see: MILITARY TIMES | DAILY CALLER)
Unlike the Mercy, the Comfort is treating COVID-19 patients on board as well as patients who do not have the virus. The ship has treated more than 120 people since it arrived March 30, and about 50 of those have been discharged, said Lt. Mary Catherine Walsh. The ship removed half of its 1,000 beds so it could isolate and treat coronavirus patients. [The Mercy has seen 48 patients, all non-Covid related] (THE STAR)
And literally handfulls of patients on the Comfort (New York City) and the Comfort (Los Angeles) — *see comment below. There was never a shortage of respirators (NATIONAL REVIEW), and we may surpass the 2018-to-2019 flu death rate, but come nowhere close to the 2017-to-2018 flu death rate:
(CLICK TO ENLARGE)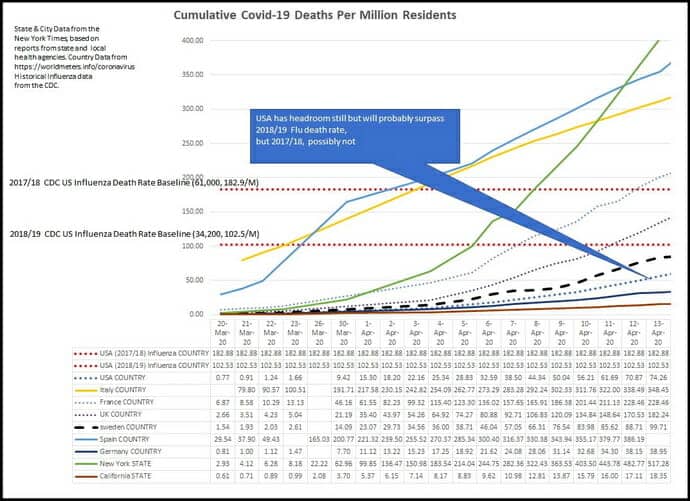 And it seems that we are reaching a plateau with The Rona, so there is good news in this regard (POWERLINE).
---
* Here is a comment from the Military Times article from a few days ago:
…TO WIT…
HOSPITALS GOING BANKRUPT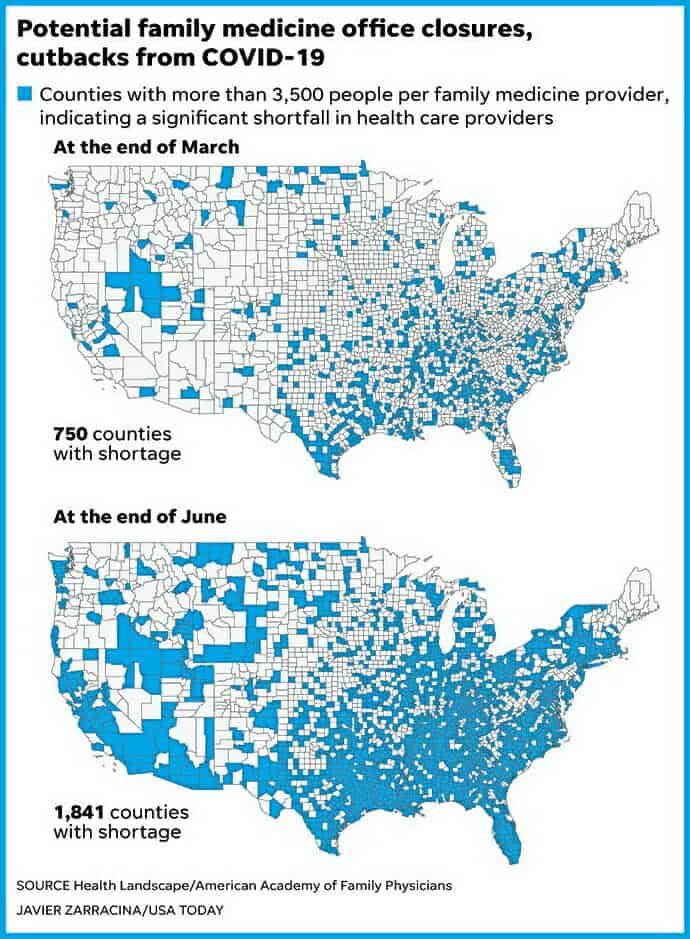 VOX actually has a decent story on this:
And to compliment the Left leaning VOX article is the "Right" leaning FEDERALIST article: