JUMP TO:
This is essentially part two of a previous post, and is really a commentary or a piecing together of conversation on Doc J's Facebook. Here is the Original Post (OP) and where I decided to dive in – in the discussion strain.

As I said previously… I probably agree with Doc J on most things encompassing the worldview we hold. The Judeo-Christian framework of viewing nature, our belief in God, and the like. I recommend his books as they are well researched and written.
…all the being said… let's continue…
This comment by TD G. caught my eye, and I want to preproduce it here as it signifies my position as well:
This is still an issue with me — this next response by DOC J — and I will explain a bit more in this post as I go along than I did in the strain:
[responding to

TD G

] As long as I have been monitoring case fatality rate, the survival rate is rounded to 98% not 99%. But you are more afraid of a vaccine with a survival rate of 99.9999%.
I jump in to support TD G. a bit, and, keep in mind this is a multi-part post on FB that I will separate by line here:
---
INFO BREAK
---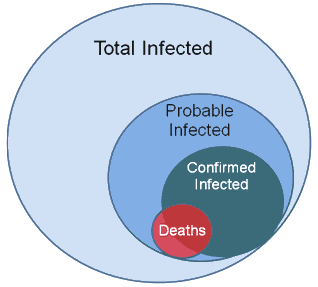 The CDC estimates that 83% of the American population has contracted Covid-19 (NEWSWEEK) — before the Delta variant. Eighty-three percent of 331.5 million is 275.1 million. Total deaths [although I highly disagree with this number] is 684,000. So the IFR rate for Covid AS A WHOLE is 0.25% of the population who most likely has got Covid. Similar to my MARCH 2020 numbers, understanding the numbers like this help us cut through the media B.S.
Plus, I argue that much like how we calculate flu seasons… we shouldn't calculate the total to dat, rather, we should have a data set from the 2020-2021 Covid season. Because we know Covid was here in September of 2019, which would put us separate from 2019-2020 season of Covid. Someone needs to do what I did to the age groups and-or the 2020-2021 season. We are currently in the 2021-2022 season.
2019-2020

2020-2021

2021-2022 (current)
These are the years the numbers should be broken down from. If we are going to do a similar thing with Covid as the CDC does with the flu. And, if you do this, say, compare the 2017-2018 Flu outbreak to the 2020-2021 Covid numbers to the IFR, the numbers would be almost identical.
For instance, this graph (which you can enlarge by clicking it) even states what I have above:
The number of cases displayed reflects how many have been tested & confirmed so far. It does NOT include the potentially many undetected people who are currently infected with COVID-19, whether asymptomatic or undiagnosed.

So again, that 1.8 fatality rate shown in most media broadcasts is not correct. Even the numbers from the UK do not reflect the IFR: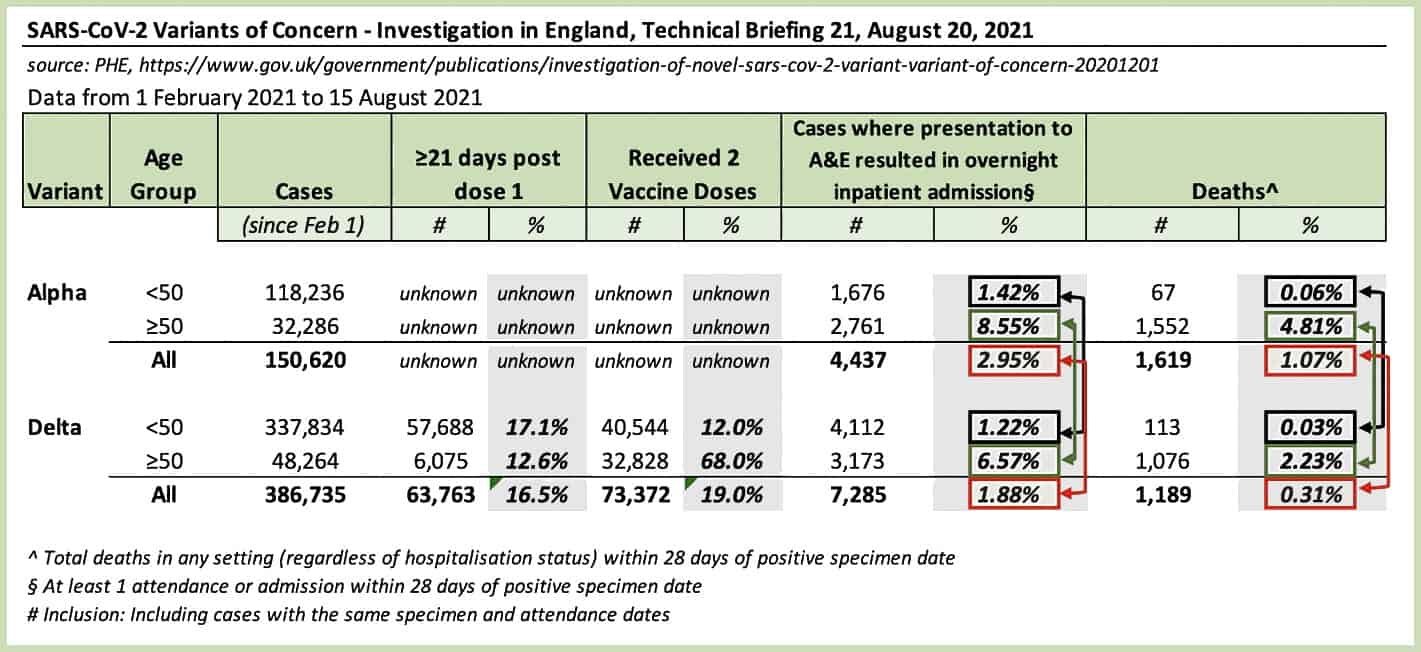 And this, collected over at PECKFORD 42:
---
BREAK OVER
---
DOC J responds to me lightly:
Sean G, My figures come from VAERS-reported deaths divided by the total number of people vaccinated. It's not that hard. As usual, everything you fear from the vax you should fear a thousand times more from the virus. This includes blood clots and D-dimer. (Linked paper from JULY 2020: D-dimer level is associated with the severity of COVID-19)
I respond:
TD G. comments again:
[speaking to

DOC J

] When I used VAERS as a source, you thought it was untrustworthy. Now suddenly they are gospel?
When I saw this comment, I mentally noted that this is probably the case, that is, DOC J may have bemoaned the VAERS database previously; however, he is either just using the source of his "opponents" [we are all friends in this and the afterlife] to make a point. A tactic in good conversation showing often that "fleshed out" the position is still weak or contradictory. OR, he is being forced with the mounting evidence to look at this database more seriously. Either way, he is backed in the proverbial, rhetorical corner.
HOSPITALIZATIONS
I add some more information newly released that lends more information to the debate. The debate not just here but the broader debate in the public. [Again, expanding my quote from RIGHT SCOOP]:
This prompted JIM G. to respond with a good bit of information. Mind, you, this is jot the JIM G. I get into frequent discussions with on different subject.
I just wish to finish up this post with other side news I came across on Facebook.
---
AN RPT BONUS
---
HUMOR
Facebook, which banned me for 3-days today – but then realized they were wrong. I took the previous graphic that got me banned and remade it better: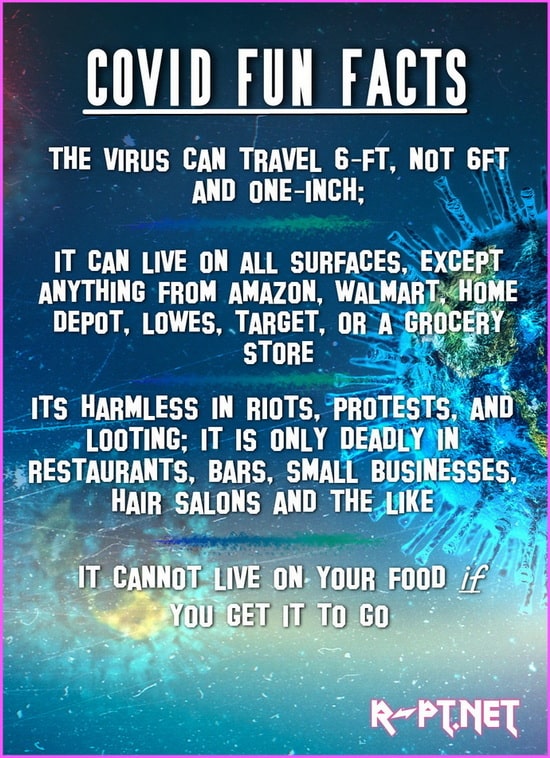 ADMISSIONS
And here I need to apologize to Alex Berenson's UNREPORTED TRUTHS. Why? Because I am grabbing his entire post as I think it is important. The link is at the bottom of his post, if you wish to go to the source:
MEDIA
Here are two media pieces I watched today:
This CBS produced 60 Minutes was from 1979 | Mary Tyler Moore, Swine Flu Shot August 19, 2021
And here is an absolutely hilarious video by Tucker Carlson that had me belly rolling in bed this morning:
Tucker Carlson Tonight' host weighs in on the left's hypocrisy regarding the government dictation of personal health decisions.
Lol.
KABUKI THEATRE
A friend noted the following:
Not trying to minimize the impact of Covid. But the "pandemic" has really been hijacked for political motives. Look at this Kabuki theater. Before and After the cameras were turned on.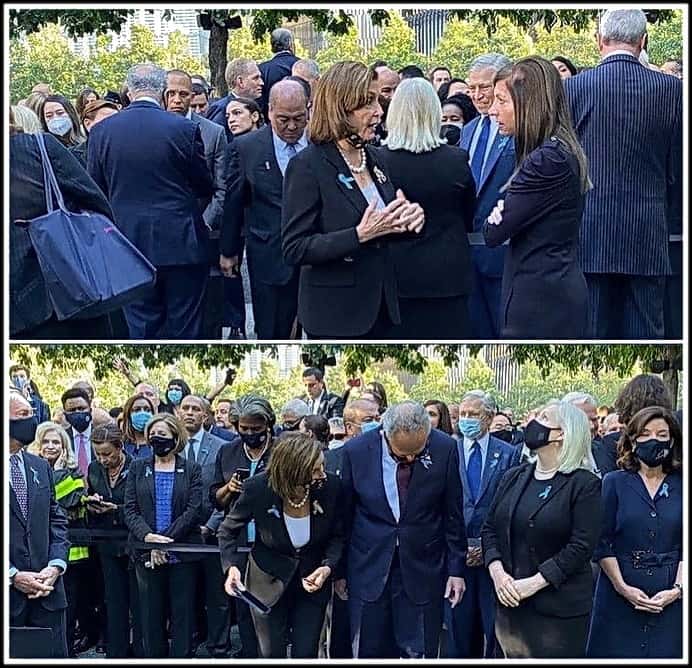 GOOD ARTICLE