UPDATE via INSIGHTS & ISSUES (I excerpt only a portion of this must read article):
OLDER POST (January 19, 2021)
Rumble — One America's Jack Posobiec is continuing to investigate the events that took place at the Capitol on Jan. 6. He recently sat down with Michael Yon, a war correspondent with years of experience studying tactics of Antifa and other groups. Jack asked Yon to compare what he has seen in other countries to the scenes at the Capitol earlier this month. Here's what he had to say, take a look.
The below is built off of my Facebook Post on the matter. I post this here to highlight the idea for clarity — as the Left like to misinterpret what is said. THAT IS: "Remember, I am NOT saying Trump supporters weren't involved."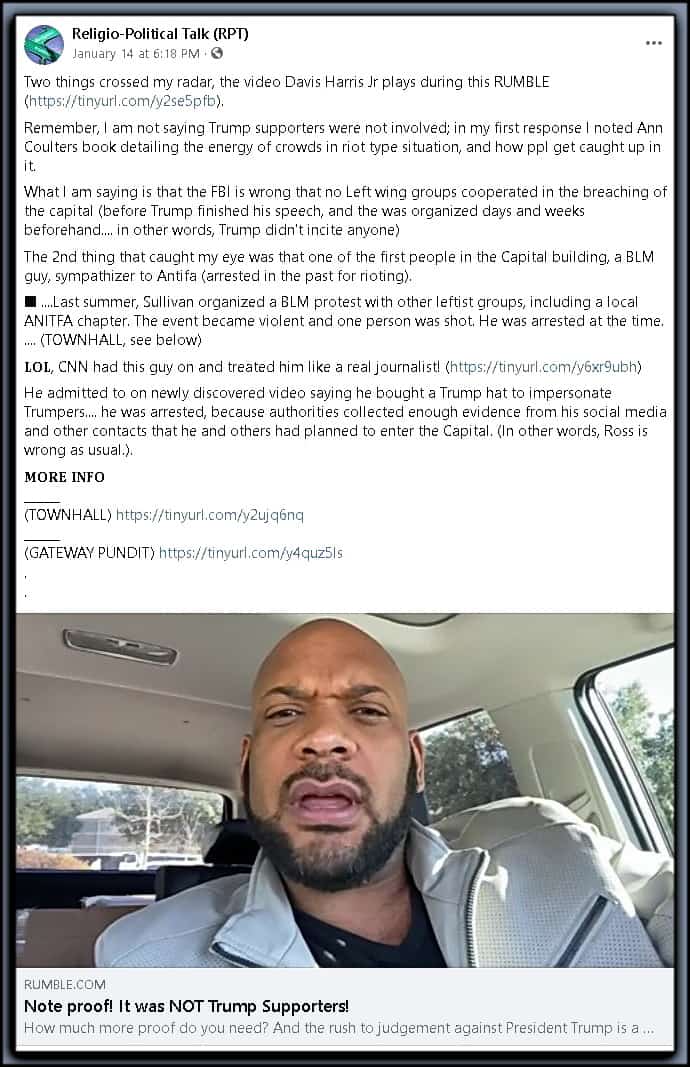 A couple UPDATES since I started this post:
Feds back away from claim that Capitol rioters were looking to capture and assassinate officials — Acting U.S. Attorney Michael Sherwin told reporters Friday that prosecutors don't have concrete proof of such an effort. (POLITICO)

CNN Forced To Walk Back Story That Rioters At U.S. Capitol Building Were Specifically There To Kill Politicians

… (WEASEL ZIPPERS)
So, since the beginning of the Capital Hill Incident, I have maintained the same point of view. First, riotess gatherings involve people that wouldn't usually do criminal activity do such things. Which is why I mentioned a book in my first response to the Incident, here is an excerpt of that:
FBI SAYS
So, I acknowledged that part of the crowd was made up of Trump supporters (see DAILY BEAST and HEAVY for instance), but I also noted from the beginning that LEFTIES were involved as well. TO WHICH I got many people on my Facebook saying "no" to. And within 2-days I got links to stuff where the FBI supposedly said that no Antifa was involved — which seems improbable because the investigation would and is a long term investigation. If — within days — the FBI could immediately access that sort of situation, I would ask people to check for responders surgically placed in their body.
You see, HEADLINES that read "No evidence antifa involved in Capitol riot" included this in the story…. but people ran with the headline:
"We have no indication of that at this time," Washington Field Office assistant director Steven D'Antuono said during a briefing when asked about any potential involvement of antifa.
Again, "We have no indication of that at this time," THAT statement within 2-days seems fair. I was confident Antifa would be found in the crowd. And as a response to my detractors I sent pics of this guy on January 7th (these are not from the 6th at the Capital, they are just meant to show his affiliations… MOONBATTERY has more as well):
(These pics are from a 2nd tear news source [100% FED-UP] I noted to my son who asked for sources to go to while on his tour of duty. Second tear are sources generally good, but may need to be verified — Reagan's "trust but verify" — by checking their linked sources.) At the time 100% posted this on the 7th… John Sullivan, he was interviewed on CNN — more on that in a bit. Here is a portion of an older story on Antifa John noting how easy to connect him to a Leftist "revolutionary" past of activist activity (at least a good producer from CNN would not have him on):
….

Last summer, Sullivan organized a BLM protest with other leftist groups, including a local ANITFA chapter. The event became violent and one person was shot. He was arrested at the time

. …. (TOWNHALL)
Here is 100% FED-UP's follow up story on Antifa John:
SOME VIDEO EVIDENCE
Just some evidence of Antifa at the Capitol…
Well… Antifa John was arrested by the FBI. Ooopsie Daisy CNN — here is the PDF of the charges. They have seen enough evidence to include him (and other Lefty activists involved as part of the mixed group). Video of him antagonizing the police at the spot of where that nutty gal was shot — rightly shot.
ANTIFA JOHN'S BROTHERS SAYS OVER 200 ANTIFA
So since this last story… Antifa John was turned in by his brother, James — who has spoken at Proud Boy events… a light vs. darkness (fire n ice) thing going on here [called the authorities and said his brother was in charge (100% FED-UP). And noted there were over 200 Leftists at that January 6th rally (NOQ REPORT).
ANTIFA JOHN CALLING ALL ANTIFA
Here is Antifa John leading the charge in getting Lefty BLM and Antifa to go on the 6th (*click to enlarge):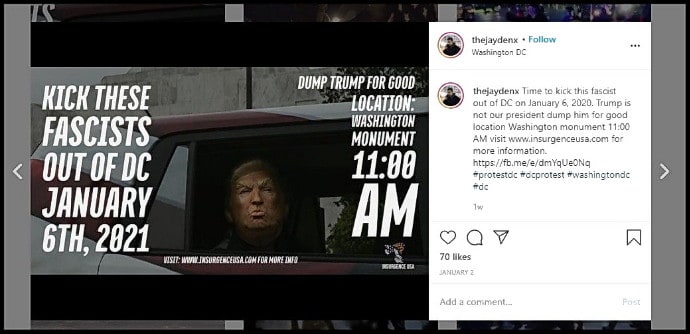 So, just as a recap, the HEADLINE ("No evidence antifa involved in Capitol riot") mentioned above is in fact wrong. The FBI didn't state that but rather said "at this point in the investigation." Not only that, but the FBI HAS been wrong many times — so stating it like a definite is not always the best thing to do either. For instance I told a person I know the following:
IS THE FBI EVER WRONG?
But again, the FBI wasn't making proclamation's like the headlines alluded to. Again: "We have no indication of that at this time" — FBI. As radical as I think Antifa John is, I agree with him in part about the riotess nature of the crowd, and for the idea that it was a mixed crowd, and that is was dangerous and large (07:50 min INTO VIDEO). But again, as Bill Maher says, a few thousand "asses" shouldn't make the rest of the Republican Party be said to be the same. But, who are the killers? Not GOP'ers:
A violent radical BLM/Antifa leftist was arrested in Florida after his plot to organize an attack on peaceful protests ahead of Biden's inauguration was uncovered by the FBI. You remember Antifa, the group that doesn't exist and also is mostly peaceful and also is just like the D-Day troops according to Chris Cuomo? Yeah, THAT one

…. (RIGHT SCOOP)
Rioting first started on May 28 in Minneapolis, Minnesota, over the death of George Floyd, who was allegedly murdered by police officer Derek Chauvin. Since then, the riots have spread to major cities like New York City, Los Angeles, Seattle, Portland, Oakland, Louisville, and St. Louis. The riots have led to more death, especially among black Americans. The victims include: Dave Patrick Underwood….

. David Dorn

….

Italia Marie Kelly

….

David McAtee

….

Chris Beaty

…. (BREITBART)
RELIGIO POLITICAL TALK'S PAST POSTS (2017):
GAY PATRIOT notes just how different the Left is:
I laughed out loud when I saw this.
I have a tag [VIOLENT DEMOCRATS] for posts I use detailing the violence from the left. It extends to the violent environmental groups (like ELF), to violent unions/members, and other instances like the Democrats getting very violent at Trump rallies (and often time being paid to do so), I have even asked for analogous actions by conservative as well as noting the joke of "this week in hate" via the New York Times, etc., yada-yada-blada.
Another example that makes me put "tolerant" Leftists in air-quotes is this story via MOONBATTERY:
NEWSWEEK points out that "A new survey report shows that 8.5 percent of current college freshmen expect to participate in a student protest while in college. That figure is up 2.9 percentage points from 2014, and it is the highest percentage to respond that way in the annual survey since 1967."
As the rapper Tef Poe sharply pointed out at a St. Louis rally in October protesting the death of unarmed teenager Michael Brown in Ferguson, Mo.: "This ain't your grandparents' civil rights movement." (WaPo)
GAY PATRIOT notes this violence in trying to feel as relevant as the 1960s generation:
The DAILY CALLER notes the anti-free-speech movement of the fascist left: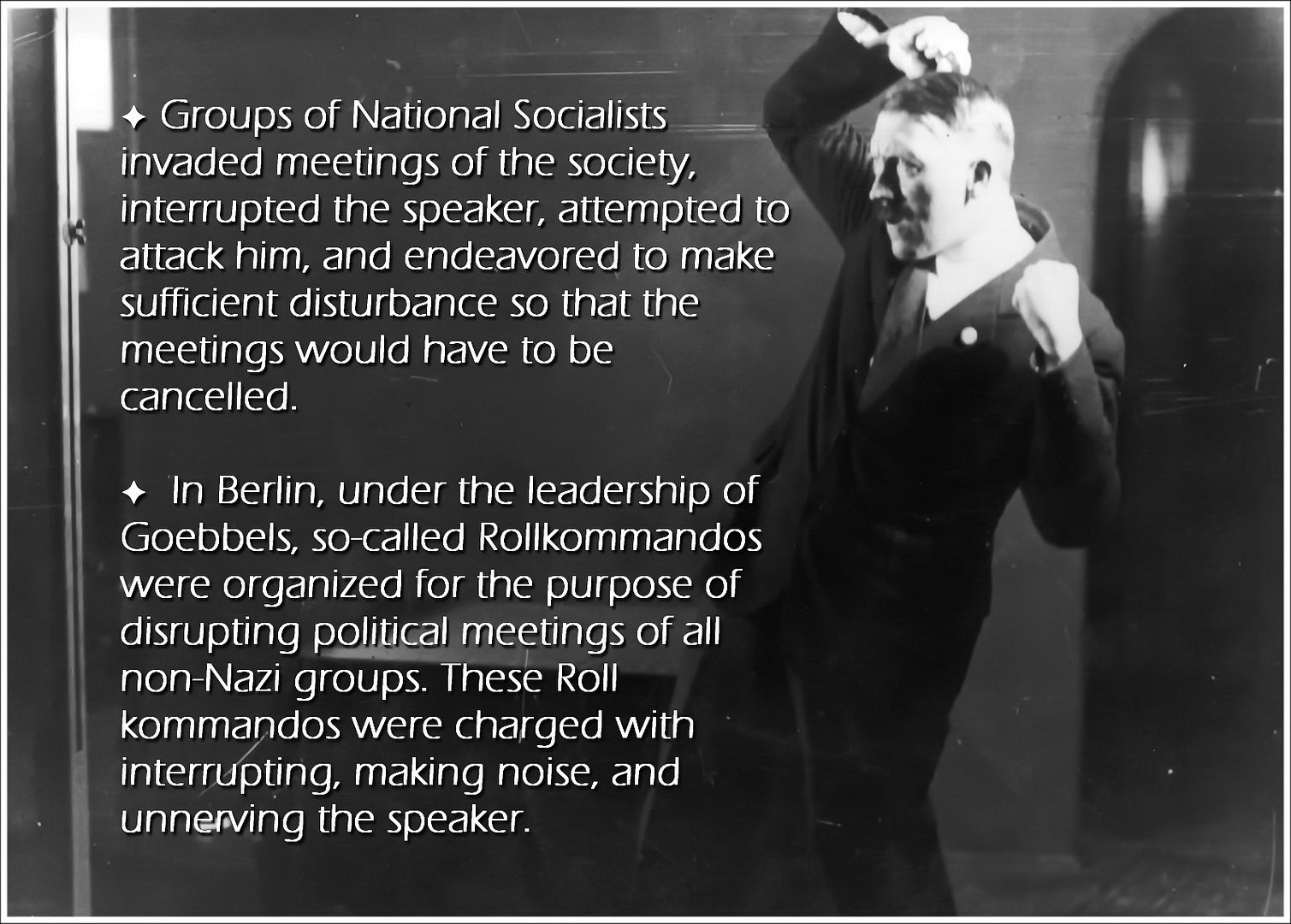 (NEWSBUSTERS) The Anti-Capitalist Anti-Fascist Bloc's DisruptJ20 Inauguration protest quickly turned violent Friday morning as protestors gathered at Logan Circle in D.C. and marched down 13th Street. Footage shot by MRC Culture and CNSNews.com during the march show protestors vandalizing local businesses, destroying a limousine, and chanting "no cops, no borders, fight law and order."
More BLACK BLOCK violence:
MORE:
Some protesters got aggressive at the end of the night as Trump supporters left Minneapolis fundraiser. @StarTribune pic.twitter.com/gNcZGYhqBm

— Renee JonesSchneider (@reneejon) August 20, 2016