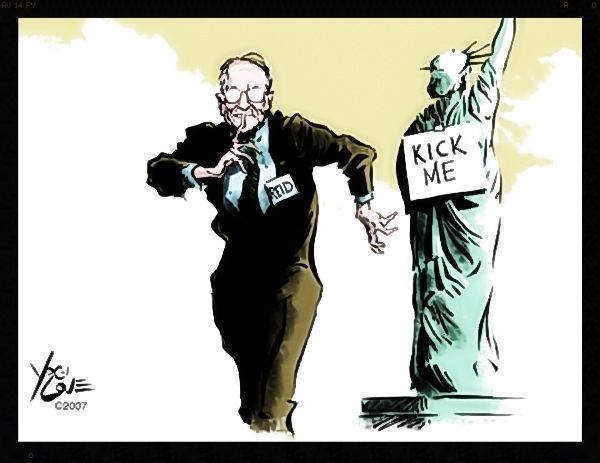 This is a h-t to Gay Patriot:
Last week, one of the Koch brothers responded to Harry Reid's outrageous attacks demonizing them:
Charles Koch: I'm Fighting to Restore a Free Society
I have devoted most of my life to understanding the principles that enable people to improve their lives. It is those principles—the principles of a free society—that have shaped my life, my family, our company and America itself.
Unfortunately, the fundamental concepts of dignity, respect, equality before the law and personal freedom are under attack by the nation's own government…[and] we have no choice but to fight for those principles. I have been doing so for more than 50 years, primarily through educational efforts. It was only in the past decade that I realized the need to also engage in the political process.
…In a truly free society, any business that disrespects its customers will fail, and deserves to do so. The same should be true of any government that disrespects its citizens. The central belief and fatal conceit of the current administration is that you are incapable of running your own life, but those in power are capable of running it for you…
More than 200 years ago, Thomas Jefferson warned that this could happen. "The natural progress of things," Jefferson wrote, "is for liberty to yield and government to gain ground." He knew that no government could possibly run citizens' lives for the better. The more government tries to control, the greater the disaster, as shown by the current health-care debacle…
Instead of encouraging free and open debate, collectivists strive to discredit and intimidate opponents. They engage in character assassination. (I should know, as the almost daily target of their attacks.) This is the approach that Arthur Schopenhauer described in the 19th century, that Saul Alinsky famously advocated in the 20th, and that so many despots have infamously practiced…
…I have spent decades opposing cronyism and all political favors, including mandates, subsidies and protective tariffs—even when we benefit from them. I believe that cronyism is nothing more than welfare for the rich and powerful, and should be abolished….
The almost unbearable hypocrisy Reid doesn't get is his "renting" of the Senate floor to the 1% ~ via Breitbart:
The Republican National Committee says that the Senate Democrats' all-nighter on the Senate floor Monday evening until 9 AM Tuesday was not about principle. The RNC claims Senate Majority Leader Harry Reid and the Senate Democrats rented out the Senate floor to the environmental cause of one of their biggest left-wing billionaire donors.
RNC spokesman Raffi Williams points to how liberal billionaire Tom Steyer—a major Democratic Party donor—supports environmental causes.
"If you thought living in the Ritz-Carlton was expensive, it's peanuts compared to the $100 million contribution from California billionaire Tom Steyer which is the going rate to rent Harry Reid's Senate," Williams said in a Tuesday statement. "Last night's talk-a-thon was nothing more than payback for Steyer's donations to the Democrat Party. Either Mr. Reid or the Democrat Party needs to reimburse taxpayers for their campaign stunt."….
This bugs me to no end, I will post at the end of this a oft posted comparison to progressive billionaires versus more conservative billionaires and the impact this money has for-or-against our freedoms.
Michael Medved shows how Democrats and rational libertarians (the Koch Brothers) diverge on the issues most important to voters. Not to mention the hypocrisy of the left in all this. So much so that Washington Post's Dana Milbank said:
"Democrats' climate-change filibuster is nothing but a lot of hot air"…. "This may be the first time in history that a group of senators filibustered themselves."
The Washington Examiner's Zack Colman points out some of the hypocrisy when he writes,
"While Reid has grown more boisterous when it comes to the Koch brothers, Republicans have shot back that Democratic-aligned outsiders are starting to play the big money game as well. They have pointed to Tom Steyer, the billionaire former hedge fund manager, who has pledged to spend $100 million through his NextGen Climate PAC on climate and environmental issues ahead of the 2014 midterm elections."
Powerline goes on to explain the reason behind a bunch of old, outdated politicians doing an all-nighter:
…Tom Steyer, a billionaire who has made a great deal of money on government-subsidized "green" energy projects, has become one of the Democratic Party's most important donors. On February 18, he hosted a fundraiser at his home that netted $400,000. Harry Reid and six other Senators attended, along with Al Gore and a number of rich environmentalists. At that meeting, plans for last night's talk-a-thon were already being laid.
The connection is simple: Steyer has pledged to contribute $50 million and raise another $50 million to help Democrats in the 2014 elections. The catch is that they have to emphasize global warming as an issue:
✦ Steyer's advocacy group, NextGen Political Action, plans to spend at least $50 million of the former hedge-fund manager's money, plus another $50 million raised from other donors. The group will refuse to spend money on behalf of Democrats who oppose climate regulation, but will not spend money against them either, according to Chris Lehane, a Steyer consultant.
So the Democrats are trying to walk a narrow line. They need to make noise about global warming to keep the cash flowing from Tom Steyer and other deep-pocketed environmental activists (some of whom, of course, are also "green" energy cronies)….
Plus, the comparison to these leftist radicals shrinking human freedom (growing government) versus allowing the proverbial us to make more choices in the individual sense (smaller government) is legend:
---
…First, the government needs to issue a mandate that all households must own at least one firearm. We will need a federal agency to ensure that people aren't just buying cheap BB guns or .22 pistols, even though that may be all they need or want. It has to be 9mm or above, with .44 magnums getting a one-time tax credit on their own. Let's pick an agency known for its aptitude on firearms and home protection to issue required annual certifications each year, without which the government will have to levy hefty fines. Which agency would do the best job? Hmmmm … I know! How about TSA? With their track record of excellence, we should have no problems implementing this mandate.
Don't want to own a gun? Hey, no worries. Supreme Court Chief Justice John Roberts says citizens have the right to refuse to comply with mandates. The government will just seize some of your cash in fines, that's all. Isn't choice great? Those fines will go toward federal credits that will fund firearm purchases for the less well off, so that they can protect their homes as adequately as those who can afford guns on their own. Since they generally live in neighborhoods where police response is appreciably worse than their higher-earning fellow Americans, they need them more anyway. Besides — gun ownership is actually mentioned in the Constitution, unlike health care, which isn't. Obviously, that means that the federal government should be funding gun ownership….
This is why people fear government, to answer John's question.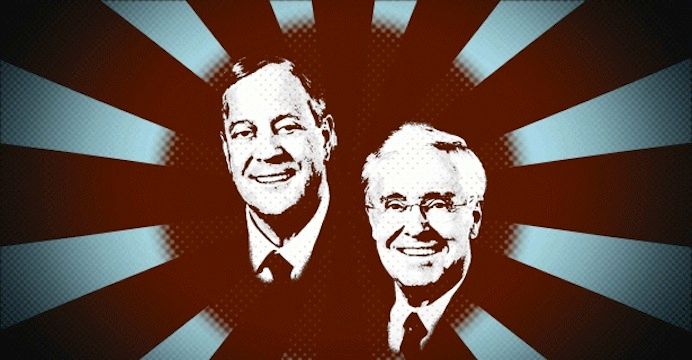 ---
Back to the excellent NewsBusters response to "Krystal Ball" on MSNBC:
Honestly, how does this woman have a job in a news division?
Oh. That's right. MSNBC isn't a news organization. How could I have forgotten?
Saying Republicans don't want young people to buy health insurance is preposterous.
What conservatives don't want is the government to force young people to purchase something that morbidity tables show will likely have absolutely no benefit for them until the distant future so that others who likely will benefit much sooner can get it either for free or far more cheaply.
Irrespective of what Supreme Court chief justice John Roberts foolishly ruled last year, this is neither Constitutional nor ethical.
As for these young people dying if ObamaCare is not enacted, that asininely assumes that people won't have the money to pay for their care if they get sick or won't purchase health insurance when they reach an age when they believe they need it.
For example, Ball mentioned prenatal care and tetanus shots. As a person that owns an insurance agency, I certainly would be telling a client looking to have children to purchase health insurance.
As for Pap smears, the Mayo Clinic recommends women over 21 do them every two to three years.
The cost varies state by state. In New York City, you can get one for as little as $150.
As such, a woman in that city doing it even once every two years would save thousands of dollars paying for it herself rather than buying health insurance.
As for cholesterol tests, these are now available online for as little as $40.
This great, short, update comes via The Lonely Conservative:
The short answer to the question posed above is "Not even close." It's not the Koch Brothers or ALEC. Nope. The biggest spender in the dark money game is the Tides Foundation. Oh and by the way, Tides is a big liberal group.
Whenever "ALEC" and "dark money" are mentioned in the media, however, there ought to be a third name given at least equal attention – the Tides Foundation. That's because Tides, the San Francisco-based funder of virtually every liberal activist group in existence since the mid-1970s, pioneered the concept of providing a cut-out for donors who don't wish to be associated in public with a particular cause. It is instructive to compare the funding totals for Tides and ALEC.
A search of non-profit grant databases reveals 139 grants worth a total of $5.6 million to ALEC since 1998. By comparison, Tides is the Mega-Goliath of dark money cash flows. Tides received 1,976 grants worth a total of $451 million during the same period, or nearly 100 times as much money as ALEC. But even that's not the whole story with Tides, which unlike ALEC, has divided and multiplied over the years. Add to the Tides Foundation total the directly linked Tides Center's 465 grants with a combined worth of $62 million, and the total is well over half a billion dollars. (Read More)
So there.
"I think that I'm very different from the Koch brothers in the sense that I have absolutely no personal interest in what happens except as a citizen of the United States. So whereas they're representing points of view that are in their personal monetary interests, I'm actually representing the citizens of the whole country in terms of their diffuse interests against concentrated economic interests that the Koch brothers represent." ~ POWERLINE

(A response to this quote is at bottom)
The newest installment in regards to the biggest story lately in Democratic [billionaire] hypocrisy is the recent piece by John Hinderaker on Tom Steyer. Below is part of that article by John as well as an interview of John by Hugh Hewitt:
But Steyer's hypocrisy goes still deeper. Today, he is a bitter opponent of fossil fuels, especially coal. That fits with his current economic interests: banning coal-fired power plants will boost the value of his solar projects. But it was not always thus. In fact, Steyer owes his fortune in large part to the fact that he has been one of the world's largest financers of coal projects. Tom Steyer was for coal before he was against it.
A reader with first-hand knowledge of the relevant Asian and Australian markets sent us this detailed report on how Steyer got rich on coal. He titled his report "Hypocrisy & Hedge Funds: Climate Change Warrior Tom Steyer's Secret Life as Coal Investment Kingpin." Here it is, in full:
Tom Steyer founded Farallon Capital Management L.L.C. ("Farallon") in 1986. Farallon has grown to become one of the largest and most successful hedge funds in the United States with over $20bn in funds under management.1 Mr. Steyer's net worth is reported to be $1.6bn.2
Mr. Steyer left Farallon in 2012 to focus on political and environmental causes and potentially to position himself for public office. He has been described in the press as the "liberals' answer to the Koch Brothers"3 due to his wealth and his opposition to the Keystone XL pipeline and carbon-based energy in general. He has dedicated some $50 million of his personal fortune to back political candidates who support his position on climate change – and punish those who don't. Mr. Steyer has led recent campaigns with Bill McKibben to encourage university endowments to divest coal equities.
[….]
The facts, summarized below, might lead one to conclude that:
Mr. Steyer has had a direct, personal involvement in assembling, through Farallon, a portfolio of strategic investments in overseas coal miners and coal fired power plants which is unprecedented in scale. The total quantum of Farallon's investments in these transactions is not publicly disclosed, but reasonable estimates suggest that it could be between US$1 and $2 billion in total.6 Taken collectively, the coal producers in which his fund has amassed these investment interests represent one of the largest sources of thermal coal in the world;

The financing provided by Mr. Steyer's fund enabled these coal producers to restructure and recapitalize thereby freeing them to grow rapidly during a period of rapidly rising coal prices, leading to one of the largest expansions of thermal coal production in modern times7;

Made during a period of ever rising coal prices, these investments were almost certainly extremely profitable for Mr. Steyer's fund overall, and my extension Mr. Steyer personally. It stands to reason that few people in American history have made more money from investment in thermal coal than Mr. Steyer.
[….]
Hypocrisy is not in short supply in the political world, but Tom Steyer is in a class by himself. Now that he is enriching himself through "green" cronyism, coal is evil. Sure: like all hydrocarbons, it competes with the solar energy boondoggles on which he is making millions, with the aid of the Obama administration. But where was Steyer's alleged social conscience when he was one of the world's biggest investors in coal? And how substantial are his current holdings in coal projects? Is Steyer financing his anti-fossil fuel campaign on profits from past or, perhaps, ongoing investments in Asian and Australian coal? Inquiring minds want to know! Tom Steyer appears to have elevated political hypocrisy to an entirely new level.
Jake Tapper of CNN, one of the few truly fair guys in the legacy media, was also asked by Hugh Hewitt about Tom Steyer and the hypocrisy uncovered by John at Powerline. Hugh also played an American Commitment ad for Jake to get his comment on the topic at hand. Here is THAT interview with the description from my YouTube channel:
WOW! I look forward to more on this.
PolitiBrew offers a response to the quote I chose to start this post with, "I think that I'm very different from the Koch brothers…" (top). I will include an upload of Michael Medved speaking about the generosity of the Koch Brothers as well, enjoy:
Tom Steyer is most certainly not the Koch Brothers. Steyer's hedge fund is tied to a $67 million ponzi scheme that siphoned millions of dollars from foreign investors.
Steyer has also promised to spend $100 million to get democrats elected in 2014.
Meanwhile, the "evil" Koch Brothers donate billions of dollars to many deserving causes but generally give to conservative ones, you know, like all the money they give to M.D. Anderson for cancer research. How conservative is that? I guess they'd like to help conserve lives. How about that they "underwrite research and teaching at Brown, Mount Holyoke, Sarah Lawrence, University of Wisconsin at Madison, Vassar, and some 245 other colleges"? Is that conservative?
Think nothing of the Millions to MIT for cancer research, that's conservative too, right? Right.
Yes Tom. We can't deny that you are not the Koch Brothers. You may be able to hold a candle, just not to these Men. May as well blow it out….
These leftists are making it too easy! It's like shooting fish in a barrel.