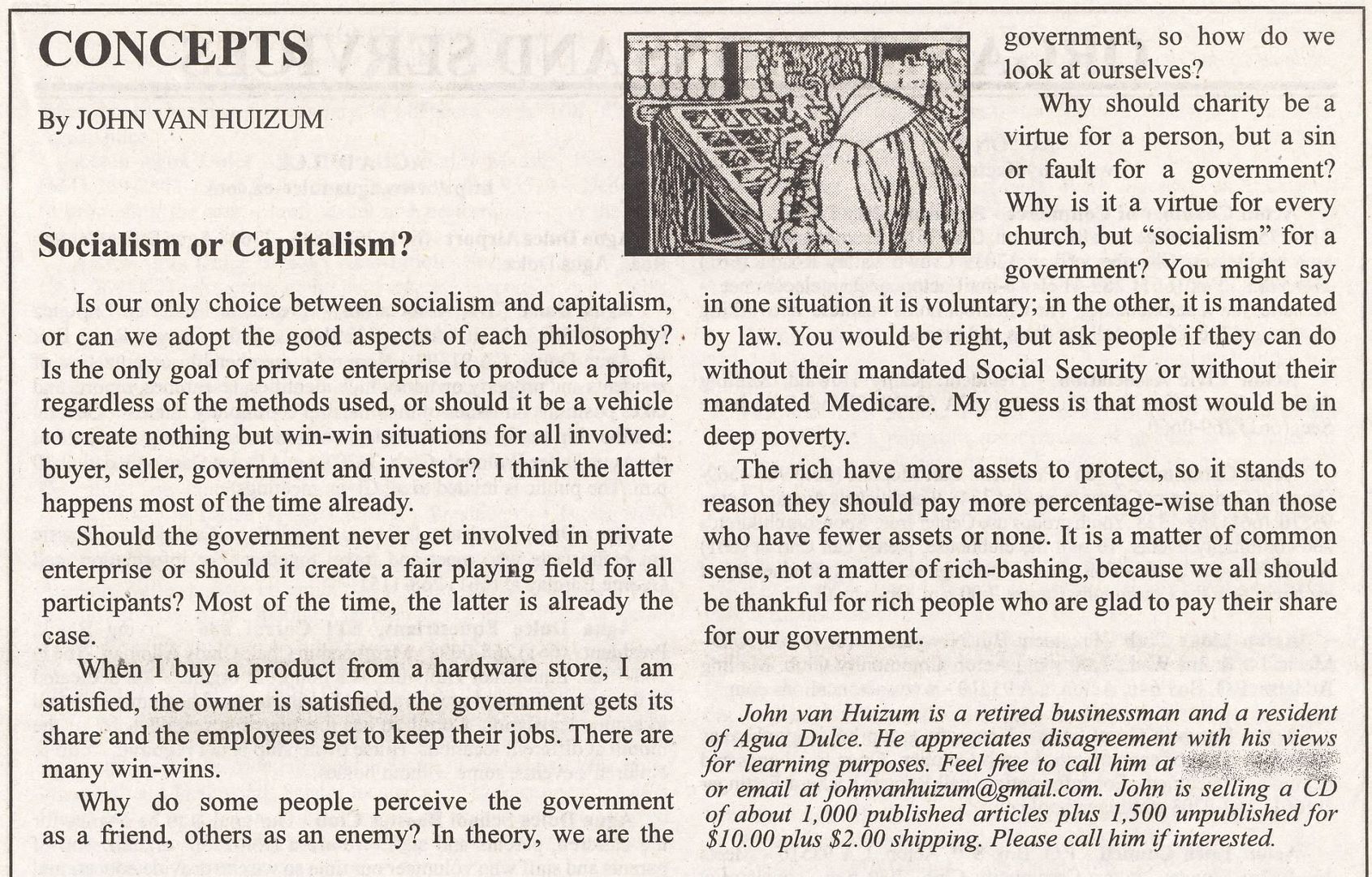 (As usual, you can click the article to enlarge) I do not have the time to delve into John's latest like I would want, but simply, I wish to respond to three ideas in the article. For instance, John said:
Should the government never get involved in private enterprise or should it create a fair playing field for all participants? Most of the time, the latter is already the case.
Firstly, "never," is setting up a false dichotomy, a straw-man. He is using an extreme to set up his case. secondly, this is the divide between progressives and conservatives that Dennis Prager zeroes in on so well — Prosperity or Egalitarianism:
Two Models: Prosperity or Egalitarianism from Papa Giorgio on Vimeo.
Johns second statement is this one, and I will again zero in on some California examples (where John lives) so the reader can understand what government involvement means. John says
When I buy a product from a hardware store, I am satisfied, the owner is satisfied, the government gets its share and the employees get to keep their jobs. There are many win-wins. Why do some people perceive the government as a friend, others as an enemy?
Here is the answer with a great example from a few years back, right down the road a bit from both John and I… it comes from an article I have saved from the June 26, 2002 Daily News, Editorial Section, entitled "Killing Jobs":
Loss of jobs and customer dissatisfaction are the result of government interference. Here are more examples noted by Dennis Prager:
More Businesses Leave California from Papa Giorgio on Vimeo.
And any person should acknowledge why someone should "fear" government more than business. In fact, I made this point on my FB outgrowth of this blog in talking to my liberal friend:

Appendix: If the above example didn't inspire any liberal fear (forced to go green or be penalized), maybe this one will
This is why people fear government, to answer John's question. Thirdly, John tackles charity versus government mandated "charity."
Why should charity be a virtue for a person, but a sin or fault for a government? Why is it a virtue for every church, but "socialism" for a government? You might say in one situation it is voluntary; in the other, it is mandated by law. You would be right, but ask people if they can do without their mandated Social Security or without their mandated Medicare. My guess is that most would be in deep poverty.
Here are some analogies to make the point and then some comparison of the effectiveness of such ideas.
Another way to put this is an example from J. Budziszewski's book, The Revenge of Conscience: Politics and the Fall of Man:
Here is the idea as put forward by University Republicans (audio is not ideal):
From video description:
Another aspect of this is exemplified in how well private business/charities/churches can do what government cannot. In regards to Social Security, the CATO Institute explains a bit about the Chilean model that would work well here in the Stetes:
The bottom line: Government spends about 70% of tax dollars to get 30% of tax dollars to the needy. The private sector does the opposite, spending about 30% or less to get 70% of aid to the needy.
Again, the savings rate in Chile went up from 10% to 27% of GNP. There's no payroll tax, and with full employment and that great savings rate, the economy has blossomed. Here is the second portion I think is important, that is, private interests redistribute a higher percentage per dollar. I will end with this great question/answer post:
Question:
Answer:
I laugh sometimes at myself… because I started out the post with, "I do not have the time to delve into John's latest like I would want." I ended up giving a pretty thorough refutation as if I had time.