See as well my previous post,
Here is part of the Wall Street Journal article Dennis is reading from:
…The legend of Castro as a great revolutionary who sacrifices for his people is preserved by keeping the details about his life a state secret. Sánchez's account shows the real Castro: vengeful, self-absorbed and given to childish temper tantrums—aka "tropical storms." "The best way of living with him," Sánchez wrote, "was to accept all he said and did."
The book is timely. The Obama administration has just removed Cuba from the U.S. list of state sponsors of terrorism amid sharp criticism from exiles. Their concerns are sensible: Though Castro is now rumored to be feebleminded, the intelligence apparatus he built—which specializes in violence to destabilize democracy and trafficks in drugs and weapons—remains as it has been for a half century.
Sánchez witnessed firsthand Castro's indifference to Cuban poverty. The comandante gave interminable speeches calling for revolutionary sacrifice. But he lived large, with a private island, a yacht, some 20 homes across the island, a personal chef, a full-time doctor, and a carefully selected and prepared diet.
When a Canadian company offered to build a modern sports-facility for the nation, Castro used the donation for a private basketball court. Wherever he traveled in the world, his bed was dismantled and shipped ahead to ensure the comfort he demanded.
Castro was obsessed with spreading his revolution. Outside of Havana was a secret camp called Punto Cero de Guanabo where, Sánchez wrote, Cuba "trained, shaped and advised guerrilla movements [and organizations] from all over the world." Recruits from places like Venezuela, Colombia, Chile and Nicaragua practiced hijacking airplanes and learned to use explosives.
"The Chile of Salvador Allende at the start of the 1970s," Sánchez wrote, "was without doubt the country in which Cuban influence had penetrated most deeply. Fidel devoted enormous energies and resources to it" and he infiltrated it heavily with Cuban intelligence operatives.
Sánchez learned about what had happened in Chile from Castro's notorious revolutionary spymaster Manuel Piñeiro, who "was always hanging around the presidential palace" talking about it.
The Cuban regime "penetrated and infiltrated [Allende's] entourage" with the objective of creating "an unconditional ally in Santiago de Chile." Marxists " Miguel Enríquez, the leader of [Chile's] Movement of the Revolutionary Left, and Andrés Pascal Allende, co-founder of that radical movement and also nephew of President Allende" were Castro protégés who trained in Cuba…
(WSJ)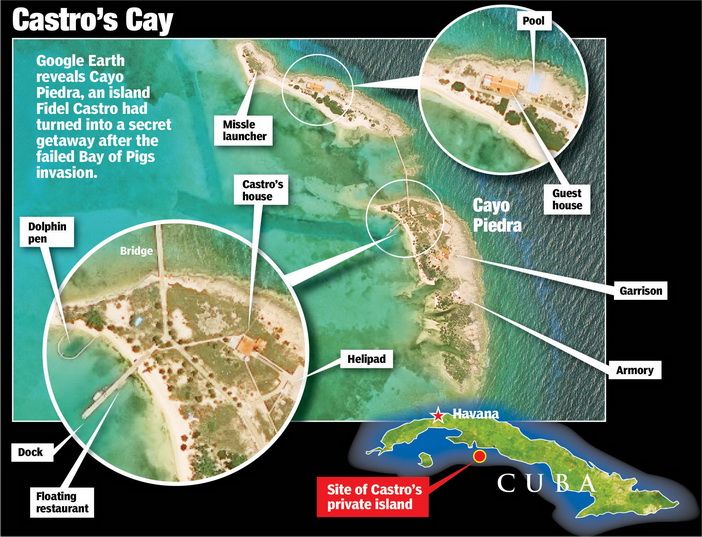 (Click to Enlarge)
In May the New York Post did a larger article on this topic. In it we find more details bout this extravagant lifestyle and the "equality" Castro achieved was built on the murders of engineers, journalists, priests, gays, and other free-market believers that threatened Castro in dumbing down his population for the express purpose of easily controlling:
…Few, meanwhile, know that Fidel has had at least three children out of wedlock, including one with his personal interpreter and longtime mistress, Juanita.
Castro may not be as ostentatious as Khadafy or Saddam Hussein, but he's rich beyond most people's dreams. His simple appearance is due more to laziness than austerity. Castro, who rarely wakes before 10 a.m. or 11 a.m., is happy not to wear a suit and confessed that the main reason he has a beard is so he did not have to shave every day.
But there were plenty of perks to being the depository of Cuba's wealth. He has his own private basketball court where he never lost a game. And his own private hospital housing two people full-time simply because they shared his blood type.
At Punto Cero, each member of his family possessed his or her own cow, so as to satisfy each one's individual tastes, since the acidity and creaminess of fresh milk varies from one cow to another. And so the milk would arrive on the table, each bottle bearing a number, a little piece of paper scotch-taped onto the bottle, corresponding to each person's cow.
Antonio's was No. 8, Angelito's No. 3, and Fidel's No. 5, which was also the number he wore on his basketball shirt.
There was no question of deceiving him: Fidel possessed an excellent palate that could immediately detect if the taste of milk did not correspond to that of the previous bottle.
Perhaps most extravagantly, Fidel Castro has his own secret island.
Ironically, he has John F. Kennedy to thank for it. In April 1961, a group of CIA-trained exiles landed at the Bay of Pigs and tried to overthrow the Cuban government. It was a complete fiasco.
In the days following the failed attack, Fidel came to explore the region when he encountered a local fisherman with a wrinkled face whom everyone called El Viejo Finalé. He asked Old Finalé to give him a tour of the area, and the fisherman immediately took him on board his fishing boat to Cayo Piedra, a little "jewel" situated 10 miles from the coast and known only to the local inhabitants.
Fidel instantly fell in love with this place of wild beauty worthy of Robinson Crusoe and decided to have it for his own. The lighthouse keeper was asked to leave the premises and the lighthouse was put out of action and later taken down.
To be precise, Cayo Piedra consists of not one island but two, a passing cyclone having split it in half. Fidel had, however, rectified this by building a 700-foot-long bridge between the two parts.
The southern island was slightly larger than its northern counterpart, and it was here, on the site of the former lighthouse, that Castro and his wife, Dalia, had built their house: a cement-built, L-shaped bungalow arranged around a terrace that looked out to the east, onto the open sea.
While ordinary Cubans suffered, this is where Castro would relax.
On the west side of the island, facing the setting sun, the Castros had built a 200-foot-long landing stage for his personal yacht. The Aquarama II, decorated entirely in exotic wood imported from Angola, had four engines from Soviet navy patrollers, a gift from Soviet leader Leonid Brezhnev. At full throttle, they propelled Aquarama II at the phenomenal, unbeatable speed of 42 knots, or about 48 miles an hour.
To allow Aquarama II to dock, Fidel and Dalia had also had a half-mile-long channel dug; without this, their flotilla would not have been able to reach the island, surrounded by sand shoals.
The jetty formed the epicenter of social life on Cayo Piedra.
A floating pontoon, 23 feet long, had been annexed to it, and on the pontoon stood a straw hut with a bar and barbecue grill.
From this floating bar and restaurant, everyone could admire the sea enclosure in which, to the delight of adults and children alike, turtles (some 3 feet long) were kept. On the other side of the landing stage was a dolphinarium containing two tame dolphins that livened up our daily routines with their pranks and jumps.
Fidel Castro also let it be understood, and sometimes directly stated, that the revolution left him no possibility for respite or leisure and that he knew nothing about, and even despised, the bourgeois concept of vacation. Nothing could have been further from the truth…
[….]
The Cuban economy, which derived almost 80% of its external trade from the eastern bloc, was collapsing like a house of cards and households were surviving on the breadline while the GNP had decreased by 35% and electricity supplies were seriously inadequate.
Meanwhile, Fidel Castro sipped his whiskey on the rocks and ate fresh fish in the shade of his secret island.
(NYPost)