Here are three points the J6 Committee wish to make their endeavor both controlled and illegal.
FIRST
The First point is that this "committee" is illegitimate. I made this point with an upload to my YOUTUBE and subsequent post titled: "Trump's Lawyer, John Eastman, Explains Why He Claimed the 5th." Which is, this committee is actually illegal via the House Rules as well as the agreed upon rules of said committee. Which means, no one — zilch, zero, nada — needs to respond to any document calling them to speak at the committee. Over a thousand witnesses have been interviewed apparently… not a single one by the opposing view. This is tragically tyrannical, ripped straight from the paged of Stalin.
The same points are made but worth repetition, as, Pedagogy is the Mother of All Learning. Here the indomitable
So, that above point is key. Why would Nancy Pelosi and the Democrats want a one-sided [jaundiced] view of the evidence? Well… because they wish to hide something of course. To ensure something is not heard from the Halls of Congress, so-to-speak.
(RIGHT SCOOP) Democrats call everything a threat to democracy. Guns are a threat to democracy. Trump is a threat to democracy. Truckers are a threat to democracy. Supreme Court Justices ruling on cases is. Counting every vote is. Preventing voter fraud, living in Florida, using the wrong pronoun. Even refusing to send your kids to drag strip shows is a threat to democracy according to the left and the media.
But the realest threat to the American system, which is a constitutional system, is what is happening right now in the so-called January 6 "investigation." Mark Levin broke that down tonight on Life, Liberty and Levin and it's awesome – in the sense of hearing someone put into words correctly and well a thing that is terrible and not at all awesome.
SECOND
What is that "something"?
That something is discussed in a previous post, just updated a couple of days back but posted originally in February 2021, "Trump Offered 10,000+ Troops Prior To J6." You see, they cannot claim that Trump wanted this to happen, or directed it, or any other charge if they allow the fact… the fact that Trump — upon hearing chatter of violence — wanted to ensure that this type of scenario didn't happen. The FEDERALIST reports on a new Congressional investigative report of this failure (RIGHT SCOOP hat-tip):
John Solomon explains the new revelations that show Pelosi's sergeant-at-arms refused the support of the National Guard ahead of Jan 6th due to "bad optics."
(Watch the fuller show where the above clip came from, HERE)
What is not known by the typical cable news watcher, probably, is that both the Capital Police and the mayor of D.C. turned down offers to help secure the government areas before and as the mob of crazed Lefties and Righties descended on the Capital: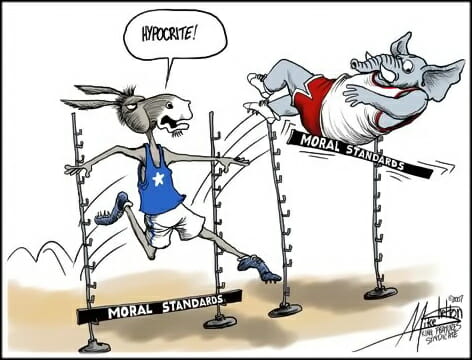 …Three days before the riot, the Pentagon offered National Guard manpower. And as the mob descended on the building Wednesday, Justice Department leaders reached out to offer up FBI agents. Capitol Police turned them down both times, according to senior defense officials and two people familiar with the matter. Despite plenty of warnings of a possible insurrection and ample resources and time to prepare, police planned only for a free speech demonstration. (WASHINGTON TIMES)
Washington, D.C. Mayor Muriel Bowser told federal law enforcement to stand down just one day before a mob of Trump supporters breached the U.S. Capitol on Wednesday, smashing windows, entering the chambers, and forcing lawmakers and congressional staff inside into lockdown. "To be clear, the District of Columbia is not requesting other federal law enforcement personnel and discourages any additional deployment without immediate notification to, and consultation with, MPD if such plans are underway," Bowser wrote in a letter to acting U.S. Attorney General Jeffrey Rosen, acting Secretary of Defense Chris Miller, and Secretary of the Army Ryan D. McCarthy. According to Bowser, D.C.'s Metropolitan Police Department in coordination with the U.S. Park Police, Capitol Police, and Secret Sevice were well-equipped to handle whatever problems could come up during the Trump rallies planned for Wednesday. (THE FEDERALIST)
Remember, Democrats challenged more states electors in 2016 with the election of President Trump in 2020:
But this isn't the main issue… what is is the dilemma this would bring if noted publicly. You would get these commentaries in prime time:
Yep. Hypocrites. See more related to the issue on my site:
THIRD
And another lie perpetrated by the media and the J6 Committee is that 5 police officers died because of the riot on Capitol Hill. While I disagree with Tucker on his opening point regarding Ashley Babbitt, he is wholly right on what he follows it with in the segment.
Joe Biden and the MSM loves these lies as well: