This is with a HAT-TIP to MOONBATTERY:
Google is the main villain. The company is fundamentally ideological (as this site has been documenting) and has already used its massive power to shift millions of votes. Ever more energized to impose its extreme political views, Google threatens to reduce democratic elections to a farce.
Here are two videos with descriptions:
---
SOCIAL MEDIA BIAS
---
The media has a bias sway as well. Here Larry Elder notes the 8% to 10% advantage the Media give to Democrats typically. He offers some poignant examples to prove his point of media bias.
---
NEWS MEDIA BIAS
---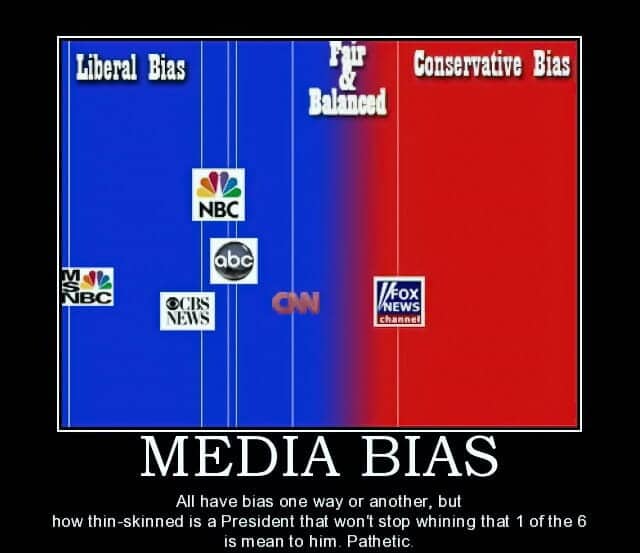 Fox News: Enraging Liberals for 10 Years (L.A. Times):
Book: Liberal Media Distorts News Bias: Drudge, Fox look more conservative against mainstream's liberal bent (US News and World Report):
Above Video Description:
UCLA Professor Tim Grosclose has a new book out Left Turn: How Liberal Media Bias Distorts the American Mind. In his book, he outlines what conservatives have known for years, that the mainstream media has turned more and more leftist which in turn promulgates, influences, rewords, redefines, and imposes leftist doctrine.
From the book:
Using objective, social-scientific methods, the filtering prevents us from seeing the world as it actually is. Instead, we see only a distorted version of it. It is as if we see the world through a glass—a glass that magnifies the facts that liberals want us to see and shrinks the facts that conservatives want us to see….
That bias makes us more liberal, which makes us less able to detect the bias, which allows the media to get away with more bias, which makes us even more liberal.
NATIONAL REVIEW wraps this up in a bow nicely for us: