(Originally Posted December 2013)
This UPDATE comes by way of MOONBATTERY, and is followed by the an excerpt from the larger piece: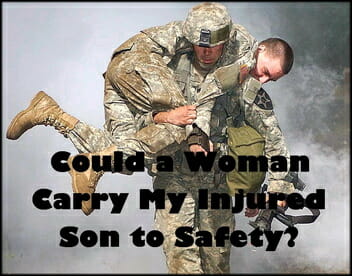 Here is more information via BREITBART:, one can understand some of the disciplin, IN THAT, it became widely public. Here is a bit from the email that could have been more constructive… maybe?
"[The school] has devolved into a cesspool of toxic, exploitive, biased and self-serving senior officers who are bolstered by submissive, sycophantic, and just-as-culpable enlisted leaders," the email said. "They have doggedly succeeded in two things; furthering their careers, and ensuring that Special Forces [are] more prolific but dangerously less capable than ever before."
However TRUE it may be… someone's macheezmo was butt hurt. Here is more on the other two Green Barretes:
I wanted to post some commentary on this issue, the first comes from a Marine posting some open thoughts on this "social engineering" grab by the Marines… joining the other branches in making it less safe on our front-lines in the name of Political-Correctness:
Libertarian Republican opines on the topic as well:
To which I respond, a maximum amount can never satisfy the Left, look at the MILLIONS killed by the progressive Left's attack on the black African's lives via the non-existent DDT scare!
As I do in these cases, I always like to post David Mamet's depth on this topic. I say depth because as a lifelong liberal… he finally applied common sense to his views and you have the following:
You see… the left loves to feel good. In doing so they ruin the quality of what they touch. From the lives of those who have contact with our first responders, to even composers looked at as the best in history:
Education is the same… the dumbing down of children in the pursuit of "fairness" and "equality" is one of these examples that harms our children's future. First a commentary about high-school, with a video as an example of the harm done to higher education by the PC crowd ruining education:
See also FIRE's list of "10 Worst Colleges for Free Speech: 2013"