UPDATED MEDIA!
This is a smaller portion of a larger PRAGER U VIDEO that was shortened on Prager U's Facebook Page… but not on their embeddable YouTube or Rumble sites. So I needed it now.
(The below was posted January 2017)
---
Trump Mocks Disabled Reporter ?
---
This one I believed for a long time. Here is a common way this is added into a litany of grievances:
If I owned a business and someone applied for the job that had a history of denigrating women,

mocking a reporter with a disability

, targeting people of a certain ethnic or religious affiliation, I would not hire that person. I am surprised to see that some would. Perhaps we have different values.
Firstly, it is not my job to correct EVERY detail a person brings up. Even I have a life. Barely, but it's there… somewhere. So the denigrating women thing makes no real difference to the Democrat, because assaults, murder, and rape are all too common on the left. JFK raped a 16-year old girl in the White House and brought prostitutes into the same House. Ted Kennedy, the "Lion of the Senate," a hero to the Left assaulted women even killing one in a drunken night out. Bill Clinton either raped or assaulted over 15-women and had sex with prostitutes, and his wife got a man she knew was guilty of rapping so violently a 12-year old girl that she could never have kids her entire life. She laughed about getting this rapist off. She [Hillary], also covered up her husbands attacks. She got so much flack for this that she removed from he campaign website a section detailing her hard work to protect women.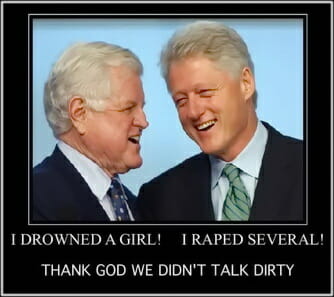 Thank you Bernie fans for being tough on her for this!
— But I Digress —
(and have already answered this more here)
My answer to this requires watching a video/audio I worked on and uploaded to my YouTube… but if you want a condensed version that I responded to a person elsewhere on the WWW:
Here is a time-line of each video of Trump mocking various persons (including himself) with the same mannerisms as the media says he expressly used to mock a man's disability:
The videos used to make the montage are from CATHOLICS 4 TRUMP'S article entitled, "Even MORE Video Evidence Trump Did Not Mock Reporter's Disability". Here is the timeline (maroon is before or during the event in question):
May 2005 – Trump imitates a flustered Trump (decade prior to the "event" in question);
October 2015 – Trump imitates flustered bank president (25-days prior to the "event" in question);
November 25, 2015 – Trump imitates flustered reporter and flustered general (during the same speech given as the "event" in question);
February 2016 – Trump imitates flustered Ted Cruz;
October 2016 — Trump imitates a flustered Donna Brazile.
I include this call because it is more concise than my other uploads:
Again, he did this of himself, Ted Cruz, a general, and more. It is his "quirk." One I hate, but not aimed at anyone in particular to represent a physical condition. (See a much longer report on all this here.)
Here is my "finisher" to a recent discussion via FB on this topic:
In the opening of John Stossle's video he deals with this:
LARRY ELDER BNONUS:
I previously uploaded some segments of Dennis Prager dealing with the issue as well. Since then more videos of Trump's mannerisms have come out. In this show by Larry Elder, he takes calls from people who believe Trump really did mock a reporter's disability. In fact, these mannerisms pre-and-post date the event Meryl Streep comments on showing her #Fakenews bully pulpit to spread miss-truths. Even Randy Quaid was moved to pen a forceful open letter to Meryl Streep.
Here is part of the article in the DAILY MAIL by Piers Morgan:
Ouch!!