KEY: If any votes are thrown out through either fraud, breaking the law (the court ruling), or mishandling the count (not allowing poll watchers), then this is only the fault of one Party. DEMOCRATS!
FIRST! the latest
Yesterday I was letting people know (family and friends) the following: "165,000 in Philly, and 330,000 in Pitts were processed against state law.  If shown true in court, 80%  of Bidens and 20% of Trumps ballots would be nixed. Trump would win PA. Ohio's AG asked SCOTUS to rule against the lower court usurping PA's voting law. Missouri AG asked as well, saying the court ruling shouldn't be able to change state election laws." It was based on this as I was doing deliveries (I added the Pam Bondi video from a couple days earlier to give context to Giuliani):
Via "Our plan for the President. Rudy Giuliani with Sebastian Gorka on AMERICA First".
I added the Pam Bondi video which I have a fuller version on in this audio: "Hans von Spakovsky On Election Integrity"
THE QUESTION
The question was basically, Justice Alito asked for PA to separate the late votes where signatures and postmarks may have not been up to Pennsylvania election law — if these ballots are simply mixed in the rest [to hide the irregularities], what is the possible action. Remember, a court added to election law, whereas the state legislature is the only entity that can change election law/rules/procedures… not mayors, city councils, or governors or the courts. IN FACT, the Attorney Generals of Louisiana, Missouri, and Oklahoma are urging SCOTUS to overturn the lower courts ruling. Why? Because the chaos Democrats created in PA would spread to other states where Democrat Judges would wantonly rule on issues of election laws. Here is more from THE DAILY SIGNAL:
FACEBOOK CONVO, NOVEMBER 6th/7th
In a previous conversation on Facebook with an ex-co-worker, this is what I noted:
CHARLIE KIRK ADDS TO THE ABOVE
Now, because of all of the above, REAL CLEAR POLITICS (hat-tip, 100% FED-UP):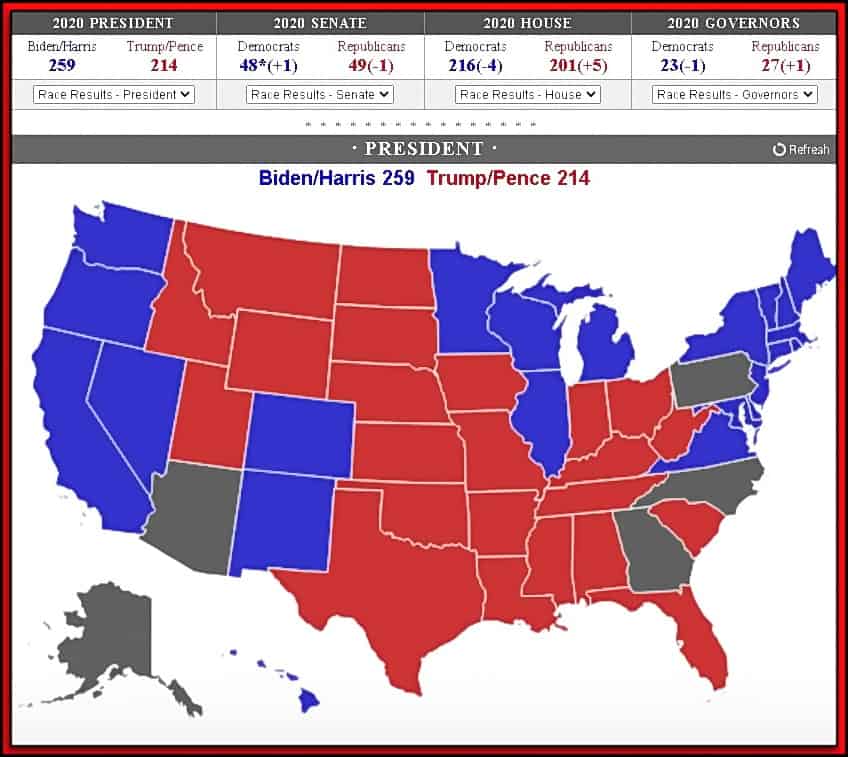 BOOM!
Remember what I told my family and friends two days ago (Link Below) — and we are in the midst of either scenario: