BETS? Over/Under bets? I think Biden will last until no later than Nov. 11th of 2021, and then step down. (But 6-months is a safe bet — 3-and-a-half- years seems like the number — in political and Christian time at least.) Then his socialist VP takes over the Presidency.
There are 71,000,000 Americans that are our friend's in arms. Take Heart and as AMERICAN GREATNESS says, "[Trump] should pursue every constitutional and legal means to dispute these funny results and take it all the way to Congress." BE THE HAPPY WARRIOR.
Also note, President Trump is taking Hillary Clinton's advice to Biden:
"Joe Biden [insert Trump] should not concede under any circumstances, because I think this is going to drag out, and eventually I do believe he will win if we don't give an inch, and if we are as focused and relentless as the other side is

…

"
During her interview Sidney dropped several bombs including this: That Democrats manufactured 450,000 votes in battleground states that miraculously ONLY have a vote for Joe Biden.
What I told my boys:
Either way our country will still be like this:
Biden supporters vs. Trump supporters:

Biden side screaming angrily and calling Trump supporters fascists while the Trump sides sings the Star spangled banner

America 2020. pic.twitter.com/v9e1meB9TK

— Savanah Hernandez (@sav_says_) November 7, 2020
When Joe Biden and other Democrats and media outlets say the votes he has received have given him a mandate to fight climate change and systemic racism, he has received no such mandate (LEGAL INSURRECTION). Either transparency needs to happen in the election process or our country will be more divided than ever. (Remember, the Left and Democrat officials has called every Republican Presidential candidate since Goldwater a racist… it has just gotten worse against Trump and Republicans with the New Left).
When Democrats and media outlets say we should unify behind Biden…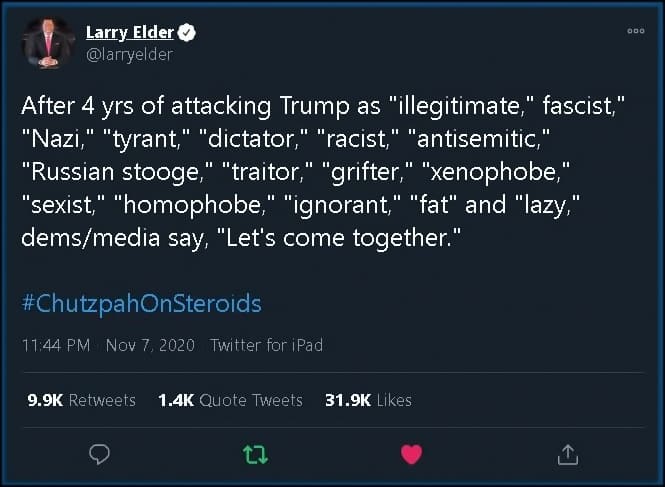 How can I unify with these two (Biden and Harris) who called me a racist bigot? Paw-lease.
Before the election the news media predicted Joe Biden would win by 12-15 points and the Republicans would lose 15 to 20 House seats. The GOP won 28 of 29 of the most competitive US House seats. Republicans DID NOT LOSE one single House seat! The Republicans also took control of three more state legislatures.
But Trump lost. LOL. So, where are we?
Lawsuits starts on Monday

50/60 poll watchers, some attorneys, will testify about deprived the right to inspect mail-in's

300k ballots in Pittsburgh not inspected by R's

(Similar issues in GA MI NC and other states)

witnesses of back dating mail-ins (USPS and Poll Whistleblowers)
Here is my Sunday Morning Article Dump:
---
SUNDAY DUMP
---
EYEWITNESS, WHISTLEBLOWERS OR FILMED EXAMPLES (LEGAL ISSUES)
Ballot Clerks in Wisconsin Allegedly Added Witness Statements To Thousands of Invalid Ballots (RED STATE)
Detroit Ballot Tabulators Entered Names of Non-Voters During Count (BREITBART)
PA-based USPS Whistleblower Richard Hopkins Comes Forward & Agrees to Testify; Whistleblower Testifies Late Ballots Back-Dated for Nov. 3, Election Day; Whistleblower: Other Employees Feel the Same…Contacted Me (PROJECT VERITAS | WASHINGTON TIMES)
Postal Service Inspectors Interview Erie, Pa. USPS 'Postmark' Whistleblower; Whistleblower to O'Keefe: 'I Told Them What I Told You'; Third Post Office Whistleblower: USPS Sorts Late-Ballots to Special Bins For Future Counting (PROJECT VERITAS)
Las Vegas Mailman Agrees To Pass On 'A Nice Handful' Of Unclaimed Ballots To Project Veritas Undercover Journalist: 'If It's In There—I Didn't Do It.' (PROJECT VERITAS)
Eyewitness Says as Many as 20,000 Unverified Absentee Ballots Counted in Detroit Primary (BREITBART)
GOP Poll Watcher Alleges Fraud at Detroit Ballot-Counting Center (BREITBART)
Nevada Whistleblower Says He Witnessed Processing of Illegitimate Votes (BREITBART)
Nevada Whistleblower Says He Was Told To Process Ballots Without Signature Verification (WESTERN JOURAL)
NOT ALLOWED IN
MORE LEGAL MOVES
INVESTIGATIVE & WORTHWHILE ARTICLES