(UPDATED w/ Armstrong and Getty [3-24-2021])
Armstrong and Getty read from and discuss a bit an article in the WALL STREET JOURNAL entitled: The myth of American inequality (https://tinyurl.com/ymy5rjz9). Unfortunately the article is behind a pay-wall… but PECKFORD 42 has it for reading.
(UPDATED April 2014 and Today: 12-27-2020)
The below video is a "pop-culture" challenge to an economic principle that if the free-markets are left to choose (free contractual trade for services between people in the supply-and-demand market) would allow the most people to succeed as the innate abilities of people and the market can bare:
Prager University notes that "INEQUALITY IS GOOD"
What if everything you've heard about income inequality is wrong? What if it's actually a good thing for there to be people who are rich and people who aren't? John Tamny, editor of RealClearMarkets, clarifies one of the big misunderstandings of our time.
If you want a quick dealing with this instead of the more thoughtful look below, here is one excellent quickie:
Politicians and reporters often rail about "the rich getting richer and the poor getting poorer." In fact, the incomes of poor and middle-income Americans are up 32% since the government began keeping track several decades ago (The Distribution of Household Income [CBO] – PDF). Yes, that increase is adjusted for inflation. Another misleading claim, says Stossel, is the idea that the U.S. "no longer has economic mobility." But a paper in The Quarterly Journal of Economics found that most people born to the richest fifth of Americans fall out of that bracket within 20 years. (Table 2)) Likewise, most born to the poorest fifth climb to a higher quintile. Some climb all the way to the top.
AEI has a good critique of the video challenge at the top, I will follow this by a video response by Lee Doren:
Here is Lee's response (Preserved by me!)
Lee Doren has a passion for public speaking, being the youngest speaker to lecture for the Ronald Reagan Political Lecture Series at Oberlin College. He has given speeches in Annapolis, Maryland on the Bill of Rights and at the U.S. Capitol for the 9/12 March on Washington. He has been invited to lecture at The Cato Institute, The Institute for Energy Research, the Young Britons' Foundation in the United Kingdom, the State Policy Network and Lehigh University. He has also provided commentary for Fox News, CNN, Reuters, PBS and Air America.
I would recommend the following articles for further reading:
---
---
(This portion can also be found in the "Rich Get Richer/Poor Get Poorer" Mantra.) Larry Elder notes when this "widening" happened the most:
Here are some myth busting to help the layman researcher get more facts to respond to the pop-politics we run-across in our social media lifestyle. Investors Business Daily makes some key points that are hard to ignore: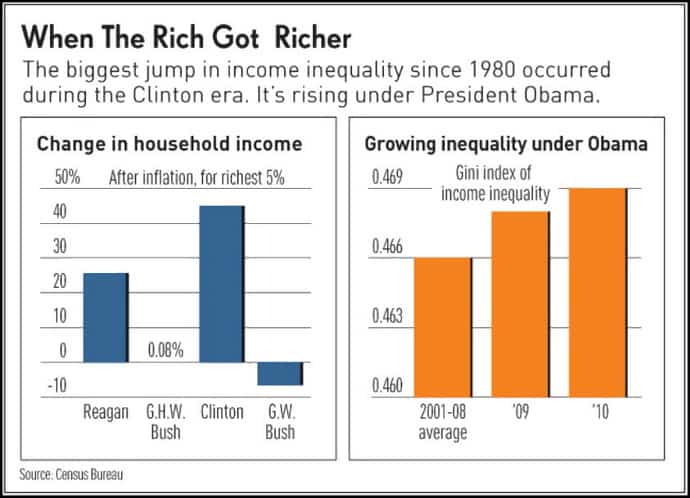 Another smaller post points out nearly the same: