This television tirade would be of no matter had it stayed in the dystopic universe that is Hollywood, but alas, the [I]nternet has pushed the statement across borders and time. The temptation to go line by line and deconstruct this outburst will be resisted, and would do little but add credence to the inanity. It is, naturally, what is not said that is more important, more enlightening, and more reasonable. (U.S. News & World Report)
(See more at Louder with Crowder)
A thorough slap down and rebuttal to Jeff Daniels' viral anti-America Newsroom scene, in which he claims that America is not the greatest country in the world. Here are a few examples of the "bait-n-switch" associated with the Newsroom rant:
TWO QUICK EXAMPLES
In other words, we are statistically tied for the front spot. Here is another great example: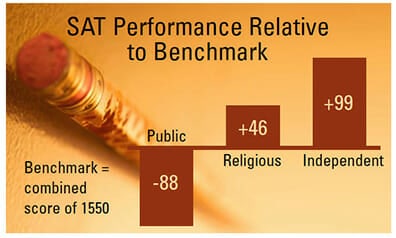 We are, as a country, leading the way in science for the world. Now, I agree that public schools are part of the problem, as the stat used for the Newsroom rant suggests. And just as a note, many "independent" schools that are in the top percentile are not "religious" strictly, but are the fruition of religious people in the community following a classical educational (Trivium) philosophy from the Middle-Ages via the Catholic Church. So, for instance, Trinity Classical Academy in our valley is following a Trivium model founded by religious people… but the school would not be considered "religious" like a baptist school.
But when these independent or even "Baptist" students take their SATs, they do well abover the public school child, often times with less money spent per pupil. In fact, a direct correlation can be made since the founding of the Dept of Education… and it is as more money is spent on education in the public arena, the worse the outcome. Again, to be clear, money is not the issue. ANother myth is that we spend more on the military than education… also not true. It is philosophy.
STARTING POINTS
TWO MORE QUICK EXAMPLES
Here are a couple of "Deconstructions" via In the Margins:
Assertion #2: "We lead the world in only three categories. Number of incarcerated citizens per capita, number of adults to believe angels are real, and defense spending."
Assertion #4: We No Longer Explore the Universe
I partly agree with this one in the sense that our current administration has changed the philosophy of NASA:
And really this circles back around to public education as well. Since the teachers unions and the Dept. of Education are increasingly worried about aspects of education that have more to do with art and social engineering rather than reading, writing, math, science, of course they will fall from scholastic grace.
STATS IN MOVIE SICKO
This is nothing new mind you… this "bait-n-switch." For instance in Michael Moore's Sicko he talked up Cuba's infant mortality rate as better than most countries in the world and attributed that [laughably] to their great health care. But here we notice some number fudging:
The same can be said of dental care.
WAR ON THE POOR?
This small statement by Restoring Liberty on the poverty example from the Newsroom rant is another example of how the "War-on-Poverty" is a sort of "War-on-the-Poor," like the minimum wage is:
Yep, that is a distinction leftist Democrats do not get:
(Above video) Larry Elder gets the Lo-Down of where we stand after we spent 22-trilion on fighting poverty from Robert Rector, a leading authority on poverty, welfare programs and immigration in America for three decades, is The Heritage Foundation's senior research fellow in domestic policy. See his article on this.
WAGE GAPS
I will end with another example of how gender equality at the World Economic Forum is misused to make a political point rather than a factual point:
We can see that the idea that women are payed less than men (.76-cents for every man's dollar) is a false stat misused by the like of Hollywood AND Democrats.