There are a few issues involved in this video via NBC and the victim mentality of the left, but first the video:
(Jump To: Hijab Arsonists | Online Survey | More)
Firstly, many supposed "Trump" related "hate-crimes" have been shown to be false. We see headlines and stories like the following (published immediately by the Southern Poverty Law Center):
HIJAB ARSONISTS
But in that NBC video I want to deal with two topics. One being the case of a female Muslim (Muslima) student at the University of Michigan. She claimed last month that a man had threatened to set her on fire unless she removed her hijab.
Horrible! . . . if it were true.
HOTAIR notes that "naturally, the Council on American Islamic Relations [CAIR] connected the alleged incident to President-elect Trump." Continuing with a quote from [the terror supporting Islamic organization] CAIR…
"'Our nation's leaders, and particularly President-elect Donald Trump, need to speak out forcefully against the wave of anti-Muslim incidents sweeping the country after Tuesday's election,' CAIR Michigan's executive director Dawud Walid said at the time."
About the video above HOTAIR also relates that "A few weeks ago NBC News put together this report featuring a Muslim woman on the University of Michigan campus talking about her response to the election of Donald Trump. The video highlights the claim (now shown to be a hoax) about a woman on campus being threatened for wearing a hijab." CREEPING SHARIA asks:
Why isn't her name and photograph being released? Why isn't she being charged with a hate crime against white men? Her attention to detail suggests it was premeditated, as HotAir notes in Another hijab hoax.
ONLINE SURVEY
ANOTHER issue with the NBC FAKE NEWS video is when they reference the 10,000 teacher survey:
The SPLC withheld some vital information in order to make the "narrative" fit better for the uninitiated public. The NEW YORK POST expands on this:
The CANADIAN FREE PRESS goes on to state that this "New Hate Category" is very lucrative:
Greg Gutfeld agrees (12-2013):
MORE
A recent purported "hate crime" was a burning of a black church with "vote Trump" spray painted on the side. Here is how SNOPES ended their post on the matter:
And the Mayor of Greenville called the burning of Hopewell Missionary Baptist Church in Greenville a "hateful and cowardly act," Mayor Errick Simmons said this was "an attack on the black community." "It appears to be a race crime," Simmons said. "It happened in the '50s. It happened in the '60s. It shouldn't happen in 2016."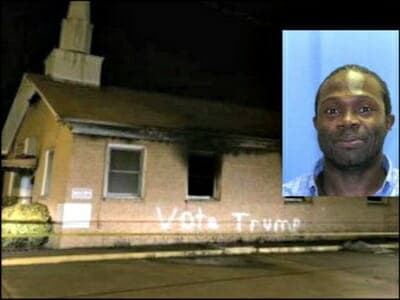 But as with most of these incidents in the past decade… they are hoaxes.
While in the past these churches have been burned by members of racist organization, nowadays it is a fostering of a grievance demographic via awards of victim-hood that has caused a significant increase in the hate-hoaxes. Magically however, this crime went from a hate-crime to just a regular crime — with the snap of a finger.
---
Two more VERY recent HATE-HOAXES
---
The first one Delta Airlines confirmed it kicked off the passenger for being rude and disruptinve, NOT for speaking Arabic….
MOONBATTERY reports that "it looks like the worst is over for the victims of a phony hate incident at Babson College in Wellesley, Massachusetts:"
Babson College has cleared two students of any disciplinary violations stemming from their controversial drive through Wellesley College to celebrate Donald Trump's victory the day after the presidential election, their lawyers said Monday.
It turned out to be fabricated… but not before being…
Even thinking certain ways is dangerous nowadays — apparently