For countries AND FOR soft sites like schools… the application is still the same:
A friend posted a link to an article where a "theologian" (I assume he theologizes vs. being a professional "theologian" noted the following:
There are few things as quintessentially American as apple pie, the Dallas Cowboys and the possibility of being shot anywhere you go." [….] "Christians in America are going to have to voluntarily divest themselves of weapons of war if we're going to muster the political will to reform our systems and markets that profit from the fear and death they sell." (America's Gun Culture Is Driven By Christians – Here's How To Stop School Shootings)
Just a few thoughts out loud before the quotes, links, media, and the like.
The article says Scott Baker is a theologian. I could teach theology, but wouldn't say I am a theologian.
If your shot in Texas, is it by a regular church going Christian?
Note as well that the article gets no where close to the subtitle's statement of stopping school shootings.
Also, I wonder which of these choices or thoughts, investing vs. divesting, were racing through the mind's of the Christians who worked at the Presbyterian Elementary Covenant School (or even non-believers at Uvalde for that matter) thought of. Were they thinking, "gosh darn it, I am so glad I divested in my right to defend my own body and the bodies of the innocent." [/sarcasm]
There seems to be a false dichotomy. Gun violence happens, and, it will [presumably] stop when Christians [who are law abiding and God serving] "divest themselves" of them these "weapons of war" — whatever that is?
…given the constitutional protection that is interpreted as a blanket right to private gun ownership, creates an environment in which no single action can solve this quandary. I know it can be done because I grew up in a world in which people smoked on airplanes and in restaurants, and now they don't. (IBID)
Once Christians are "out of the way" then federalism can be moot and much like a federal law that stopped smoking on a plane, so to will shootings stop?
Or.
More people will be be killed like sheep.
I think the later.
Thankfully the police response at Covenant School was quick. Fourteen minutes to the scene. And a few minutes to the threat was stopped. However, if "investing" was practiced, the threat could have been neutralized in minutes.
This hope of "divesting" will happen in "no place," or, UTOPIA.
Opining still may I say this idea of giving up a right by Nature's God is not a Christian idea, not to mention that Christians and Jews, historically, around the world would have been in a better position in life if they were armed [I mean, actually having it – life that is].
Common sense seems to be missing in the article at Premier Christianity.
Take a more recent example of a divesting that was through complacently:
Or a kid who stopped a mass killing at a mall by conceal carrying. And the many other documented persons who stopped mass killing sprees – see FEE's article on Eli, but this short video is good:
Here is how I (at the time) characterized it on my Facebook: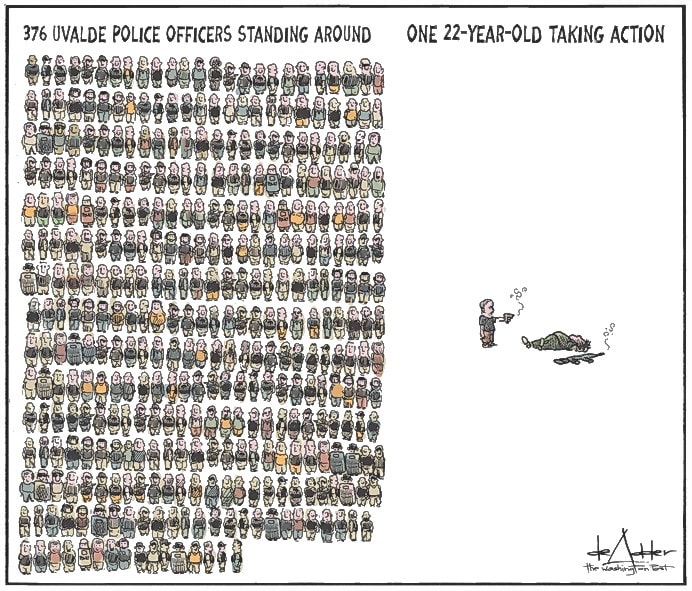 There are many instances of this heroic action, as noted well here:
Or the research by criminologist and researcher Gary Kleck, noted here in an article by Larry Elder:
Likewise, Reason.com notes much the same:
But I want to return to that FEE ARTCLE linked above. In it some person's are quoted that may be more rightly called "theologians" IMHO.
Turning to Gary DeMar's article that was quoted above but needs more room for further context:
May I connect the dots and say "Christians divesting" themselves of a God given right is disregard for life.
Right around the time David French went #NeverTrump, he had an excellent article at NATIONAL REVIEW which I noted on my website. Here is an excerpt from it:
So much different than Scott Baker seemed to say…
"given the constitutional protection that is interpreted as a blanket right to private gun ownership"
… we really find out IT IS a blanket right. And on Facebook I asked the following question bnecause I could not for-the-life-of-me understand why my friend liked the article? So I asked him,
What did you like from the article? I read it twice, and I am curious what was the main part of the article made you go "yes, that makes sense"
He merely responded with over six paragraphs from the article.
Which was vacuous of history, common sense, facts, and full of cherry picked verses.