JOHN 1:1-3
1. In the beginning was the Word, and the Word was with God, and the Word was a god. 2. This one was in the beginning with God.

3.

All things came into existence through him, and apart from him not even one thing came into existence. (NEW WORLD TRANSLATION)

1. In the beginning was the Word, and the Word was with God, and the Word was God. 2. He was with God in the beginning. 3. All things were created through him, and apart from him not one thing was created that has been created. (CHRISTIAN STANDARD BIBLE, CSB)
I chose three excerpts below from a longer video to show how this Jehovah Witness (J-Dub) apologist rips peoples thoughts from their larger context. (LINK TO THE FULL VIDEO.) BTW, his videos are numerous and can keep the apologist busy in counter-cult responses. Also, it is worth pointing out as I watched the guy pick up and read from THE NET BIBLE, front pages, noting the contributors and scholastic notes. Something the NWT is missing. He sorta shot himself in the foot a bit with that as his inflection on the description was to give some weight or authority to it.
This should be paired with my:
THE NET BIBLE
This J-DUB Apologist misquotes, or, quotes out of context, not allowing the Bibles wonderful notes to speak for themselves:
So, the full context of the notes in the NET BIBLE show that the end result refutes the New World Translations rendering of John 1:1. Come on, give it up for the NET saying John 1:1c should read:
TO WIT: what God was the Word was, or, the Word was fully God… rather, it [John 1:1] affirms that the Word and God are one in essence.
As well as the NET throwing Moffat and other translations under the short bus a tad.
JAMES R. WHITE
I really do hope curious Jehovah's Witnesses see the video and go get these books to "disprove" Trinitarians. The free thinking J-Dubs may be blessed in a real sense by these "refutations".
This next quote I really couldn't believe, have read through large swaths of this book during my seminary years.
DANIEL B. WALLACE
I have a link to a reference Doc Wallace uses that takes you directly to the source in the excerpt.
To the contrary of the three excerpts of the points made by this J-Dub apologist… the facts don't fit the narrative.
---
A BONUS EXCERPT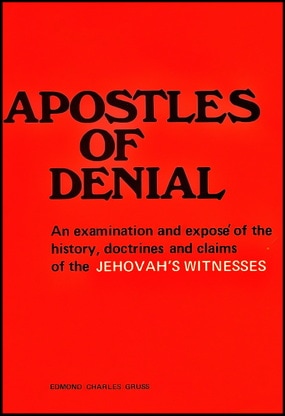 ---
Edmund C. Gruss, Apostles of Denial; an Examination and Expose of the History, Doctrine and Claims of the Jehovah's Witness (Phillipsburg, NJ: Presbyterian & Reformed Pub Co, 1970). (FREE TO VIEW HERE)