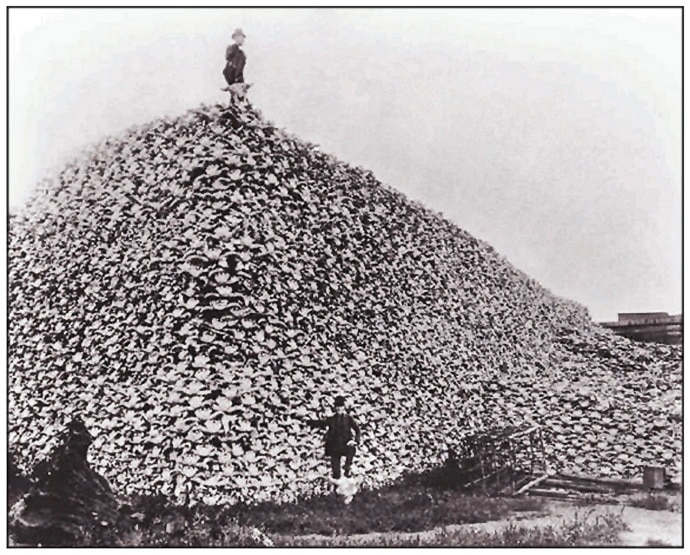 Bison skulls piled up on the southern Plains in 1870s. This photo epitimizes the wasteful slaughter of bison by commercial hunters. However, we don't know how large an area this represents–within a mile or maybe a hundred miles. We don't know over how many years these skulls were laying around on the ground. Do they represent dead bison from a year or several decades? We don't know how they died. Did some die from disease, harsh winters, or wolves? And even if humans killed all these bison,

how do we know who did the killing? Could many of these skulls represent bison killed by Indians? We just don't know. [Is there a small dirt mound under that helping shape the hill of skulls? –

RPT addition

] All we know is that many bison died. (WILDLIFE NEWS)
The above well known picture and the comment under it is from one of the two articles I will reproduce below. Great stuff Maynard! Here is how kids in elementary school are taught about the matter:
Indian Culpability in Bison Demise
Bison Ecology, Ecological Influence, Behavior, And Decline
Choctaws, Chicasaws, Cherokee, Creeks, Mohawks, Iroquois, and Seminoles to name just a few that were in states of war with each-other in some fashion before-and-after the white-man every step foot on the continent.
Here for instance are the killing, scalping, putting into slavery those captured ~ FIGHT over the Black Hills (via: America: Imagine the World Without Her)
Now, however, as the Beaver Wars exemplified… there was a larger "monetary" benefit to these raids, land grabs, and the like.
To wit, *JUST LIKE* with the buffalo.
While there was a concerted effort to get American Indians to become less nomadic (and thus less liable to be: "fierce raiders," "crafty foemen" [an enemy in war], and "'not' meek"), the Indians THEMSELVES played a large roll in this "de-nomaditisation"! American Indians THEMSELVES sought to make a buck off of these new techniques of leather making (see especially the second large quote below):
Supply-and-demand. This doesn't make the near extinction an ideal goal… but it opened up the Plains for a large movement of settlers. AS WELL AS pointing out that the real push for Buffalo hides was profit during a slow times after the Civil War; not "genocide. Nor was the goal "death" of N-A's, directly. Indirectly, anything subsidized writ-large is known to cause death in greater numbers. In similar fashion, authors Hine and Faracher make the same historical statement: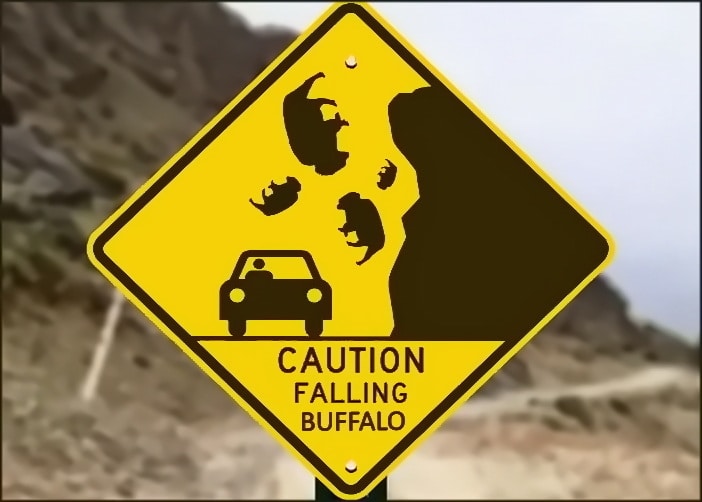 One needs to also keep in historical perspective that yes, these buffalo killed were done so primarily for their skin. And a lot of waste was involved. But even the Plains Indians are no angels in "waste."
For instance, I wrote a response to an in-class assignment to my sons elementary class lesson about HOW the Settlers treated the New World versus how the Indians treated it. Here is a quote from that post:
You see… when history is looked at in total and not in isolation, a theme comes out. Man is fallen. All men. Indians, Aborigines, Africans, Native-Americans, etc, etc. For history to be twisted, it needs to be viewed in isolation from other parts. History is not pretty, and the good things that come from it should be lauded… because they are rare. And this is not a polemic saying these United States were in the right in all their dealings with N-As. Reading through pages 176-184 in The American West book is heartbreaking. Moving whole groups of people by force has awful consequences, period. In this graphic from page 179 of the aforementioned book shows the undertaking started in this respect ~ even keeping in mind most fought against us in the Revolution. It doesn't mean innocent men, women, and children were affected:
Alternatively, it is tough to argue that genocide or racism was involved as well. For instance, Colonel Dodge could be said to hate the Buffalo more than Indians. An insightful quote is this one, and, can be argued to be "speciesism" more strongly if Indian genocide is argued from his earlier solitary quote, via the official Journal of the Western History Association:
As
This is related in some way to many of my Native-American posts: