(Updated with a Post-Script)
A recent conversation made some connections to the final statement made in this clip about the very small gender wage gap left — after all things being equal are considered — may in fact be innocent. Not, in-other-words, the evil patriarchy keeping women down.
During the conversation some points were made that made clear some of these "innocent" aspects of the wage gap or even a disparity in women superintends in education. The two points made were that women wait too long to jump on a promotion, and, they do not negotiate for the pay they feel they are worth. While we all could use help in negotiating skills, this may be a natural aspect to womanhood and not one attributed to a patriarchal activity.
Having read through a couple studies years ago to help formulate thinking on a response to Matt Damon's claim that teachers are not payed well. After this recent conversation however, I revisited a larger swath of reading on the topic. It took me a couple days, but I read through the following:
While many of these articles/studies mention gender bias… in them are more than enough reasons to suppose the differences that occur naturally between men and women account for the totality of the disparity. This doesn't mean that there is not patriarchal biases, JUST LIKE there doesn't mean there are matriarchal one's as well. The point is that the rule we see is better explained by choice made by women in the West that is freer than anywhere else in the world.
This post deals less with the wage gap and more with a gap of female school superintendents as compared to male superintendent. HOWEVER, the same gross negligence of not comparing "apples-to-apples" stains any credibility in this regard… here are two quick examples:
Similarly, when you hear:
Of our nation's 13,728 superintendents, 1,984 today are women. Yet 72 percent of all K-12 educators in this country are women, according to the U.S. Department of Education.
…something is not adding up. Here are five quick examples of divergences that go towards explaining this divergence noted above:
Of the 297 women superintendents in the AASA study, 130 were former elementary teachers. Thus more than half came from a secondary background where men teachers are a considerable majority.

Coaching activities traditionally have provided secondary and junior high teachers with an initial step toward administration.

Women also are achieving the doctorate at comparable rates to male candidates. However, about only 10 percent of women in doctoral programs are opting to earn the superintendency credential along with their educational specialist or doctoral degree.

Women are not as experienced nor as interested in districtwide fiscal management as men (and school boards prefer this).

The role of a mother probably restrains many women teachers from pursuing the principalship.
So yes, if you compare ALL women and men and ignore differences, it looks bad. If you start to do what an economist does and ask questions about WHY or WHAT possible factors may contribute to the disparity we see, then the gap starts to be explained. Everyone should ask the minimal questions:
Compared to what?

At what cost?

What hard-evidence do you have?
The rest of this post is basically commentary on the above linked studies or quoting from them. The two most used are:
Few Women Run the Nation's School Districts. Why? (Education Week);
Where Are All the Women Superintendents? (AASA);
---
RPT's Commentary
---
"I don't want to be offered a position because I am a woman; likewise, I don't want to lose a position because I am a woman…"
In the very next paragraph she added,
"I think it would be naïve to think there are not some stereotypes that exist."
Like, mmm, I don't know… being hired because you are a woman and a "number" to fulfill a quota? In this same article qualifications like a degree in superintendent studies or a financial background while statements like these are made:
which also plagues other sectors trying to address underrepresentation of women, African-Americans, Latinos, and other groups.

They can say we value diversity, we want women applicants, we want minority applicants…
This particular article had a myriad of unsubstantiated claims that were really non-quantifiable and wholly anecdotal. The worry of that woman quoted above in being chosen merely for gender (or ethnicity) is realized when standards for a job are the modern understanding of diversity as is presented in works like Race, Class & Gender: An Anthology, by Margaret Andersen and Patricia Collins.
Thomas Sowell rightly asked in a speech he gave that "given our limitations, what can we do to make this a better world — and what can we not do?" He responds:
So here are some bullet points I adapted and commented on:
approximately 75 percent of elementary classroom teachers are women. Nearly 75 percent of superintendents did not teach at the elementary level prior to working as a central-office administrator or superintendent. [women, when given a choice, would rather teach their passion… younger children. NOT ALL, but most.]
Nearly all superintendents previously worked as building principals and a majority are former assistant principals. Therefore the ladder from the classroom to the superintendency often begins as an assistant principalship or as a high school department chair. Even though about two-thirds of the nation's schools are elementary, a small percentage have assistant principals and almost none have department chair positions. Elementary classroom teachers have to jump straight from the classroom to the principalship… [Most women prefer to stay longer in these positions because of more flexibility of hours and family/work life balance.]
Coaching activities traditionally have provided secondary and junior high teachers with an initial step toward administration. Athletic coaching and assignments such as band directorships often provide teachers an opportunity to demonstrate skills in leadership, management and an ability to work with community members. Today, most secondary schools sponsor at least six interscholastic sports for both boys and girls, which provides at least 12 head coaching jobs. A sizable majority of AASA study superintendents indicated they had a coaching assignment while working as a teacher or building administrator. [Men typically are – again, by their nature – drawn to these activities.]
Nationwide data indicate that women constitute more than 50 percent of the graduate students enrolled in educational administration programs. Women also are achieving the doctorate at comparable rates to male candidates. However, about only 10 percent of women in doctoral programs are opting to earn the superintendency credential along with their educational specialist or doctoral degree. [These are factors of choice typically.]
Most data indicate that school boards, while claiming keen interest in the instructional program, see the management of fiscal resources to be a critical component of the superintendency. The AASA study showed that boards place a high degree of emphasis on budget and financial decisions by using skills and experiences in these areas as key hiring criteria. [So some sort of business degree or time in a position that deals with fiscal issues is often times preferred. These opportunities are attained more so in the high school arena.]

About half of the 297 women superintendents in the study had experience in the central office but very few had responsibilities in personnel and finance. [see above]

[in the past] [b]oards of education while saying that the instructional program is important do not want an inexperienced superintendent in fiscal management. [This is changing because standardizing tests are requiring differing focuses on outcomes — leading to more women being considered for superintendency.]
The average superintendent spends more than 50 hours a week at work, including night meetings and sporting events. This type of work week often is not appealing to younger women (or men) accustomed to child-centered teaching in elementary classrooms and to people who prefer a better balance between work and family life. [in modern, rich, Western countries, women are afforded the choice to place family first, and more-often-than-not, do.]
The role of a mother probably restrains many women teachers from pursuing the principalship–a position they are well acquainted with. Women principals and central-office administrators recognize the time and pressure of the superintendency frequently interfere with family life and choose to spend non-working time with family rather than school board members and citizens. [By the way, Glass follows the above with "socialization" as the root of this difference… not nature. "Scholastics," when fighting nature (whether God imbued, or millions of years of evolutionary honing, or any combination thereof), will lose every time.]
Women who do become superintendents spend more years as classroom teachers before moving into the administrative ranks. Women administrators typically spend 7 to 10 years as a teacher while men spend about 5 to 6 years in the classroom. [Again, this may be based mostly on family/child choices, and may make them better at what they do with more experience… however, as my friend stated, women tend to not jump on promotions as quick as men. THIS DOES NOT MEAN anything nefarious is taking place… these choices are more likely to do familial activity as well as the general nature of women not to compete or jump on opportunity as much as men. I would posit this has more to do with the nature of women than the socialization of them.]
Superintendents are not usually hired from within and have three superintendencies during their career of some 15 to 17 years as the school district CEO. This means the superintendent's family will be making perhaps four moves after she or he leaves classroom teaching. [The conclusion Glass draws is covered up by gender equity. Women, more than men, wish to stay rooted in their community, placing a higher value on their children not having to "start all over" at another school making new friends versus having life-long ones. So this fact is a major inhibitor for why women CHOOSE to stay in the elementary level versus chasing a career.]
Nearly 82 percent of women superintendents in the AASA study indicated school board members do not see them as strong managers and 76 percent felt school boards did not view them as capable of handling district finances. [This has little to do with glass ceilings, rather, much of this was already discussed above. While many felt a "glass ceiling" was inhibiting them… I think more-so nature and choices have ~ speaking quantifiably and not anecdotally. Everybody thinks they are on the side of angels… who deserves more pay, a better position, and the like. I think I am worth waaay more than I have ever been paid — hubris to segue way into Sowell…]
Glass made mention of men having more mentors… I agree, for a couple reasons. First, something my wife mentioned that she was told by more than a few professors… if you want to break into the "good ol' boy club," play golf. Yep, men bond over sports and friendly competition. This comes more natural for men for a few reasons. One is that they tend more naturally towards this activity of meeting for a couple drinks or on the golf course. During these times they are not complaining as much as trying to solve issues (my wife has pointed out there is more negativity focused on when women meet). Men love more-so friendly competition to destress them and to build bridges of trust and openness.
Men tend to have ways to help each other through relationships that differ somewhat from their female counterparts. For instance, Nora Vincent dressed as a man for 18-months and later wrote a book on the experience. One reviewer at Amazon notes the following:
As an old-school feminist, I began the book with all the pre-conceived notions about men that we've gathered over the years and hugged to our chests. Bam! Norah Vincent dispels all of those and more in this can't-put-down book. A woman posing as a man. Sensational? Perhaps. However, Ms. Vincent has managed to write an unbiased, often touching and frequently very funny book about the lives men lead. A lasting moment from the book, in my mind: Vincent's description of a male handshake with another man, warm and welcoming, v. a woman-to-woman hug and air-kiss, superficial and fleeting.(See the 20/20 special on Nora Vincent)
In another article, there was mention of a superintendent referring to a candidate as a bitch.
Unprofessional?
Of course!
But am I being told women have never called a man a dick?
Please.
Glass continues at one point, saying:
Along with nursing, teaching long represented one of the two most accessible professions for women, who until the recent past were largely excluded from such professions as accounting, dentistry, medicine, engineering and law.
I reject this. As already pointed out, as societies get richer and likes in life/work balance are realized… women CHOOSE these professions (nursing and education) more than men.
Continuing…
As already mentioned, many women teach in the classroom for more years than men. Other women take several years out for child-rearing. The result is that many women enter the process of moving through the "chairs" to the superintendency too late. AASA's 10-year studies always have shown that women superintendents are older than their male counterparts with comparable years in the superintendency.
AND THIS IS NOT A BAD THING (*big booming megaphone w/echoing reverb*… FX) As many women who swallowed the lie from feminists via the 60's mention… they have regrets:
What can be done? As education changes so too will the roles and natural talents needed in positions withing education. However, to force a change onto education that rejects qualifications for merely seeing gender and ethnicity will in the long run harm educations quality. Like the medical establishment (listen below). Another factor in this equation is that often times the school board members lack specialized knowledge about education and what is needed for their district. I fully acknowledge this. But to say that this gap in gender in superintendents is based on a patriarchy of some sort, is misleading at best.
---
Concluding Thoughts
---
What struck me the most about my conversation with this lovely lady? Well, when I brought up a couple studies that undermine the belief about the gender-pay-gap, she mentioned studies as well. I said "great, send them to me." (We have each-others emails for the readers information.) I was excited that maybe something less anecdotal was going to be presented. I mentioned that after her busy schedule she may want to consider reading my short post on the issue or consider reading Thomas Sowell's book, Economic Facts and Fallacies, 2nd edition. She quickly responded she would never read anything on the topic.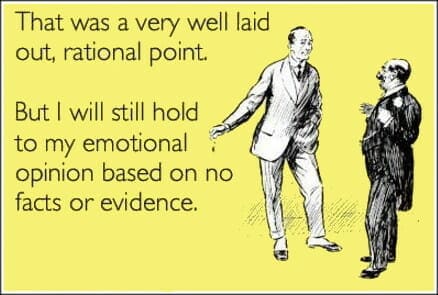 I was inwardly taken aback, but also had yet another confirmation about how the left approaches issues that marches, policy and deer beliefs are held closely to the vest as true. I doubt this academic woman had ever read anything outside the curricula given to her by her educators. Learning to think in a box incorporating a Marxian view of history and economics based on race, class, and gender is the norm.
You see, she had just mentioned to me how she hates the volatility of the political climate. Shortly thereafter she intimated that she would not budge an iota in her beliefs by blocking out new streams of information into her matrix, possibly changing her mind just a tad considering said new information that previously she may not have been aware of.
— BTW, this IS the definition of ensuring oneself and culture remain volatile —
 — by not allowing educational opportunities —
And when women march, people vandalize businesses and set fires (Berkeley for instance sustained over $100,000 in damage) as well as almost kill or permanently maim persons… all based on myths believed to be true (hands up don't shoot, gender wage gaps, police more likely to shoot a black person, white privilege, war on women, white supremacy, my body my choice, etc., etc.), our climate will continue to become more volatile when even evidence from an opposing viewpoint is ignored out-of-hand.
(More at my GENDER WAGE GAP post)
---
Post Script
---
A friend sent this article to me: SEXISM AND ZOMBIE ECONOMICS. I wish to take two examples from it to make the point that these two examples are equal in their showing "sexism." In other words, they don't. The first example comes from Emma Watson,
This other example comes from the articles author,
What do these examples prove? Nada, Zilch, Zero.
If the dance had owners that were a substantially higher degree of males than females, as an economist I would look at what is separating (asking questions) WHY this is. If I noticed a larger percentage of them had differing backgrounds, say teaching varsity dance teams versus elementary plays. If they had business or accounting degrees, on-and-on.
What feminism (Leftism) has done is make women weak, in fact, all society. To wit the author of the article, near the end, notes as much:
Seemingly they always need a knight in shining armor. In this case[s], Big, Obtrusive, Government (BOG).