This comes by way of Moonbattery:
I found this frail example of a woman (Professor Melina Abdullah) tearing up about racism a bit incredulous… and… frankly, ironic. Mmm, sorry, moronic. She actually associates with a REAL racist cult leader — Louise Farrakhan.
But, before getting into her connection with Louise Farrkhan, however, let us intimate why this even matters… why bring up Louise Farrakhan at all?
Here is why.
In a hypothetical using "Dubya" [George W. Bush] next to the reality of Farrakhan ~ I educated an "old school Democrat" with my memorized "bio" of Farrakhan in a conversation I had on vacation:
…in other words…
…Farrakhan is not merely a "black Archie Bunker"…
…he is much-much worse…
BUT WAIT !
…we aren't done yet…
Farrakhan recently spoke about how black gods will return to earth and destroy white people in his now infamous (more than famous) UFO speech — actually one of many bat-shit-crazy, RACIST, black supremacist speeches he has given over the years:
The above is a case-study in "Doctrines of Demons" in case you were wondering. And if THAT were not enough… he is intimately connected to murder. I mean when even the Southern Poverty Law Center notes them as a racist cult, then it must be true? Right lefties?
…Now…
…that we have Farrakhan squared away…
What does an anti-racist professor who cannot be around "racists" at all doing around one of the worst offenders of racist nationalism known in recent cult history? [We are assuming for argument sake that Ben Shapiro is racist, BTW, which he is not.]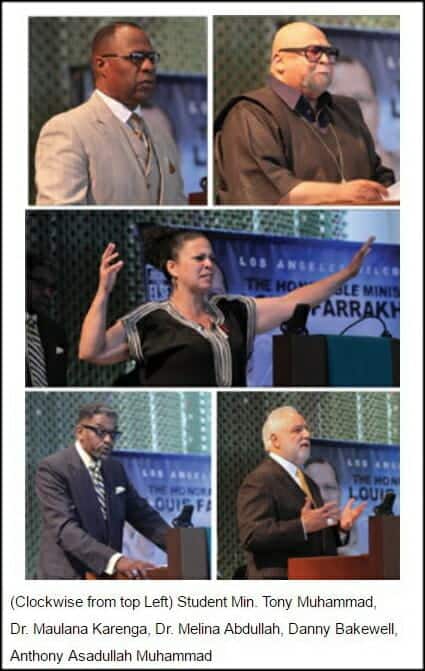 Here ~for instance~ is Dr. Melina Abdullah hangin' with the KNOWN and CONFIRMED racist at the "West Coast Standing with Farrakhan!" — as pictured and written about in the Nation of Islam's racist/cult apocalyptic magazine, The Final Call:
Some of the others on stage were none other than the murderous, racist, torturer of women Maulana Karenga, which you can read more about HERE.
Here is Dr. Abdullah praising the racist, anti-Semitic, UFO new age cult leader:
And she thinks she is able to speak to the offense of racism????
P-U-L-L-E-A-S-E!
Maybe she is tearing up because her conscience is eating her alive?