---
Christopher Columbus
The Left's Public Enemy #1
---
Michael Knowles explains the difference between leftist lies and reality, and why Christopher Columbus is the Left's public enemy #1
---
An Indigenous Peoples' Day
Monkey Wrench
---
On June 23, 1865, in what was the last land battle of the war, Confederate Brigadier General and Cherokee Chief, Stand Watie, finally surrendered his predominantly Cherokee, Oklahoma Indian force to the Union. He was the last Confederate General "standing."
…That same month, Watie's command surprised a group of soldiers that included troops from the 79th U.S. Colored Infantry who were cutting hay for livestock at the fort. Instead of accepting the surrender of the African Americans, the Confederates killed 40 of them. Such exploits earned Watie promotion to brigadier general… (HISTORY BUFF)
---
Mayan and Aztec "Terrorism"
---
CLICK TO ENLARGE: 
UPDATE!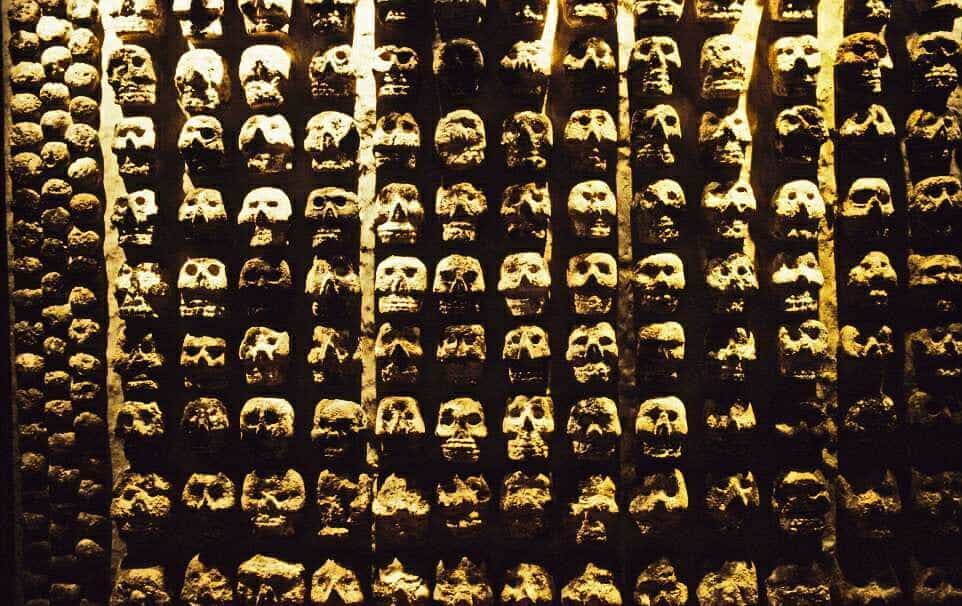 The DAILY MAIL informs us of the utter devastation of human sacrifice the Aztecs "enjoyed" — and why the cartels are the way they are. They are really a death cult version (Santa Muerte [watch your volume, video starts playing automatically at link]) of this early history: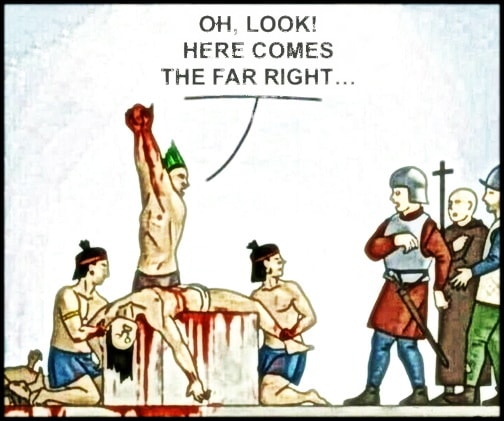 (The Below Was Posted Oct, 2017)
This is a combining of three previous posts to make it easier for those looking for refutation to the Left's understanding of Columbus Day. Another resource is this excellent video.
The following conglomeration of responses to two separate persons in a LONGER VIDEO where some Native-Americans express their "dislike" of Christopher Columbus.
Subjects dealt with are:
So the above video show that Christopher Columbus, the Spaniards, nor even Hitler reached the amount of terrorism on people quite like the pre-Colombian indigenous people of the Americas. Here is a small portion from a paper I wrote detailing some of this, followed by an excerpt from a site detailing some of this:
The first time I ran into information noting the incredibly evil culture, and how it was ultimately defeated (showing, absolute greed can still have VERY positive aspects to it), was a post on ROTTEN.COM
---
On June 23, 1865, in what was the last land battle of the war, Confederate Brigadier General and Cherokee Chief, Stand Watie, finally surrendered his predominantly Cherokee, Oklahoma Indian force to the Union. He was the last Confederate General "standing."
…

That same month, Watie's command surprised a group of soldiers that included troops from the 79th U.S. Colored Infantry who were cutting hay for livestock at the fort. Instead of accepting the surrender of the African Americans, the Confederates killed 40 of them. Such exploits earned Watie promotion to brigadier general

… (HISTORY BUFF)
One should see my stuff on the topics as well:
THE FEDERALIST has this excellent article that should be read in full:
---
Goodbye Columbus?
---
AMERICAN GREATNESS has this article I excerpt from:
---
THE BIGGIE!
Did the United States Practice Genocide
Against Native-Americans?
---
(Originally Posted March of 2015 — Updated Today – July 5th, 2021)
ALSO SEE:
SOME PREVIOUS POSTS ON THE NATIVE-AMERICAN MANTRAS:
(Editor's note: A recent federal bill memorializing as a National Historic Trail what has come to be known as the Cherokee Indian Trail of Tears is based on false history, argues William R. Higginbotham. In this article, the Texas-based writer delves into the historic record and concludes that about 840 Indians not the 4,000 figure commonly accepted died in the 1837-38 trek west; that the government-financed march was conducted by the Indians themselves; and that the phrase "Trail of Tears" was a label that was added 70 years later under questionable circumstances.) The problem with some of our accounts of history is that they have been manipulated to fit conclusions not borne out by facts. Nothing could be more intellectually dishonest. This is about a vivid case in point.
As you read this, keep in mind this is not a polemic saying these United States were in the right in all their dealings with the American Indian. What I am saying is that when looking at history, one needs to do so in full, and not in part.
I came across the above quote that got me thinking — due to the source… a left leaning website — that the quote was connected to a more complicated history than just simply "genocide" against Native-Americans (N-A from now on). Which the website was implying the quote meant. (BTW, if you are like my wife and can do without all my pomp-and-circumstance and want the bottom line ~ read this quote.) The original hat-tip came from a conservative website Gateway Pundit, referencing a call for Buffalo [New York] to change it's racist name. (I know, EVERYTHING is racist nowadays.)
One of the graphics Gateway used in his story was this one, note the quote by Col. Dodge: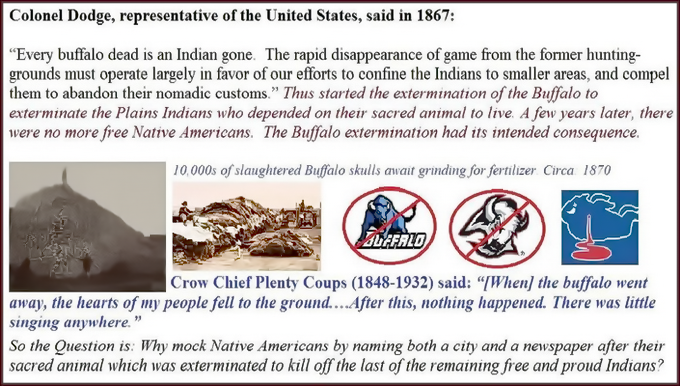 As I continued my search… this quote from Col. Dodge showed up quite a bit. So I did a Google book search, found some promising books that would lead to the origins of the quote. I subsequently ordered used versions (pictured below).
The American West book led me ultimately to two online resources: one a book from 1911 (the original source of the quote by Col. Dodge used in many resources), Sir William Butler: An Autobiography (London, England: Constable And Company Ltd., 1911); the other resource was an article in the official Journal of the Western History Association entitled, "The Frontier Army and the Destruction of the Buffalo: 1865-1883"
In these four resources as well as previous posts, I will unravel a fuller picture of the history/ethos behind such a statement. FIRST, however, here is the fuller quote as remembered by Gen. Butler:
When I read this fuller quote something stood out: "splendid hunters," "fierce raiders," "crafty foemen" [an enemy in war], and "'not' meek." This brought to mind a previous discussion with a person on Facebook about the same issue. Daniel made a similar point that was one-sided… as if the American Indians were angels. I made the following historical point:
Another point I pushed with Daniel in this discussion was that after the War of Independence, the Revolutionary War that is, the relationship between the people in this fledgling nation and the American Indian changed dramatically. You see, the Big Five (Five Nation League), the biggest Indian nations, ALL sided with the British.
This was an interesting dynamic when we beat the British and the Big Five. While the British warriors were sent-a-packin', the American Indian combatants stayed. This was a tough situation, to say the least. History is tough.
Continuing.
Similarly, the near extinction of the Buffalo had many reasons and participants from both sides. In Settler and the N-A side participated in their demise. These American Indians were NOT angels. When trading routes and goods started to be established, we find that greed and power are a universal trait in all people of the world. The Beaver Wars exemplified just how non-angelic these American Indians were:
And in a very recent article (July 4th, 2021), the POST MILLENNIAL counters a bit NPR's attack on history in this regard:
Choctaws, Chicasaws, Cherokee, Creeks, Mohawks, Iroquois, and Seminoles to name just a few that were in states of war with each-other in some fashion before-and-after the white-man every step foot on the continent.
Here for instance are the killing, scalping, putting into slavery those captured ~ FIGHT over the Black Hills (via: America: Imagine the World Without Her)
Now, however, as the Beaver Wars exemplified… there was a larger "monetary" benefit to these raids, land grabs, and the like.
To wit, *JUST LIKE* with the buffalo.
While there was a concerted effort to get American Indians to become less nomadic (and thus less liable to be: "fierce raiders," "crafty foemen" [an enemy in war], and "'not' meek"), the Indians THEMSELVES played a large roll in this "de-nomaditisation"! American Indians THEMSELVES sought to make a buck off of these new techniques of leather making (see especially the second large quote below):
Supply-and-demand. This doesn't make the near extinction an ideal goal… but it opened up the Plains for a large movement of settlers. AS WELL AS pointing out that the real push for Buffalo hides was profit during a slow times after the Civil War; not "genocide. Nor was the goal "death" of N-A's, directly. Indirectly, anything subsidized writ-large is known to cause death in greater numbers.[icon name="arrow-circle-o-down" class=""] In similar fashion, authors Hine and Faracher make the same historical statement:
One needs to also keep in historical perspective that yes, these buffalo killed were done so primarily for their skin. And a lot of waste was involved. But even the Plains Indians are no angels in "waste."
For instance, I wrote a response to an in-class assignment to my sons elementary class lesson about HOW the Settlers treated the New World versus how the Indians treated it. Here is a quote from that post:
You see… when history is looked at in total and not in isolation, a theme comes out. Man is fallen. All men. Indians, Aborigines, Africans, Native-Americans, etc, etc. For history to be twisted, it needs to be viewed in isolation from other parts. History is not pretty, and the good things that come from it should be lauded… because they are rare. And this is not a polemic saying these United States were in the right in all their dealings with N-As. Reading through pages 176-184 in The American West book is heartbreaking. Moving whole groups of people by force has awful consequences, period. In this graphic from page 179 of the aforementioned book shows the undertaking started in this respect ~ even keeping in mind most fought against us in the Revolution. It doesn't mean innocent men, women, and children were affected:
Alternatively, it is tough to argue that genocide or racism was involved as well. For instance, Colonel Dodge could be said to hate the Buffalo more than Indians. An insightful quote is this one, and, can be argued to be "speciesism" more strongly if Indian genocide is argued from his earlier solitary quote, via the official Journal of the Western History Association:
As Christians we look at all history as providential, run by a "higher hand." In doing research for this subject something stood out to me.
And it is the idea that God works to make Good out of horrible.
Referring back to the quote above with the Iroquois would battle other tribes for dominance and control, those they didn't kill and scalp, they would "adopt. Makes slaves, but these slaves would become part of their new found tribe. I will pick up where I left off in that quote:
WOW! God is good. I also wish to note an early "Republican" American Indian I came across in that 1911 autobiography of In General Butler where he recalls one Native American being pressured by the Canadian government to go live on a reserve as saying this… and note, this Indian sounds like a Tea Partier!
He understood what many years later C.S. Lewis and then The Gipper stated:
Also, it must be kept in mind that Republicans rejected the bills and legislation leading to the Trail of Tears. The Democrats were the one's who put forward legislation to remove by force Native Americans from their land and move them to Federal land for subsistence off the State. Here is a smaller excerpt for a great chapter via D'Souza: