Someone I know got a tattoo recently and I couldn't join the chorus of praises bestowed on him.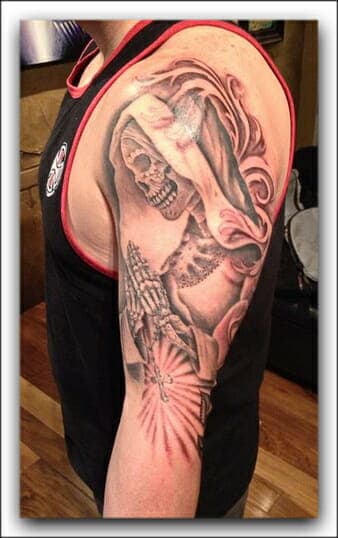 In fact, I posted the following under his pictures of the tattoo:
One story I followed was a brave young woman who stood up to evil she knew she could not succeed against, but took the job anyway!
Erika Gandara was a former radio dispatcher for the police department in the town of 9,000, which is just across the U.S. border, one mile from Fabens, Texas. The previous police chief was murdered and decapitated; his head was found in an ice chest. Gandara, 28, a single woman with no children, was the only applicant for the job and its salary of $580 per month.
One policeman was murdered during Gandara's first week on the job. By the time she became chief, the entire force of eight patrolmen had either been killed or fled. She was the sole law enforcement representative in a Juarez valley town that was part of the war between competing drug cartels for access routes into the U.S.
Relatives feared for her safety and urged Gandara to keep a low profile. But she refused, posing with her rifle for newspaper interviews. Then, at 6 a.m. on December 23, 10 gunmen pulled up to her residence, dragged her out of the house and set the home on fire. She has not been seen or heard from since….
(Fox)