What I am saying is that many of the anecdotal positions I have heard taken on this issue do not stand up to the fact. And what we need is clear thinking. Like in other posts refuting Food Inc., and the many anthropogenic global warming supporters, what I am not saying is that we shouldn't consider reducing the amount of vaccines given, or how they are bunched up. Just like I am not saying we should continue to eat sugar and corn-syrup laced foods, or that we shouldn't be concerned for the environment. People tend to make these conversations either or. Again, what I am saying is that the facts used by many of these persons are just plain wrong.
The issue came up, in fact, in the latest CNN GOP debate:
I have noticed a pattern in this debate though.Those that are religious and have wild "New World Order" views and that like Prison Planet (Alex Jones), tend toward the view that vaccines cause all sorts of ills. Others on the left that have a distrust of Big-Money, corporations, likewise see all sorts of nefarious issues with them. (Why the left then loves Big-Government is beyond me, and treat IT as a non-corporation.) So lets begin this short trek that will surely grow over the years.
Big $$$$$
The first challenge I think is important is one I hear made against global warming skeptics, or creationists/Intelligent design persons, etc. It is the charge that "Big-Money" is powerful enough to change facts. So those that support "Al-Gorian" positions in global warming point out that because big-oil has lots of money… that this MUST influence decisions made in the general public. For instance, we can see how this type of argument backfires. In this small excerpt of a larger debate (seen here), Marc Morano responded to the Director of the Sierra Club, Michael Brune, who charged that Marc's organization receive (cue *evil laughter*) "big-oil money."
The same happened in conversation on the topic of vaccines. One person told me that "the billion dollar industry is attempting to discredit, and bury, things." And, "There is also billions at stake, so buried data is the M.O." So I invite those reading this to watch the two videos. The first video deals more factually with the main study people use to support their autism connection to vaccines. The second video gets into motivation. And one must keep in mind that in philosophy there is a fallacy that states that one's view of truth is built into the geography of one's birth: the genetic fallacy. But no matter if you were born in the very animistic view of nature via a Papua New Guinea birth, or a Canadian birth… Einstein's theory of relativity is JUST AS TRUE. In other words, no matter how much money is involved, we can know the truth evidentially and not based on which side has more money.
To enforce the point one should have gotten already. If position "a" is true and "b" is false because of the "Big-Health Inc." behind it, then I will use the same argument to say that the biggest donor block to Democrats, injury lawyers (after unions, teacher unions to be specific), who have a vested interest in supporting the "counter-vaccine" position and have pumped "Big-Money" into this view — ergo makes my position true/correct.
One can hopefully see the futility of weighing one's argument on this approach.
In another conversation I gave an example of how people first attributed Shaken Baby Syndrome (SBS) to vaccines. But later it was found to be trauma, either through accidental means or abuse. The anecdotal position gave way to the evidential one.
The person I was talking to thought I meant something else and tried to correct me:
I responded that "No, I didn't mean SIDS, I meant shaking baby syndrome." However, i followed that with, "But okay, lets deal with SIDS."
SIDS (Sudden Infant Death Syndrome)

SIDS as been studied well since the 80's. There have been control groups, and babies without vaccinations as opposed to those with vaccinations shows no difference in SIDS. In one of the largest studies babies who were vaccinated fared better in the SIDS arena.
Note as well that babies of black families are twice as likely and to die of SIDS — Native-American infants are about three times more likely than Caucasian infants. So there is something else going on. Incorporating the above ethnic disparities with the rate of vaccines being "up-to-date," we already see an issue of where evidence doesn't meet the claim:
So SIDS should be highest in the Asian communities, next in the white, etc., ~ you get the point. It is interesting to note as well that SIDS is at an all-time low:
As a result of efforts by the Institute and other organizations, the sudden infant death rate is at an all-time low. However there are still about 4,000 sleep-related infant deaths that occur each year in the US. (SIDS.org).
But how is this possible? America is at an all-time high in vaccinations? You can see how the anecdotal "illogic" starts to fall apart.
As with other issues in our political and religious realms [and the conspiracies/sloppy thinking that accompany both — from the New World Order to the above example of SIDS], many claims are not self-challenged by the people that hold them.
Rate of Vaccinations
Autism is on the rise… or, is being diagnosed more as we refine our ability to detect it. And I was — in conversation — given a link to a columnist I like who has a large database of articles supporting to one extent or another the position that vaccines are harmful. One article I thought was promising to challenge my point of view was an article entitle, "Where are the Autistic Amish?"
What a great study [I though to myself] that is truly a "double-blind" isolated population. However, I was soon wagging my head that a journalist I like left behind her critical skills in self-challenging her position. Whereas a schlub like myself can critique a story like this.
First, some background.
Like in the videos talking about this supposed link, Olmsted's anecdotal evidence is cited ad nauseum as evidence that thimerosal causes autism. Thimerosal is a form of mercury, and almost always in anti-vaccine sites (like the two examples to the right).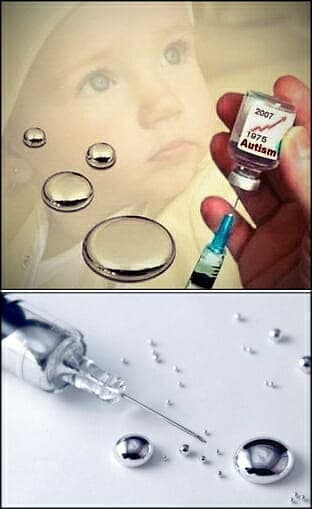 However, thimerosal is not mercury as you know it. Which is important. Before 2001, some vaccines contained thimerosal, a preservative made with ethyl mercury. But ethyl mercury, which is safe, is very different from methyl mercury, which is toxic.
Again, this safe product is not in vaccines any longer, except for, multi-dose flu shots. So when I get my flu shot, I make sure that I am getting a single-dose version that will not have this safe preservative that is not mercury. But autism is still on the rise, to wit,
The Amish
Let's get back to the article that Sharly thought was interesting (as did I). In a response to it from Autism News Beat: An Evidence-Based Resource for Journalists, we read a great excerpt from a critique:
Again, we see that the anecdotal evidence does not stand under even a minimal checking of the facts. Let us continue to dig into some other evidences that undermine the mercury connection.
Japan
In an article entitled "Autism rises despite MMR ban in Japan," we find that countries that have completely removed the "mercury" from its vaccines, as well as offer much less mandatory vaccines to boot.
For instance, The United States requires infants to receive 26 vaccines, whereas Sweden and Japan administer 12 vaccines to infants, the least amount (Mercola). Yet, autism is on the rise in these least vaccinated countries. Continuing with Japan:
In the New Scientist article where the above graphic is from, the author ends with this:
The end is important, because Sharyl Attkisson links to another article by Dr. Frank DeStefano, Director of the CDC Immunization Safety Office, saying,
This is what science is… leaving open possibilities. However, we KNOW "mercury" [thimerosal] is not connected. But all the variables involved with vaccinations leaves open the possibility of future evidence. This same scientific approach is not in the eco-fascist response to anthropogenic global warming skeptics. Scientism is in the later example. Science ~ proper ~ is in the possibility left open in cause-effects of vaccines.
In another exchange, I was challenged with the Vaccine Court awarding settlements to people as an evidence of the issue herein discussed.
Vaccine Court
Here is the challenge:
Firstly, there is flawed logic to this, and I will explain with a recent case.
Freddie Gray was taken into custody and died a week after his arrest, in jail. People blame the officers and six of them have been charged and the court proceeding are a long way off. However, Mayor Stephanie Rawlings-Blake's decided to pay Freddie Gray's family a $6.4 million civil settlement even before the officers were found guilty/innocent in the legal proceedings, which again, are a long way off.
So payment has no correlation to guilt, or innocence. Likewise paying off someone in the Vaccine Court doesn't necessarily correlate to proving that vaccines cause particular illnesses.
I respond:
Concluding Thoughts
So with these few examples I have encountered, we see that there is A LOT of bad thinking surrounding the issue. And it is by-and-large by well-meaning persons who are looking for behavior in their children they rightly or wrongly attribute to vaccinations. Us not being able to explain things is a digging issue for the human race. We think we can find answers — immediately — to issues that perplex us. But sometimes we need calmer heads in the matter… like Dr. Carson in the video near the beginning of the post.
Ways to think through tough issues:
Post-Script
In a continuing conversation I was challenged with this:
Find a great deal of unvaccinated autistic children yet? Or still searching? Yea, me too. smile emoticon
So I provided one example to get this person to think critically:
I got a response. And mind you… this is from a person who is a believer and deals with the confounded logic of atheists and evolutionists. And so here is his response. And his response was merely a cut-n-paste:
Vaccinated boys were 155% more likely to have a neurological disorder (RR 2.55)

Vaccinated boys were 224% more likely to have ADHD (RR 3.24)

Vaccinated boys were 61% more likely to have autism (RR 1.61)
I merely mentioned that this was a s-u-r-v-e-y… by phone. There were not control groups, much of a criteria to test the claims made by these persons called, etc. Here is a bit more:
I linked to an article with this comment: That was a phone-call survey Dan. Here is a more reliable study noted in this science blog:
A couple other blog posts I recommend from Respectful Insolence: