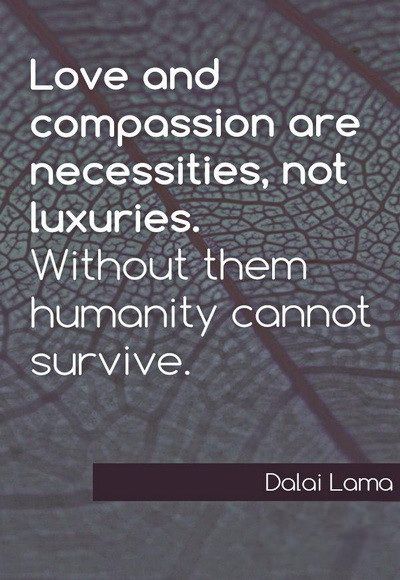 (Jump to comparison of manuscripts)
I want to suggest that the Lama's use of "love" and "compassion" are not found in Buddhism, but used in the Judeo-Christian sense (borrowed in other words) because Eastern metaphysics lack such thought. The Dalai Lama may do this out of ignorance of his own belief, or out of wanting to pull on Western heart strings of compassion (honed itself by the Judeo-Christian ethic), which is often followed by monetary support. Here is a discussion I had with a Buddhist apologist about such thinking, it is taken from my chapter, Reincarnation vs. Laws of Logic:
---
One of my very favorite quotes deals with the founders of the great religions and the consistency found in these founders:
The nine founders among the eleven living religions in the world had characters which attracted many devoted followers during their own lifetime, and still larger numbers during the centuries of subsequent history. They were humble in certain respects, yet they were also confident of a great religious mission. Two of the nine, Mahavira and Buddha, were men so strongminded and self-reliant that, according to the records, they displayed no need of any divine help, though they both taught the inexorable cosmic law of Karma. They are not reported as having possessed any consciousness of a supreme personal deity. Yet they have been strangely deified by their followers. Indeed, they themselves have been worshiped, even with multitudinous idols. All of the nine founders of religion, with the exception of Jesus Christ, are reported in their respective sacred scriptures as having passed through a preliminary period of uncertainty, or of searching for religious light. Confucius, late in life, confessed his own sense of shortcomings and his desire for further improvement in knowledge and character. All the founders of the non-Christian religions evinced inconsistencies in their personal character; some of them altered their practical policies under change of circumstances. Jesus Christ alone is reported as having had a consistent God-consciousness, a consistent character himself, and a consistent program for his religion. The most remarkable and valuable aspect of the personality of Jesus Christ is the comprehensiveness and universal availability of his character, as well as its own loftiness, consistency, and sinlessness.
Robert Hume, The World's Living Religions (New York, NY: Charles Scribner's Sons, 1959), 285-286.
An example of a self-refuting/incoherent worldview that deals a bit with Eastern philosophy/religion comes from A Handbook for Christian Philosophy, by L. Russ Bush. After giving a basic definition of what a worldview is,[1] Dr. Bush goes on to explain how differing worldviews can interpret reality and then he applies some first principles to the matter:
…most people assume that something exists. There may be someone, perhaps, who believes that nothing exists, but who would that person be? How could he or she make such an affirmation? Sometimes in studying the history of philosophy, one may come to the conclusion that some of the viewpoints expressed actually lead to that conclusion, but no one ever consciously tries to defend the position that nothing exists. It would be a useless endeavor since there would be no one to convince. Even more significantly, it would be impossible to defend that position since, if it were true, there would be no one to make the defense. So to defend the position that nothing exists seems immediately to be absurd and self-contradictory.[2]
---
[1] "A worldview is that basic set of assumptions that gives meaning to one's thoughts. A worldview is the set of assumptions that someone has about the way things are, about what things are, about why things are." L. Russ Bush, A Handbook for Christian Philosophy (Grand Rapids, MI: Zondervan, 1991), 70.
[2] Ibid.
I will say here that Buddhism and Christianity agree that the proper relation in a marriage situation is a male and female. But many "Western "adherants" to Buddhism do not know what they are saying when statements are made about Buddhism being "such-and-such." Two short videos are perfect for setting up an excerpt from my book:
So here is a portion of my chapter dealing with Eastern Thought:
So to say the Dalia Lama or the Buddha are "Christ like" is to wholly misunderstand the chasm of differences in the two completely different leaders of these religions… and their logical conclusions. Also worth noting is that the date between writings, and so the possibility of corruption of the text is vastly different between the two faiths. For instance, the Buddha is said to have dies around (using the earliest date) 400 B.C.. The earliest portion of a Buddhist writing is dated at about 179 A.D. So let us compare this:
I write about the early attestation to the New Testament in the first 16-pages of my chapter on Gnosticism and Feminism. But I reworked Kenneth Boa's graphic on comparing dating of ancient texts with some updated information not only cataloged via the aforementioned chapter from my book, but also from here, and the books:
Norman L. Geisler, Baker Encyclopedia of Christian Apologetics (Grand Rapids, MI: Baker Books/Academic, 1999);
Carsten Peter Theide and Matthew d'Ancona, The Jesus Papyrus: The Most Sensational Evidence on the Origins of the Gospels Since the Discovery of the Dead Sea Scrolls (New York, NY: Galilee DoubleDay, 1996).
(I edited the last column under "Date Written" and "Time Span")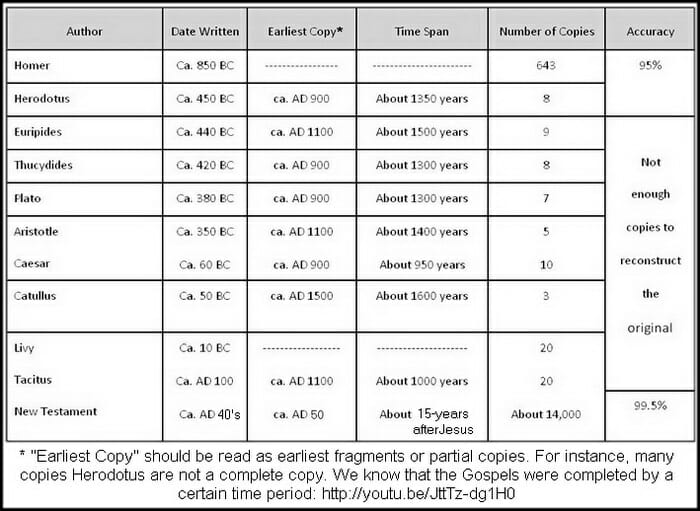 Below is some of the evidence for the early dating of the New Testament.
More on this from Dr. Geisler:
Take note as well that the earliest Church Fathers quoted Scripture… which would need to be completed and widely used by then:
Ignatius of Antioch would be another prime example.
Effectively the above information updates this older Josh McDowell graph here. In other words, we know the early history of Christianity because of the wealth of evidence behind certain events. For instance:
"Pharisaic Judaizers come down to Antioch (Acts 15:1, 5) in the late summer of 49 A.D. and teach that circumcision is necessary before a person can be saved. Paul, Barnabas, Titus and certain others (Galatians 2:1-2) are sent to Jerusalem to confer with other apostles, elders and brethren concerning the relationship between circumcision and salvation. This gathering is commonly referred to as the Jerusalem Conference. This conference occurs in the Fall of 49 A.D. around the time of the Feast of Tabernacles (Acts 15:2)."
We know this because of the evidence… the same evidence to say that two letters describing the eruption of Mount Vesuvius are considered history.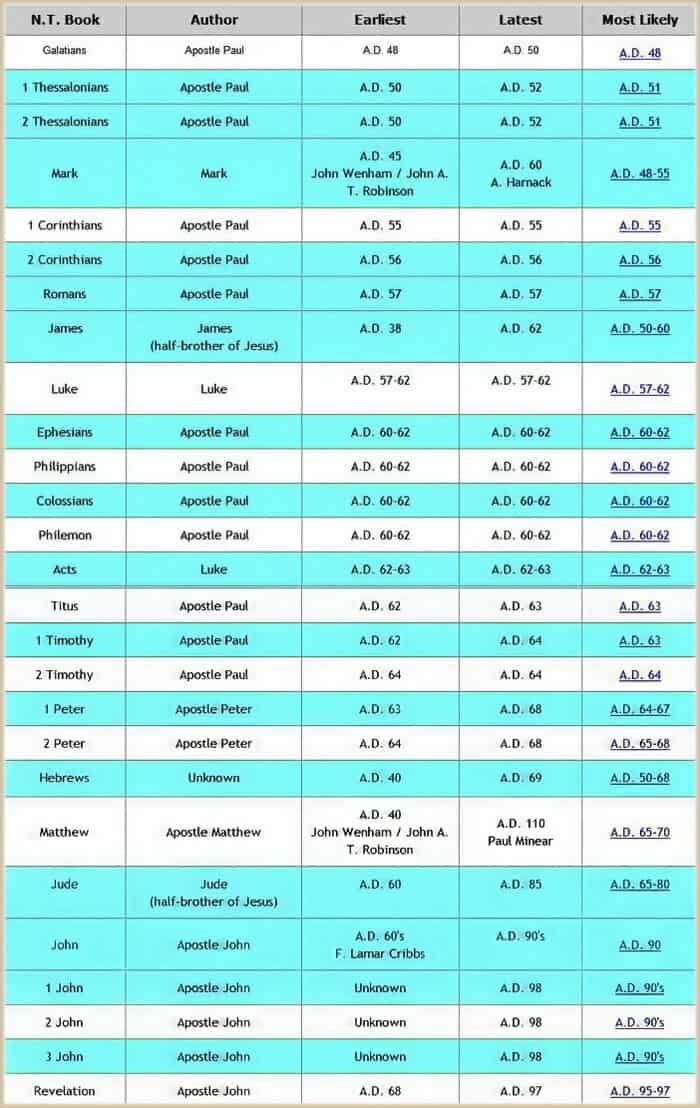 Buddhism lacks this historical attestation and predictive power that the New Testament has in that the original texts are much closer to the events that happened. In fact, the New Testament is superior to ALL ancient documents in this respect.
---
✞ "…but test all things. Hold on to what is good" (I Thessalonians 5:21);
✞ "Dear friends, do not believe every spirit, but test the spirits to determine if they are from God, because many false prophets have gone out into the world" (1 John 4:1);
✞ "Test yourselves to see if you are in the faith. Examine yourselves. Or do you yourselves not recognize that Jesus Christ is in you?—unless you fail the test[a]" (2 Corinthians 13:5 — [a] "unless you are disqualified" or "you are counterfeit").