Via The Word on the Word of Faith
From the video description:
This is perhaps one of the lowest examples of Word of Faith arrogance, legalism and judgmentalism you'll ever see.
In one breath, "Pastor" Markus Bishop ferociously mocks and dismisses generations of Christians who use simple storytelling tools to win people to Christ for the sake and tries to smarmily tell them to instead invest untold millions of dollars into extravaganzas that will dazzle "the new generation" because "God ain't broke."
Perhaps Markus ought to practice what he preaches about prosperity and get his church's bills paid on time: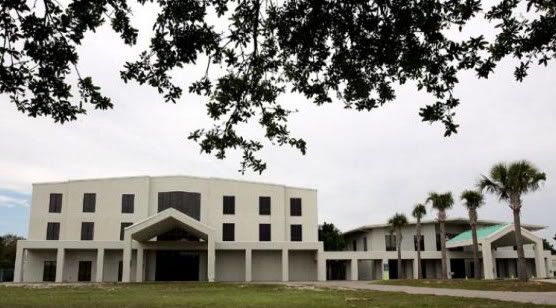 PANAMA CITY BEACH — Faith Christian Family Church is in foreclosure and the disputed parsonage for Pastor Markus Bishop is still mired in litigation, The News Herald learned this week.

Faith Christian Family Church will be sold May 26 in a foreclosure auction unless church officials pay SunTrust Bank $2,924,126.71, court records show.

Suntrust loaned the church $2.8 million in August 2008, taking the deed on the church at 13300 Back Beach Road as collateral, court records show.

The church's pastor, Markus Bishop, signed off on the deal and gave his title as "President of Faith Christian Family Church of Panama City Beach, Inc., a Florida Non-Profit Corporation."

According to Suntrust, Faith Christian has not made a payment on the loan since October 2010. In February, the company started foreclosure proceedings.

"Client relationships are confidential. We'll decline to comment on them," SunTrust spokesman Mike McCoy said Thursday. "We do make every effort to avoid foreclosure and view it as an action of last resort."

Faith Christian's attorney, Mitch Dever, declined to comment on the situation. Attempts to contact Bishop were unsuccessful Thursday.
Here is more ugliness in regards to this "man of god"