This is an interesting excerpt about the history of music and why it flourished in the West and not elsewhere… similar to science. It is a bit incomplete as he spoke a little more on Kurt Cobain prior to where I start, and after he gets into Bach and other classical artists influenced by the Bible.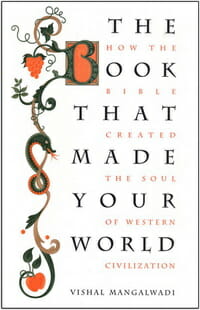 ---
Vishal Mangalwadi, The Book that Made Your World: How the Bible Created the Soul of Western Civilization (Nashville, TN: Thomas Nelson Publishers, 2011), 9-15.
….Cobain's music appealed to contemporary America because it was a full-throttled disharmony of rage, anguish, hatred, despair, meaninglessness, and obscenity. His song titles included "I Hate Myself, I Want to Die" and "Rape Me" (later changed to "Waite Me"). Most of what Cobain sang cannot be deciphered, and many of his lyrics that can be deciphered have no apparent meaning. Whether he knew it or not, his lyrics were Zen koans, counter-rational sayings such as "what is the sound of one hand clapping?" Such words do not make sense because (in the absence of revelation) reality itself makes no sense. Words are merely mantras—sounds without sense—to be chanted or shouted.
Cobain committed suicide because Nothingness as the ultimate reality does nothing positive. It cannot provide joy to the world, let alone meaning or hope for the mess in one's life. Its only consequence is to inspire people to seek an exit from the world—Nirvana. A culture of music does not flourish in the soil of nihilism. Cobain's gift as a musi­cian blossomed because he had inherited a unique tradition of music.
Music seems a natural, perhaps even essential, part of life to the Western mind because it has been an integral part of traditional wor­ship and education. For example, Oxford and Cambridge universities have played pivotal roles in shaping the second millennium. However, a person who has never visited these cities may not know that they are cities of churches and chapels. The chapel is the most important building in traditional colleges and a pipe organ is often the center­piece of a chapel. That is not the case in every culture.
Turkmenistan is the latest country to put restrictions on music: on state holidays, in broadcasts by television channels, at cultural events organized by the state, in places of mass assembly, and at wed­dings and celebrations organized by the public. Nations such as Saudi Arabia have had restrictions on music for a long time. In Iran and Afghanistan, women cannot sing on the radio, let alone on television or in person before mixed audiences. In post-Saddam Iraq, radical Muslims have assassinated sellers of music CDs. Mosques do not have keyboards, organs, pianos, orchestras, or worship bands because according to traditional Islam, music is haraam or illegitimate.
These cultures see Western music as inextricably mixed with immoral debauchery. For them, musicians such as Kurt Cobain are undesirable role models. Indeed, on the cover of his album Nevermind, Buddhist monks in Asia developed sophisticated philosophies, psychology, rituals, and psycho-technologies to try to escape life and its sufferings. They perfected techniques such as Vipasana* to silence not just their tongues but also their thoughts. Buddhism originated in India and prior to its disappearance enjoyed powerful political patronage for centuries. It built such massive monasteries that Buddhist art is a cherished aspect of our national heritage. Yet, Buddhism left no discernible musical tradition or instrument in India. No Buddhist monk started a band such as Nirvana, because in Buddhism salvation is not a heaven filled with music. As a pessimistic philosophy of silence it could not produce music of hope and joy. Buddhism could not celebrate existence because it saw suffering as the essence of life. Some forms of modern Buddhism have embraced music, partially because of the efforts of Western converts, such as Kurt Cobain, who grafted the Western tradition of religious music into the Buddhist faith.
To say that music is a new phenomenon in Buddhist temples is not to suggest that pre-Buddhist Tibet or China had no music. Music is intrinsic to the universe and to human nature even if some worldviews, including Darwinism, do not understand, recognize, or promote it. China's fertility cults and sexual rites involved choirs of boys and girls singing alternately and together to symbolize Yin and Yang dualism as early as 2000 BC. A thousand years prior to that, the worshippers in Sumero-Mesapotamia used music in their temple rituals.
The musical ragas of Hindu magical rituals have survived for thirty-five hundred years. Most of the Vedas are hymns and chants. The Vedic priests understood sound as well as anyone else in the world and developed a highly complex system of chanting, even if Hindu monks and priests did not develop music into the complex medium that Western music became. Thankfully this is changing now. Bollywood has played a great role in inspiring some Hindu ashrams to develop great music. It has also raised the standard of Qawwali, which began as a part of Sufi tradition: but is now loved by Hindus as well as by Muslims—including in Pakistan.
WRITING MUSIC INTO THE WEST'S DNA
St. Augustine, the author of the six-volume On Music, was a key figure in inserting music into Western education and worldview. His first five volumes are technical and could have been written by a Greek philosopher. But Augustine was most excited about his sixth book, which gives a biblical philosophy of music. Music is, of course, inte­gral to the Bible, in which the longest book is Psalms. The last psalm, for example, asks creation to praise the Lord with the trumpet, lute, harp, tambourine, strings, pipe, and cymbals.
Why are these physical instruments able to make music? Augustine saw that the scientific basis or essence of music lies in mathematical "numbers" or scores at the core of creation. Since music is mathe­matical, Augustine argued, it must be rational, eternal, unchangeable, meaningful, and objective—it consists of mathematical harmony. We cannot make a musical sound from just any string. To get a precise note, a string has to have a specific length, thickness, and tension. This implies that the Creator has encoded music into the structure of the universe. This insight was not new. It had been noted by Pythagoras (570-490 BC), whose school Plato attended before starting his Academy.
Augustine promoted this "pagan" insight because the Bible presented a view of creation that explained why matter could make music.
Augustine taught that while this musical code is "bodily" (physi­cal), it is made and enjoyed by the soul. For example, the book of Job deals with the problem of inexplicable suffering. In it God himself tells Job of the connection between music and creation: "Where were you when I laid the foundation of the earth? . . . when the morning stars sang together and all the sons of God shouted for joy?"
The Bible taught that a sovereign Creator (rather than a pantheon of deities with conflicting agendas) governs the universe for his glory. He is powerful enough to save men like Job from their troubles. This teaching helped develop the Western belief of a cosmos: an orderly universe where every tension and conflict will ultimately be resolved, just as after a period of inexplicable suffering Job was greatly blessed.
This belief in the Creator as a compassionate Savior became an underlying factor of the West's classical music and its tradition of tension and resolution. Up until the end of the nineteenth century, Western musicians shared their civilization's assumption that the uni­verse was cosmos rather than chaos. They composed consonance and concord even when they experienced dissonance and discord. That is not to suggest that classical music did not express the full range of human emotions. It did. A bereaved composer would write a tragic piece; someone abandoned by his love would express his desolation. But such outpourings of a broken heart were understood as snapshots of real life. Given the cultural power of the biblical worldview, no one thought of them as Kurt Cobain did, as evidence of the breakdown of cosmic order or the nonexistence of order in the universe.
In the novel The Silmarillion, J. R. R. Tolkien gives us a beautiful, fictional exposition of the Augustinian perspective on the relation­ship of music, creation, the fall (evil), and redemption. Tolkien's Middle-earth experienced much more suffering than the Buddha's India. Tolkien's "earth" was to be captured, corrupted, and virtually controlled by evil. Suffering was real, brutal, and awful. Yet the Bible taught Tolkien that the Almighty Creator, who was also a compas­sionate Redeemer, was loving enough and powerful enough to redeem the earth from the greatest possible mess, sin, and suffering. This helped Tolkien to celebrate creation, both in its origin as well as in its ultimate destiny:
There was Eru, the One, who in Arda is called Iluvatar; and he made first the Ainur, the Holy Ones, that were the offspring of his thought, and they were with him before aught else was made. And he spoke to them, propounding to them themes of music; and they sang before him, and he was glad. But for long while they sang only each alone, or but few together, while the rest hearkened; for each comprehended only part of the mind of Iluvatar from which he came, and in the understanding of their brethren they grew but slowly. Yet ever as they listened they came to deeper understanding, and increased in unison and harmony. . . .
Then Iluvatar said to them: "Of the theme that I have declared to you, I will now that ye make in harmony together a Great Music."
Then the voices of the Ainur, like unto harps and lutes, and pipes and trumpets, and viols and organs, and like unto countless choirs singing with words, began to fashion the theme of a great music; and a sound arose of endless interchanging melodies woven in harmony that passed beyond hearing into the depths and into the heights, and the places of the dwelling of Iluvatar were filled to overflowing, and the music and the echo of the music went out into the Void, and it was not void.
Prior to becoming a follower of Christ, Augustine had been a professor of Greek philosophy. He knew that although music was encoded into the structure of the physical universe, being finite, it could never provide ultimate meaning to life.** Therefore, he reasoned that to be meaningful, music had to be integrated into the ultimate aim of human life, which was to love God and one's neighbors. To love one's neighbor is to "always mind" his welfare.
Over the centuries, the influence of Augustine's biblical philoso­phy of music kept growing. Originally, church music was dominated by monophonic plainsong, a single line of melody as in the Gregorian chant. Roman Catholic churches began to develop polyphonic music. This style, which combines several differing voice parts simultaneously, began to flourish at Notre Dame (Paris) by the eleventh century. That development in Christian worship laid the foundation for the entire spectrum of Western classical music, religious and secular.***
In the tenth century AD, Augustine's biblical philosophy of music inspired a group of Benedictine monks to build the world's largest pipe organ in the cathedral of Winchester, England. The organ required seventy men and twenty-six bellows to supply wind to its four hundred pipes. Technologically, the pipe organ was the world's most advanced machine until the invention of the mechanical clock. Europe's organs stood as emblems of the West's unique desire and ability to use the arts, science, and technology for the glory of God as well as for the relief of humanity's suffering and toil.
Augustine's biblical philosophy of music was an important tribu­tary that contributed to the river of mechanical arts that began to flow out of Christian monasteries and churches. This tradition used technology to worship God and to love one's neighbors.
---
* Yoga attempts to control breathing in its quest to realize self. Vipasana observes breathing as a means of silencing one's mind to experience that there is no self or soul inside us but only Nothingness, Emptiness, Void, Shoonyta or Selflessness.
** Augustine's intellectual mentor, Plato, believed that epistemologically no finite particular can make sense without an infinite reference point.
*** Augustine did not have much influence over the Eastern Church and that may be one reason why its music did not develop much beyond the chant.
---