My wife and I were reminissing about Northpark and figured that my time-line was off a bit —  and that my date of initial attendance was a bit off. I (and then we) actually attended Northpark for 10-years, not 12… hence the change in the title.
Postmodern, Cultural-Marxism in the Church
My last semester at seminary introduced me to a previously unknown movement within evangelical circles known as the "Emergent Movement." In reality, it is merely liberal theology repackaged to look like the core of the Gospel… when in fact, it is the jettisoning of core doctrines that are the foundational to the Gospel. 2 Timothy 2:15 reads: "Be diligent to present yourself approved to God, a worker who doesn't need to be ashamed, correctly teaching the word of truth."
As I said, my introduction to this movement came about at Seminary because of some of the books recommended to me in my syllabus, which led me down a rabbit hole of reading. This trail sparked conversation between one of the new pastors and myself… he assured me that the movement wasn't all that bad, and that I needed to read up on the topic. So, we had some coffee at my house and we had a cordial meeting and he left me an armful of books. (I will post some of the content and the authors thoughts on salvation — from this armful of books given to me by a pastor from an "conservative evangelical church — in an appendix at the end.)
I read them… Wasn't all that "bad" ~ my ass.
In one of the books for instance, and this would be important to a well-liked sermon at my old church on core doctrines that one shouldn't sway on,
This reading led me to other instances like the following November 2004 Christianity Today article written by Andy Crouch, titled "Emergent Mystique," Rob Bell said,
Merton of course is famously known for saying that he sees "no contradiction between Buddhism and Christianity … I intend to become as good a Buddhist as I can" (David Steindl-Rast, "Recollection of Thomas Merton's Last Days in the West" [Monastic Studies, 1969] 7:10).
I can list more instances that threw red-flags up for me, but needless to say I had a coffee infused meeting with my pastor, and I thought we were on the same page. I had a few more short discussions with him and some of the other deacons, but it wasn't until a young man came up to me and mentioned the book the pastor who handed me the armload of counter-Christian books was using in the men's college group that I knew I needed to protect my family from bad teaching.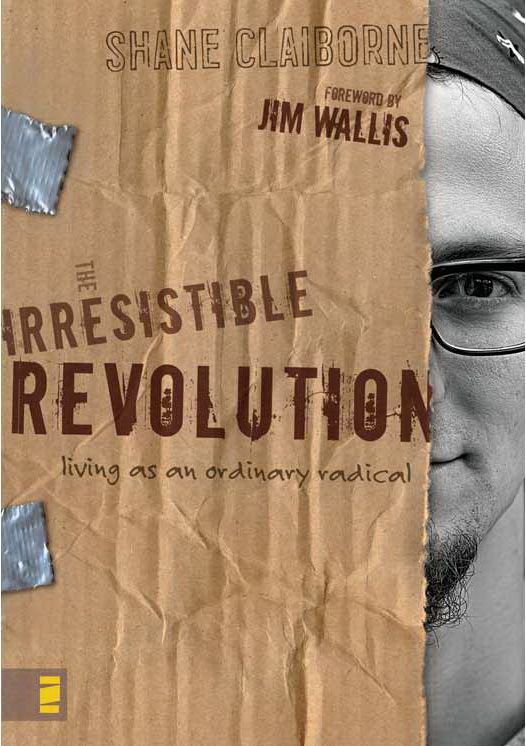 The book used by the leader of young men was Irresistible Revolution, by Shane Claiborne (there is a pretty in-depth review of Shane's book here, A Humbled Resistance).
Much like the author I too wore Rage Against the Machine shirts (p. 97 – I think my oldest son still wears some of my old shirts) mainly because I genuinely like the music, and secondly, my reasoning behind wearing Rage Against the Machine shirts was that often times conversation would open up with young people that would lead to me talking about the bands radical Marxist leanings. It was a chance for me to lead these misguided persons towards a healthy-well-balanced understanding of American history and ideals, separated from the Howard Zinn type histories that many of those teaching them would infuse their young minds with. (See my RIP of Zinn's passing.)
Shane, in contradistinction, wore the shirts of this band with full knowledge of and support for this class warfare idea found only in Marx and Engels manifesto.
I say this confidently only after reading Irresistible Revolution.
In his book, Shane makes the argument that you have to be an atheist to be a Marxist. Besides flying in the face of history this is only a small value in Marxism — granted an important one — however, Marxism is much more than merely a belief in disbelief. or disbelief,in the divine. In fact, the divine is merely transferred to this world in dialectical materialism, and a push for utopia creates the "divine" in man and his anthropogenic fundamentalism… as exemplified in Shane's writings. Take note as well that I argue that Mormonism is a form of Dialectical materialism and is closer to atheistic Marxist philosophy than to Christianity. Last time I checked Mormonism is riddled with the Divine as is atheistic Buddhism. (In other words, to be "religious" does not require the Divine" as Shane posits.) Not to mention how the Communists (atheists) used religion:
Back to the story. After the young man told me about the book, I purchased my own copy, and began reading it, coming to page 34 I read the following:
This is how the footnote read:
In appendix 1 at the back of the book, you will find a list of ordinary radicals with whom I enthusiastically redistribute the money I receive from the publication of this book through the Simple Way's Jubilee Fund.
Here is that appendix:
It didn't take much time in this appendix, unfortunately, I didn't have to. The following is some of what I found merely by following the links Shane provided in his book. (I emboldened the main site referenced in Shane's appendix. Following that I either a) include a quote that represents some positional statement of that site, or b) simply went to that sites "links" section and linked out to whom they recommend themselves. Although I could have listed many links, I think the few I chose make the point. I would say enjoy… but…
---
---
More recently, on a site Shane contributes to regularly, he said this in a post entitled, It's Desperate in Guantanamo:
Obviously one can see the extreme political nature of this book and how it rejects history for one superimposed by Chomsky and Zinn, as well as in Shane's continued commentary on the world around him. Lit-sen Chang many years ago foresaw this radical nature of the current emergent movement, as, it incorporates an old lie:
There seems to be a correlation as well in Shane's book that some are saved because of their works. He mentions in this light, Mother Teresa. I do not know ultimately if Mother Teresa was truly saved or not… only God knows this… that being said, I can say that if Mother Theresa believed the following…
Among the all-too-accessible examples that could be cited, consider the following excerpts (chosen because they are representative of the genre, not because they are outstandingly bad) from Novena Prayers in Honor of Our Mother of Perpetual Help, a booklet published by the Sisters of St. Basil with official church approval (Nihil Obstat and Imprimatur):
Have pity, compassionate Mother, on us and our families; especially in this my necessity (here mention it). Help me, 0 my Mother, in my distress; deliver me from all my ills; or if it be the will of God that I should suffer still longer, grant that I may endure all with love and patience. This grace I expect of thee with confidence, because thou art our Perpetual Help (p. 5).
We have no greater help,
no greater hope than you,
O Most Pure Virgin; help us, then,
for we hope in you, we glory in you,
we are your servants.
Do not disappoint us (p. 16).
Come to my aid, dearest Mother, for I recommend myself to thee. In thy hands I place my eternal salvation, and to thee I entrust my soul. Count me among thy most devoted servants; take me under thy protection, and it is enough for me. For, if thou protect me, dear Mother, I fear nothing; not from my sins, because thou wilt obtain for me the pardon of them; nor from the devils, because thou art more powerful than all hell together; not even from Jesus, my Judge, because by one prayer from thee, He will be appeased. But one thing I fear, that in the hour of temptation, I may through negligence fail to have recourse to thee and thus perish miserably. Obtain for me, therefore, the pardon of my sins, love for Jesus, final perseverance, and the grace to have recourse to thee, 0 Mother of Perpetual Help (p. 19).
Elliot Miller and Keneth R. Samples, The Cult of the Virgin: Catholic Mariology and the Apparitions of Mary (Grand Rapids, MI: Baker Books/Academic, 1992), 57. An astute reader pointed out that the above actually comes from an Eastern Orthodox liturgy officially authorized for use by the Catholic Church.
…No matter what her good works are or would be, this dedication to other than Christ clearly — according to Scripture — negates the adherent from salvation. There is good evidence that this Marion worship was employed in Mother Teresa's faith. Shane also talks of and quotes Gandhi approvingly, which seems odd. Odd because Gandhi was a racist and ordered, in racially tainted radio broadcasts, his followers to kill Zulu's (blacks). Gandhi only used "peaceful" protests with the British because militarily India could not cope with the British and Gandhi was a good politician first and knew where to draw his lines and which strings to pull.
I wish I could say differently, but the book is just bad from beginning to end. Noteworthy as well is that it is not a proper resource for a church to use, at least a church that claims conservative Evangelical mores. Obviously no book is COMPLETELY bad, and there are noble points in it… I mean who wouldn't want to stamp out poverty worldwide and stop all wars as Shane says? The question for me is: How has this worked in real life? Shane makes a myriad of claims about war and poverty that do not fit reality, but, rather, are closer to some make believe candy-land Utopian dream. To wit I wish to debunk some of Shane's thinking:
Again, Shane exudes noble ideas in the book. Who could argue the goals? They just may not be very realistic, that's all. On pages 123-124 you find a portion of what Shane's "ministry" does on "an average day":
Unfortunately, this "kingdom now theology" that so infects the Word-Faith Movement and the name it and claim it gospel, also infects the eschatology of the extreme theological Left. Both theologies have the view that Shane enumerates when he encourages us to "take courage, as you will then have more grace as you liberate others" (p. 32). I am sorry, no person can liberate me, they and I are fallen and cannot liberate even ourselves. A great example of this egalitarianism:
Obviously the political and theological tome of this book is very charged, to say the least. (If you need to understand more of my reasoning, or have questions about this post I will be more than happy to talk to you — my email is in my bio section.) As a Mennonite group of churches points out as well, not only is the book politically charged, but missing anything to do with the Gospel. In writing a reason why nine Mennonite churches were withholding their kids from an event that included Shane Claiborne, the The Mennonite Brethren Network mentions the following:
You see, when you forgo the plum-line of Scripture and include practice as your truth… problems tend to follow. As I was looking for new churches, I started to attend what was billed as a conservative Reformational/Bible based church. At this church I was attending to find a new home church I was in conversation with an elder/assistant pastor when I mentioned Thomas Merton, to which he replied he loved Merton! Not only that but that a class he was taking at Talbot was using a Merton "biography" (of sorts) in class. He then said he didn't see anything wrong with the book or Merton. So, I purchased the book and read it.
And this is the current state of the church apparently, not discerning enough on important doctrinal areas, and making some issues that are in house debates front-and-center.
---
Discussion/Questions 
---
There was a gentleman, who I am still friends with from North Park (the church I left) who contacted me, this is our conversation on FaceBook that included a couple of people:
Part of Convo One:
Another friend mentioned that this should be handled in a more private manner I mentioned in parts the following:
Part of Convo Two:
Before we make it to my old "Afterward, I left all this up (above and below) because it is and has been a great help to those seeking a healthy-well balanced church in our Valley, as well as providing others who are in need of some resources to better respond to this nonsense in their home church. So I am both happy that this has been a good resource for some, but sad I even had to write it. Take note that both Pastor Dave and I agree on the facts of the case… but acting on and believing the facts are two entirely different things.
There was a final meeting between myself and pastor Dave White of NorthPark Community Church. After this meeting I wrote a caveat that I have not rejoined North-Park. The church has continued its slow decent away from doctrine and closer to unhealthy relationships.
---
 APPENDIX
This armful of books given to me by pastor Bob Hudson had a very universalist stint to them. Here is an excerpt from my book where I discuss this aspect a bit more:
---