(Originally posted at RPT at Blogspot 3-18-2010.) As I have studied this subject and getting into some of the characters involved — many Catholic — I have thought to myself, is this reaching out in contemplative prayer a form of works? Does it make man the prime mover towards God as all too often many of the rituals in works oriented beliefs do. As I read along with Thomas Merton and other contemplatives, this thought became solidified for me. These Catholic monks and persons who separated themselves from society created many ritualistic works to commune with God (breath prayer, contemplative prayer, lectio divina, silence [which differs from physical solitude], palms up palms down, whatever).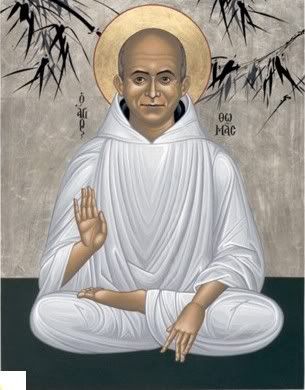 Instead of going the way of Reformation using the Bible as their guide, studying the many Protestant Reformers and changing Catholic doctrine, praxology, and the like; thus, allowing God through Christ to fulfill in them the finished work that they try to achieve daily. Instead, they choose a pagan form of "freedom." This freedom is called "darkness" by Merton (Chapter 5 in Merton's Contemplative Prayer).
David Cloud, whom I find a bit legalistic, nevertheless shines through on this particular topic by documenting various works found in Catholicism. Lets just focus on one of them, the Mass:[1]
Before David Cloud ends the section on the Mass and jumps into his section on Labryinths, he finishes off his thinking with another example:
These work based religions can be dangerous for the soul; these practices of prayer as Thomas Merton lays out can be equally dangerous.
An example of this type of meditative practices leading to demonic presences masquerading as spirit guides can be found in Johanna Michaelsen's book, The Beautiful Side of Evil. Johanna got involved in meditation and New Age/Eastern teachings and soon was being guided by multiple spirit guides, one of them being Jesus.[2] Who wouldn't want to be lead by Jesus personally? Truly there is a way that seems right to a man but ultimately leads to deaths door (Proverbs 14:12).
How does Johanna's experience connect in any way to Merton? If this technique were really a form a meditation influenced by Eastern practices leading to altered states of consciousness, you would expect some sort of warning about it if trying to Christianize it. Bingo.
The above quote/book by Thomas Merton has the introduction written by Thich Nhat Hanh, who is a Zen Buddhist Monk. Mentioned quite a few times as well is Abbe J. Monchanin (Swami Parama Arubi Ananda), who founded a "Christian" Ashram. Which brings me to the reason for this post. A pastor asked me to read Esther de Waal's book, A Seven Day Journey with Thomas Merton.
This pastor recommended the book as a healthier presentation of Merton than my previously posted biographical insights via RPT (see: Part I, Part II, Part III). I was happy to hear of a book that may correct some of my faulty thinking on the matter. I was open to view a book that would allay some of my fears, dare I say paranoia, that Eastern meditative practices had so infected the Evangelical denominations through this monk by combining panantheism with Christianity.
As I read along alI was fine until page 14, where there started to be talk of "silence." Silence, as Merton teaches, is not merely seclusion, but an emptying of the mind. The book often mentioned by these contemplatives, The Cloud of Unknowing, talks at length about this emptying – it's called: this darkness, this nothingness, this nowhere, the blind experience of contemplative love. David Cloud documents some quotes from this book the Desert Fathers were very enthralled by. (I wish to quickly make the point that about the time these "Desert Fathers" were writing in the area of Egypt they resided, so too were the Gnostics [same area as well] writing their poison that still lives-on today in the Word Faith movement, in the Emergent movement, and various cults and the occult, Freemasonry as an example):[4]
Across from the reference to "silence" on page 14 of The Seven Day Journey we find the following photo on page 15 (to the right):
I told myself that maybe I was being too paranoid and that this photo Merton took was just of an old wagon wheel and had nothing to do with Eastern meditative practices encapsulated in the Wheel of Life. So I told myself to give it a chance, so I put page 14 and 15 out of my mind. Okay. Page 16 mentions repeating words in a mantra, something Catholics are use to, even in light of Matthew 6:7. Again I put it aside. When I got to page 26 however, all these thoughts reemerged with this:
My thoughts were back to that wheel. I remembered where I had seen it before — So I flipped the book closed and there on the cover was where that wheel sat (see photo above), confirming my thought that Merton truly believed what he said when he said "I see no contradiction between Buddhism and Christianity. I intend to become as good a Buddhist as I can." Now I was back to my comparative religious mindset. Mind you it only took me 26-pages to resume this thinking. On page 32 (SDJw/TM) the Desert Fathers are mentioned, keep in mind that the progression of their practices and Merton's lifting them up for modern consumption looks like this:
Biblical vs Contemplative Revelatory Progression by Papa Giorgio
This reference to the Desert Fathers in his Contemplative Prayer book and Esther de Waal mentioning that Merton loved the Desert Fathers (42) is troublesome to me. Loving the Desert Fathers is a "ding" in my book, especially considering the other biographies I put together (see: Part I, Part II, Part III). There are offensive theological and philosophical positions throughout SDJw/TM. However, I wanted to point out a big one or two that take an Eastern slant (there are positions in this book that fly in the face of Reformational thinking that undergirds Protestantism as well) — On pages 66 and 68 we find the following:
Writing to the Zen scholar Daisetz Suzuki he speaks of Christ within:
In case you didn't catch it, those two quotes are very New Age'ish. There is a bit of universalism involved because this God-consciousness indwells all. De Waal tells a story Merton shared:
She continues with a different quote, same page:
Taken by itself of course, the above would be hard to make a case from. Taken as a whole however, it is pretty damning. I am not done however, I love this upcoming page. It made me wonder how pastors think of this page in light of all the evidence as a whole, especially conservative Reformed and Evangelical pastors. What contortions do they need to go through in order to make this philosophy fit with the inerrant Word of God. To me it must be mind-boggling! Feelings and emotions [e.g., these practices "make me feel good," or, "give me the feeling of being closer to God." Aside from feelings, how do they compare to the Word of God?] must be imported into the equation to ease over the obvious heresies involved. Here is page 88:
How this could be taken as "normative" in a Christian's life is beyond me. A page later we find this, "It is not a question of either-or but of all-in-one… of wholeness, wholeheartedness and unity… which finds the same ground of love in everything." Hogwash! A couple of pages later (93) we find this as well, "It is an invitation to become part of that dance, in harmony with the whole universe…" Last I remember, the universe isn't in harmony (Romans 8:22). What is presented to us in this book is not Christian theology, it is a mix of paganism and Catholicism — both of which are works oriented. Man trying to spread the gap between God and himself. By-the-by, the forward to this book is by Henry Nouwen, another damning sign for those apologists who live by the Sword (Hebrews 4:12):
---
Footnotes:
---
[1] David Cloud, Contemplative Mysticism: A Powerful Ecumenical Bond (Port Huron, MI: Way of Life Literature, 2008), 85-89.
[2] (Eugene, OR: Harvest House, 1982), 85.
[3] Thomas Merton, Contemplative Prayer (New York, NY: Image/Doubleday, 1996), 35-36.
[4] Cloud, 64-66
[5] Esther de Waal, A Seven Day Journey with Thomas Merton (Ann Arbor, MI: Charis, 1992).