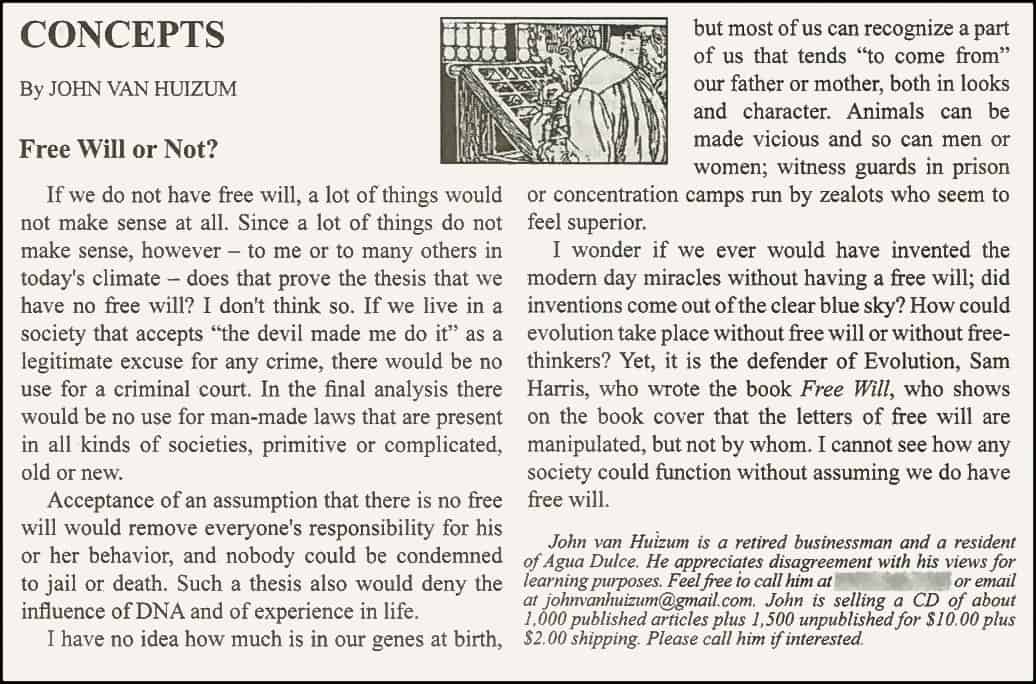 This is a topic I know a bit about, as, it is a common feature required to make distinctions in philosophy and science (and the philosophy of science) regarding naturalism and its influence on epistemology and if we can know truth, moral truth or otherwise. As we read the article we come to a small paragraph that shows me John is traipsing into territory he knows nothing about but makes sweeping statements as if he does. We read:
Acceptance of an assumption that there is no free will would remove everyone's responsibility for his or her behavior, and nobody could be condemned to jail or death. Such a thesis also would deny the influence of DNA and of experience in life.
Firstly, popular culture weighs in on this idea that somehow DNA influences free-will?
"Infidelity – It May Be In Our Genes" ~ Time, August 15, 1994;

"20th Century Blues" – Stress, anxiety, depression: the new science of evolutionary psychology finds the roots of modern maladies in our genes ~ Time, August 28, 1995;

"Born Happy (Or Not)" – Happiness is more than just a state of mind… It is in the genes too;

"Born To Be Gay?" ~ New Zealand Herald, August 8, 1996;

"What Makes Them Do It?" – People who crave thrills, new evidence indicates, may be prompted at least partly by their genes ~ New Scientist, September 28, 1996, p. 32;

"Your Genes May Be Forcing You To Eat Too Much" ~ Time, January 15, 1996;

"Infanticide/neonaticide is caused by an evolutionary imperative" ~ New York Times, November 2, 1997.
In a lecture from Stephen Hawkings (who holds the Lucasian Professor of Mathematics, Einstein's chair) at a lecture given to a university crowd in England entitled "Determinism – Is Man a Slave or the Master of His Fate." He discussed whether we are the random products of chance, and hence, not free, or whether God had designed these laws within which we are free. In other words: do we have the ability to make choices, or do we simply follow a chemical reaction induced by millions of mutational collisions of free atoms?
Fyodor Dostoyevsky's maxim rings just as true today as it did in his day,"If there is no God, all things are permissible." Without an absolute ethical norm, morality is reduced to mere preference and the world is a jungle where might makes right. This same strain of thought caused Mussolini to comment,
Which brings me to the finishing statement from John, "I cannot see how any society could function without assuming we do have free will." On this we agree, even an atheistic society must borrow from the theistic worldview. In a previous response to My Huizum, I noted Sam Harris' thinking on ultimate ethics:
evolutionary psychology (for instance, atheist defender Sam Harris makes the Darwinian psychological statement that "…there's nothing more natural than rape. Human beings rape, chimpanzees rape, orangutans rape, rape clearly is part of an evolutionary strategy to get your genes into the next generation if you're a male.")
So, let us see some popular positions taken by "evangelical" atheists:
Richard Dawkins
(h/t: TrueFreeThinker) – A Statement Made by an atheist at the Atheist and Agnostic Society:
[side note] You may also be aware that Richard Dawkins stated,
"What's to prevent us from saying Hitler wasn't right? I mean, that is a genuinely difficult question."*
* Stated during an interview with Larry Taunton, "Richard Dawkins: The Atheist Evangelist," by Faith Magazine, Issue Number 18, December 2007 (copyright; 2007-2008)
Lewis Wolpert
Dan Barker
Take note also that leaders in atheistic thinking and philosophers of good standing deal with the determinism found in neo-Darwinian/naturalistic philosophies and evolutionary thinking. For instance, from a debate I was in many years ago, Stan said the following:
"The brain works by firing electric charges that then release chemicals that make others fire electric charges."
Robots and Cosmic Puppetry: The Scientific Challenge to Freedom
[….]
[….]
Which brings C.S. Lewis to mention how he was not able to connect the idea of "evil" to the world as an atheist:
William Lane Craig, who debated Sam Harris, works through this in his post, "Navigating Sam Harris' The Moral Landscape." One can see from Sam Harris that ethics is not something that "ought" to be adhered to. In an article and from a debate between theist William Lane Craig and Same Harris, we can zero in on what naturalism says
William Lane Craig Discusses Sam Harris' book, "The Moral Landscape"
So we can see that even the person mentioned in John Van Huizum's article, Sam Harris, in reality rejects his premise that free will exists. John does say though, that we must (we meaning any society, secular or not) must assume it to be true. Thus, John is borrowing from the Judeo-Christian worldview and really arguing for the coherence of it (and the incoherence of the opposite), and not of atheism… unbeknownst to him! John neglects to tell us "the rest of the story" (Paul Harvey), or more likely doesn't know the story to begin with.
Simple enough… as above. REMEMBER, Dr. Provine is an evolutionist… a neo-Darwinian proponent following his worldview to its logical ends/consequences.