(UPDATED WITH JOHN STOSSEL –  AT BOTTOM)
(UPDATED WITH CAROL ROTH – AT BOTTOM-BOTTOM)
Actually, it is not "crony capitalism," it is "CRONY CORPORATISM."
This election season there's a lot of talk about corruption, about politicians being "bought and sold", and about "crony capitalism". What do those terms mean? Why should we care? Is there a way to reduce corruption and restore our trust in government? Author Jay Cost, staff writer at The Weekly Standard, answers these questions and proposes a solution that every society could benefit from.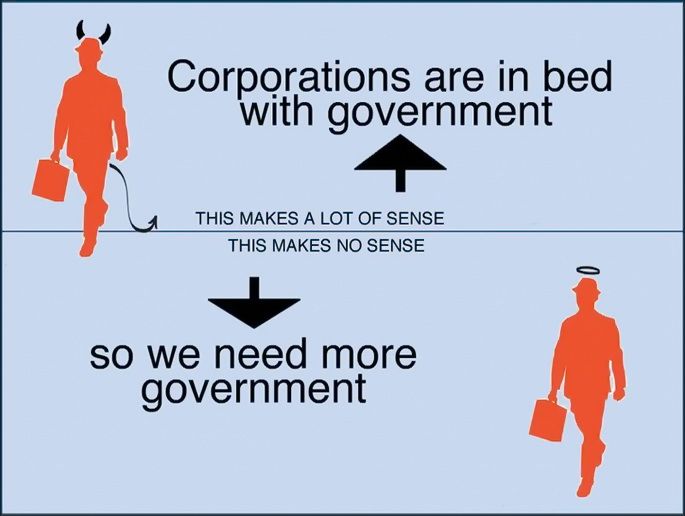 A good example of a monopoly like the one Dr. Friedman refers to is MA BELL
(Via MOONBATTERY) Crony capitalism is as much a betrayal of true capitalism as postmodern art is a betrayal of true art. It results in those who have made $zillions in the free market calling for more suffocating government regulation. Like socialism, it is a way for those who have succeeded to pull up the ladder after them so that others cannot follow and compete with them.
John Stossel has had enough of it. The solution: to reduce the power of the government to reward its friends and break the kneecaps of its enemies.
---
STOSSEL'S INDEPTH LOOK
---
This video may contain copyrighted material. Such material is made available for educational purposes only. This constitutes a 'fair use' of any such copyrighted material as provided for in Title 17 U.S.C. section 107 of the US Copyright Law.
Here is the latest COVID update.
Sad and shameful!
---
CAROL ROTH
---
Since the start of the Covid crisis, the American economy has been turned on its head. Times are good for the big guys — Big Business and Big Government. But what about for the small business owner, the personification of the American dream? Carol Roth discusses Crony Corporatism/Capitalism and is the author of, "The War on Small Business: How the Government Used the Pandemic to Crush the Backbone of America"