In an age of pseudo political "science" and a waning of an understanding of true heroism in the face of evil — mainly due to a lessening of what evil "is." I previously wrote about this true hero that had her Nobel Prize swiped from her by the fraud known as Al Gore. Maybe he believes that "global warming" is the #1 issue facing humanity in order anesthetize his understanding that Irena Sendler is a TRUE hero of humanity — who fought real evil. Al Gore's predictions have failed to come to pass (in Old Testament times he very well may have been put to death), and the following graph shows how fleeting political and environmental heroes can be in the face of real one… like IRENA SENDLER, who should have won the Nobel Peace Prize that year instead of Gore.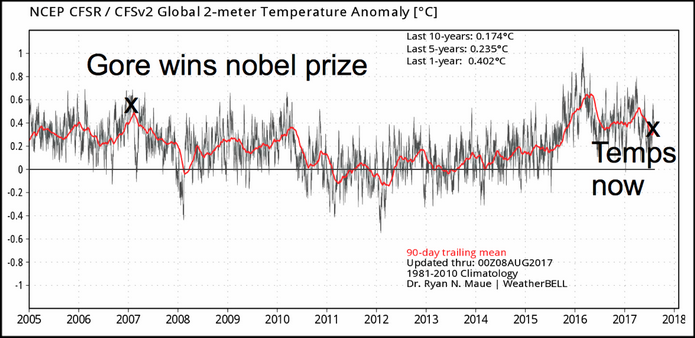 JOE BASTARDI finishes off a post (after the above graph) by saying this:
Is this an example of the Left relying on old white, wealthy males to guide society rather than lauding women of history?