"What's More Authoritarianism Than a No Fly List for People Who Disagree With You?" Dr. Paul on Fox
Here is some commentary regarding the ATLANTIC JOURNAL article Senator Paul references via the DAILY EXPOSE:
JACK PROBIEC notes that The Atlantic changed the title of the story. Here is first the changed headline followed by the archived headline (linked accordingly):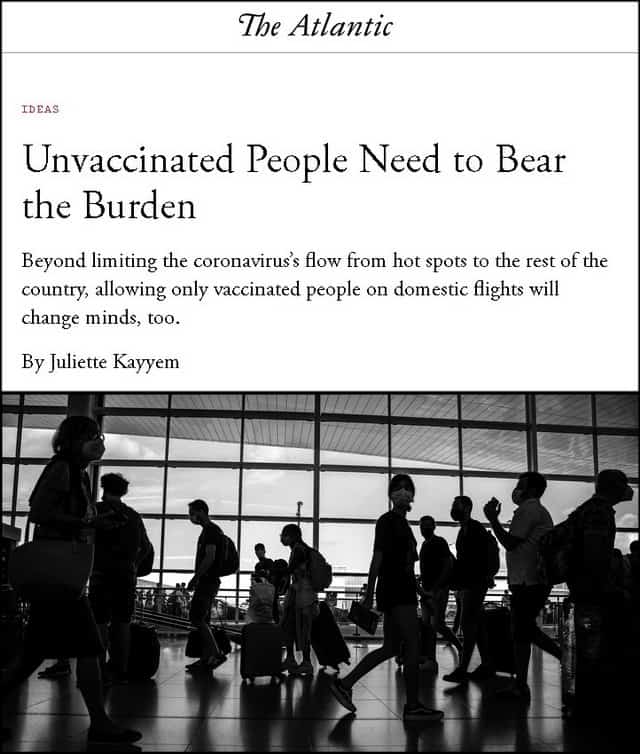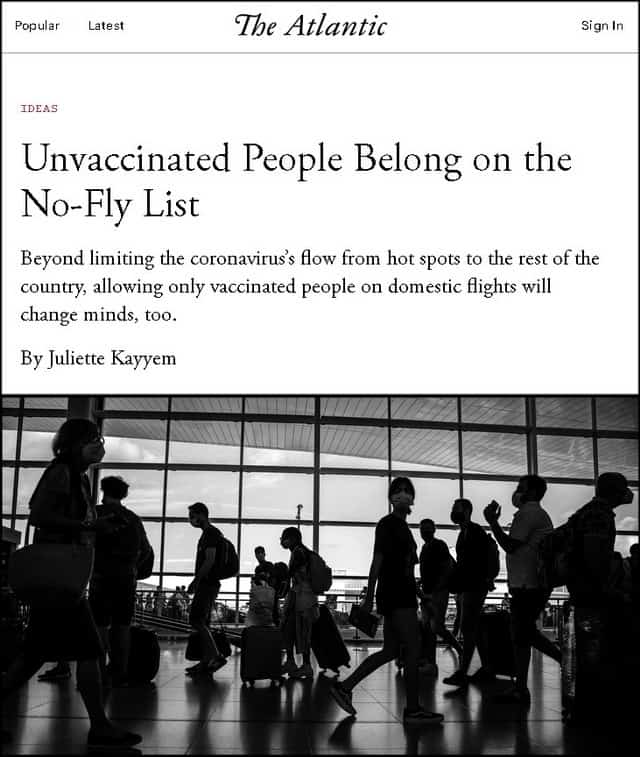 BREITBART notes that "Kayyem champions shaming the unvaccinated, who should 'face scorn among their peer group' and 'may even be happy to have an excuse to protect themselves,' along with celebrating Broadway, Disney, and Walmart for forcing the unvaccinated to give up 'certain societal benefits' to practice their their individuality and freedom of choice."
Yet another site — which I do not recommend since they the author is a Nation of Islam apologist — still, I feel compelled to share. To be clear however, even in this post I linked to, I disagree with some positions, but I must hat-tip. And if you are not aware of the "Pegasus" software issue, NPR will allow you some understanding to the issue.
There is a reason people like Juliette Kayyem wanted [actively] "Pegasus type" spyware. because the administration kept getting caught via Freedom of Information Acts and other methods promoting transparency.
The Obama administration, much to the surprise of the current ethos of the politically maligned, was the leader in violating the press' rights. Even far Left orgs at the time "got it" — DAILY BEAST:
Some Reminders:
Here's All the Times Obama Ejected the Media (POLITICAL INSIDER)
And that's not all! Not long after taking office, the Secret Service literally dragged away a black female reporter. Imagine the optics if an African-American woman were dragged away by Trump's Secret Service.
If Donald Trump Targets Journalists, Thank Obama (NEW YORK TIMES | unlocked article @ INVESTIGATINBG TRUMP)
Over the past eight years, the Obama Administration has prosecuted nine cases involving whistle-blowers and leakers, compared with only three by all previous administrations combined. It has repeatedly used the Espionage Act, a relic of World War I-era red-baiting, not to prosecute spies but to go after government officials who talked to journalists. Under President Obama, the Justice Department and the FBI have spied on reporters by monitoring their phone records, labeled one journalist an unindicted co-conspirator in a criminal case for simply doing reporting and issued subpoenas to other reporters to try to force them to reveal their sources and testify in criminal cases.
PROSECUTED and JAILED!
…..AND….