This is an excerpt of the longer interview below… but this is the money quote[s]… also, I was under  the impression Italy had more hospital rooms for their population… this is not the case!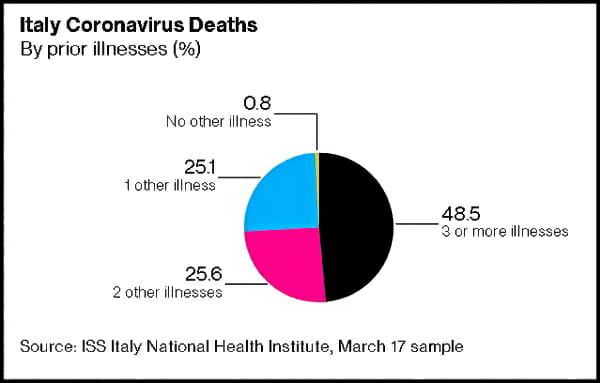 More than 99% of Italy's coronavirus fatalities were people who suffered from previous medical conditions, according to a study by the country's national health authority. (BLOOMBERG)
In Italy, a country with one of the world's oldest populations, a March 4 analysis by the national health institute found that of the 105 patients who died from the virus, the average age was 81. This put a 20-year gap between the average age of people who tested positive for the virus and the deceased, the institute said. On Friday, an ICU physician in Lombardy — the epicenter of Italy's outbreak — told JAMA there have been only two deaths of people under the age of 50. (VOX)
CRITICAL CARE BEDS PER-CAPITA (USA #1)
Dennis Prager interviewed Victor Davis Hanson regarding his article[s] discussing the nations response to the Coronavirus. [Editor's note: I swear, we are a nation of pussies!] Below are some articles that I think are must reads, Hanson's articles included:
I think these are must read articles:
Dennis Prager discusses his article entitled "Why the Remedy May Be Worse Than the Disease" (https://tinyurl.com/v3u542j). In the process he merely asks some thought provoking questions, discusses the inability of people to allow for opinions that differ with theirs in discussion.